Kara Hit An Unexpected Bump On 'Supergirl'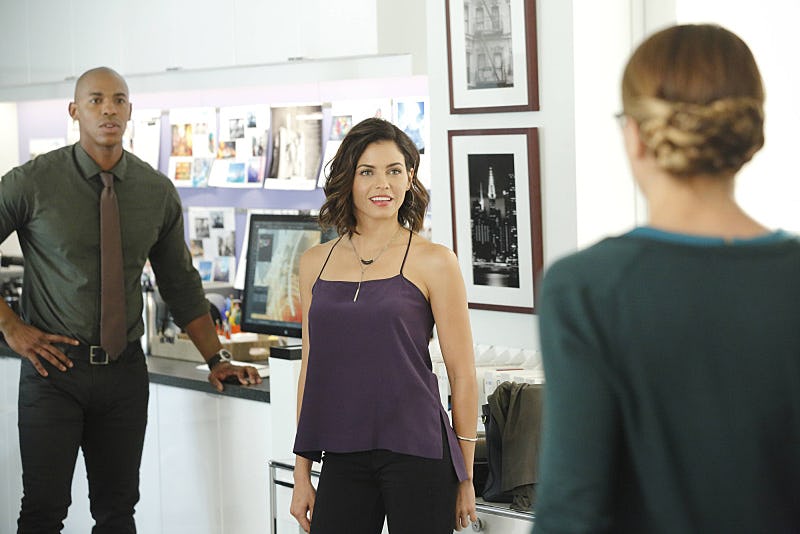 James Olsen and Kara Danvers may make a good team on Supergirl, but anyone shipping these two characters may have to wait a little while longer. On Monday night, Lucy Lane arrived on Supergirl, adding to the host of DC comics characters on the CBS series.
At the end of the episode, Kara went to ask out her crush, but found him talking to Lucy in his office. James quickly dismissed Kara, who used her super hearing to listen in on the episode from the hall. I guess that's the Kryptonian equivalent of social media stalking. Lucy told James that she was unhappy with how they ended things, and asked if they could get dinner to talk. James agreed, and Kara was momentarily mopey about it — but more on that later.
If you're like me, you may need to take a moment to remind yourself that this is Lucy Lane, not Lana Lang (another DC comics and Smallville character). It's a lot of "L"s, I know. Enough to fill a whole house, you might say! Both on the CBS series and in DC comics, Lucy Lane is Lois Lane's sister and a love interest for Jimmy Olsen. Notice how, in Monday's episode, she called him "Jimmy" instead of James? That could mean significant good or bad things about their relationship, honestly. In the comics, she becomes Superwoman, so Lucy is definitely one to watch out for on Supergirl.
While it's sad that Kara's romantic confidence was shot down and she didn't have a chance to ask him out, there are definitely more things for her to worry about. I'm not just talking about the fact that James called Superman behind her back, either. There are a ton of threats heading Kara's way on this show. Who is Hank Henshaw? Why was Astra so quiet this week, what is she planning? Can Maxwell Lord be trusted? How is she going to keep up her day job? At the end of the episode, Kara spent some quality time with her own sister, Alex, and then went right back to saving the world.
Image: Trae Patton/CBS