Can Jordan Smith Just Win 'The Voice' Already?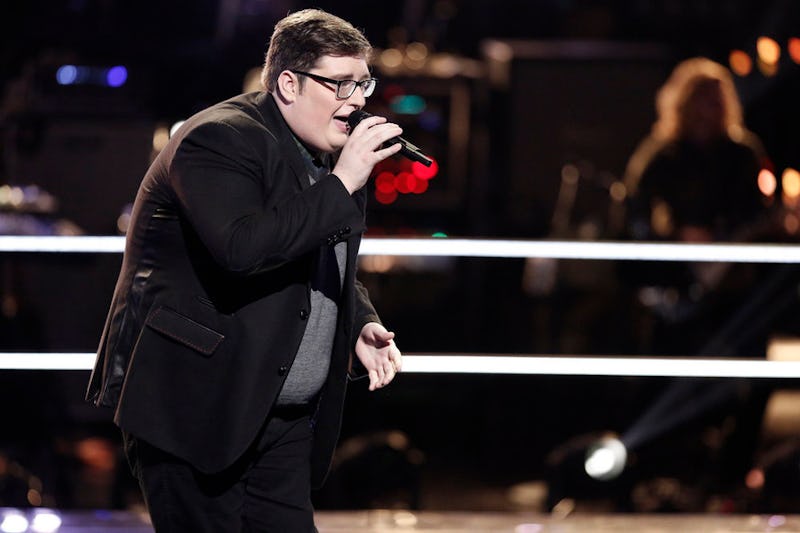 Normally I would argue that Beyonce should never be sung on a singing competition show, but The Voice's Jordan Smith just proved me wrong. Smith took on Queen Bey's "Halo" in the Live Playoffs and completely blew it out of the water, earning a standing ovation from the entire audience AND all four coaches. This is no surprise from Smith, though, who has been a front-runner ever since his incredible Blind Audition performance of Sia's "Chandelier" — which now has a whopping 15.5 million views on YouTube, in case you were wondering. If Smith continues to deliver performances at the same caliber as the ones he's given since day one in this competition, then there's no doubt he'll be this season's The Voice winner.
Smith's talent is not only unparalleled by anyone in this competition, it is unparalleled in the music industry itself. His voice is so crisp and powerful that Pharrell claimed it must be signed by God Himself. Now, this might be pushing it (or not, since Gwen Stefani agreed), but it is true that Smith's talent is extremely special and unlike anything anyone has ever heard before. He's a breath of fresh air in this competition, which is why he deserves to take home the title.
What sets Smith apart, other than his voice, is his humble presence. His sole purpose for competing on The Voice isn't fame and money, it's to share his talent and spread the message that it's okay to be different. This is evident every time he steps onto the stage. It's clear that Smith isn't there to soak in the coaches' compliments and revel in the standing ovations — though, that's definitely a perk. He's there because he loves what he does and wants to share his gifts with the world. The fact that he gets to spread the message to "be yourself" while he's doing it is an added bonus. Both Smith's talent and personality are unmatched in this competition, which is why he most certainly deserves to be, and will hopefully become, the season 9 The Voice champion.
Image: Tyler Golden/NBC