Jordan Smith Needs To Win 'The Voice'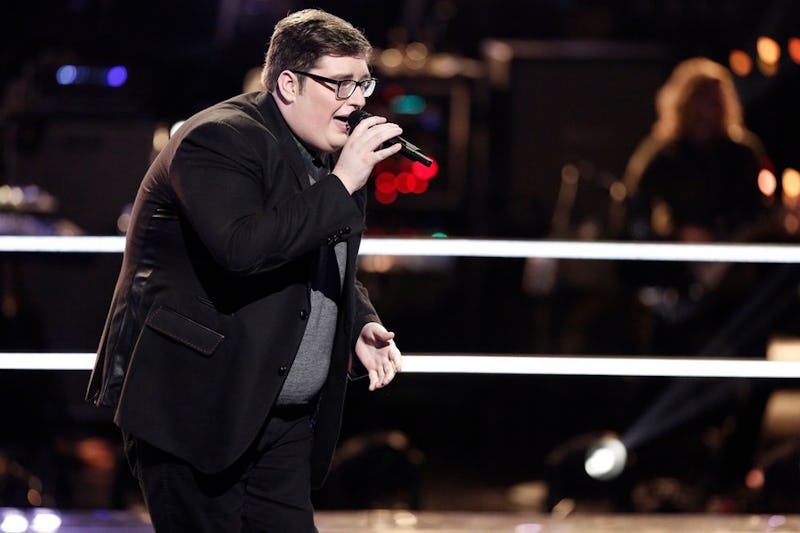 Now THAT'S how you win a Knockout Round! Jordan Smith shocked the panel of The Voice coaches with a powerful rendition of "Set Fire to the Rain" that would've impressed Adele herself. Seriously, how does this guy do it?! Smith has impressed until this point, but no performance has matched what he did tonight. His crazy range and powerhouse vocals put him in a league of his own in this competition. If Smith is able to continue delivering Madison Square Garden-worthy performances well into the finals, there's no doubt that he will win Season 9 of The Voice.
Smith proved himself to be an extraordinary artist from the minute he stepped onto The Voice stage, but he brought his talent to the next level in the Knockout Rounds. You need to be pretty confident in yourself to perform an Adele song in any competition, and Smith did it with gusto. He even dared to include riffs of his own, which made the performance even more amazing. Having the ability to make songs your own gives any contestant a major advantage in this competition. The fact that Smith has proved this so early just goes to show what an incredible artist he is. It also makes me wonder what other weapons Smith is hiding in his arsenal. It'll be pretty difficult to top tonight's performance, but something tells me that this was only a preview of what Smith has in store for us.
But don't just take my word for it. The coaches have equally amazing things to say about Smith. According to Blake Shelton, Smith delivered "one of the greatest vocals he's ever heard." Even better? Adam Levine claimed that "it's a profound experience for someone to hear [Smith] sing." If that doesn't tell you that Smith is the real deal, then I don't know what will. Seriously, this guy came here to win. And if he doesn't, all hope that I have in these singing competitions will be lost.
Image: Tyler Golden/NBC