Get To Know Jordan Smith Off 'The Voice'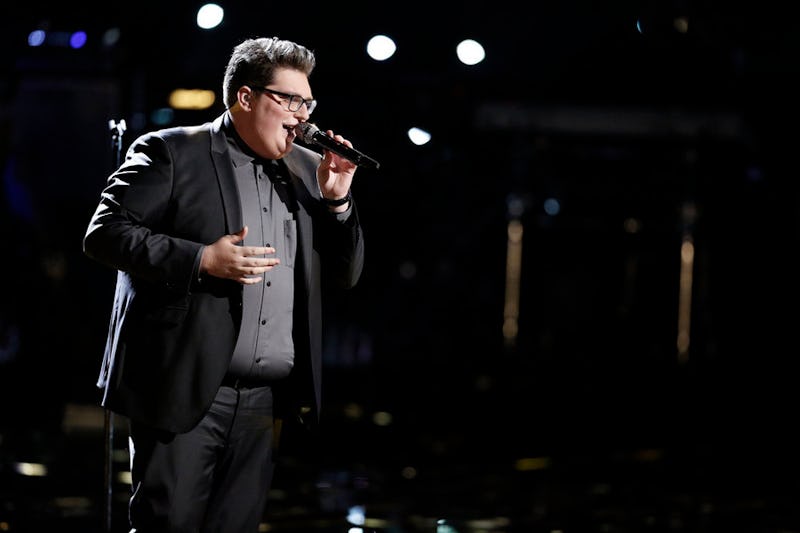 Not many folks can take on a Beyonce song in the Live Playoffs of The Voice — but Kentucky native Jordan Smith is no ordinary contestant on the show. The singer first stunned coaches and viewers at the Blind Audition and has continued to sing his heart out to reach the show's Top 20. But, there's so many more Jordan Smith facts his fans need to know, other than he's an amazing singer. Although, it is worth mentioning that Smith sang Queen B's "Halo" for his live performance on Monday night and he did not disappoint at all. The coaches loved it, and we'll find out later this week during the results show if viewers were into it, too.
The 22-year-old Harlan, Kentucky, native has a penchant for choosing challenging songs — like Sia's "Chandelier" and Adele's "Set Fire To The Rain" — and then completely knocking them out of the park when he's on stage. Smith's unique voice has truly found its home on The Voice, where he is one of the clear front-runners for Season 9's crown. His coach Adam Levine said after his performance that Smith is more than just an amazing singer."You're a person that everybody draws this amazing energy from," Levine told Smith. "And it's like, it's unlike anything I've ever, ever experienced in my life, and I'm just honored to be a part of it, man."
Here's what else you should know about Smith.
1. He's Currently A Student At Lee University
Smith is a senior at the Cleveland, Tennessee, university — and yes, there's a Cleveland in Tennessee. I've been there! "I'm very proud to represent Lee," Smith told Chattanooga NBC affiliate WRCB. "Lee was the perfect breeding ground for this success."
2. He Was Part Of The Lee Singers
While in school, Smith found his niche by performing with the Lee Singers on campus. "He's been around here for about three years and he's one of my favorite singers," Brad Moffett, director of the campus group, told WRCB. "Maybe one of the very best singers I've ever had the chance to work with."
3. His Voice Videos Have The Most Views
Smith's videos are racking up quite the numbers, giving him the lead out of all contestants. His cover of Sia's "Chandelier" during his stunning Blind Audition currently has 15.6 million views and counting. His Knockout rendition of "Set Fire To The Rain" by Adele has 2.8 million views. Wow!
4. He Spent His 22nd Birthday Recording A Song For iTunes
According to a Kentucky.com interview, Smith recently turned 22 and celebrated by, oh you know, recording his latest track for iTunes like the big time star he is now. Afterward, he and some of The Voice gang went out to dinner. Sounds like fun!
5. He Has A Girlfriend
Sorry, ladies! He's taken. According to The Lexington Herald-Ledger, Smith's has a girlfriend named Kristen.
6. He Comes From A Musical Family
Also according to The Lexington Herald-Ledger, Smith's parents are both musicians, as well as his aunt. He got his start singing as a young man at church — and he also played the drums. "I think our family's love of music and how musical our home was — we would sing in the car together, sing in the shower and when I went to bed at night — it was just kind of like a very important part of our life as family," he told the newspaper.
Sounds like Smith has been destined for The Voice for a long time.
Image: Tyler Golden/NBC