How To Keep Your Legs Warm In Jeans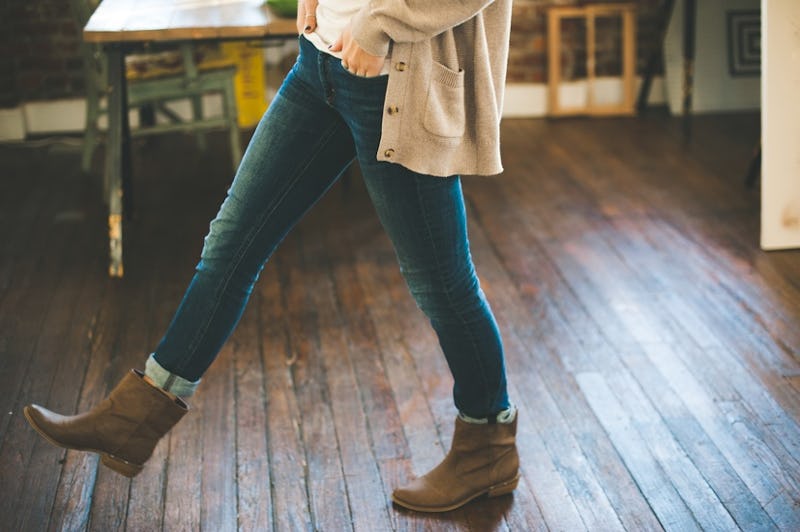 When winter rolls around, I may or may not (OK, may) spend every single day in my leggings. It's not because I'm lazy or don't care about fashion, it's just honestly the only thing that keeps me warm. If you live or have visited somewhere in the country that experiences legit winter, then you know, the struggle of wearing jeans when it's cold outside is all too real. But you don't have to give up jeans for good, because there are ways to keep your legs warm in jeans. Granted, they're no substitute for your comfy leggings, but they can help pull you out of your winter style rut when needed.
Fight it as much as you want (and believe me, I do), but throwing on your favorite pair of jeans just doesn't fly in cold weather. Denim isn't great at repelling wind, there are spaces between the material's weave which can fill with water molecules on a cold day, which then freeze, making you even colder, and the worst part of all: They suck if they get wet. They may look good, but walking around shivering all day is definitely not cute.
If you still want to wear jeans when it's cold, these eight tricks will help keep your legs warm. You can try one of them or a few of them at once depending on how cold it is, but anything is better than going out with just your plain jeans on.
Extra layer= extra warmth.
Cashmere Knee Sock, $32, Need Supply
If you can find a long pair that you can pull high up your leg underneath your jeans, that's even better.
Down Long Coat, $189, Land Send
A long coat that reaches to the knee or below will help block the wind from your legs.
Heat Keepers , $30, L .L Bean
...when it's winter, you do what you gotta do. Plus, it's basically like wearing pajamas underneath your clothes.
BDG, $40, Urban Outfitters
If you're willing to skip the skinnies and go for a relaxed fit/boyfriend jean, you can still wear your leggings underneath.
Cable Knee Socks, $24, Anthropologie
There are plenty of cute knee socks to pair with boots.
Chinese Laundry, $101, Macys
They'll keep you warm, and bonus, they are on trend.
Flannel Lined Jeans, $68, Eddie Bauer
These jeans designed for cold weather may not be as cute as your skinnies or flares, but at least they're jeans. I'm sure you can make them quite fashionable, in fact!
Images: Macy's; Eddie Bauer; Anthropologie; Urban Outfitters; LL Bean; Lands End; Need Supply; Nordstrom