10 Children's Books With Life Lessons For College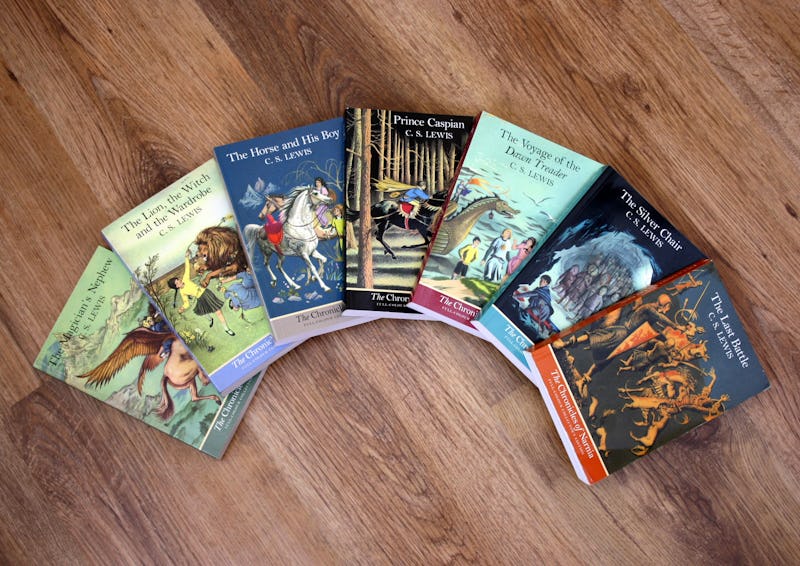 The things we read as children tend to stick with us. But when we were kids, books were a way to travel to fantastical worlds — Oz, Narnia, Hogwarts, that high school with all the rich kids in Gossip Girl — so we didn't always pick up on the underlying messages when we were little. Sometimes we have to wait years to fully understand the simplest of children's stories. Like Shel Silverstein's The Giving Tree. Reading it as a little kid, it's a cutesy story about a very nice tree. When you're 20, it's a sobering reminder to CALL YOUR MOM.
Once you get to college, it's tempting to put away all your kids' books for good. After all, you're an adult now. What more could the world of children's literature possibly have to teach you? Quite a lot, as it turns out. The books we loved as kids can still pack a punch when it comes to navigating multiple roommates, demanding classes, awkward hook-ups, and infinite dining hall options. And they're almost definitely cheaper than any college text book.
There are so many wonderful new children's books out there, but there's something about growing up with a certain story that makes you want to turn to it for guidance. Besides, if you spent your childhood staying up all night to read with a flashlight, then you're already prepared for college-level sleep deprivation.
1. Charlotte's Web by E.B. White
The lesson: One true friend is worth a lot.
And they don't necessarily have to be from the same walk of life as you. So if you're a pig with an undecided major, and your new roommate is a very artsy spider, you can still turn out to be the best of friends. And a best friend is always going to support you (and, if they're an art major, come up with some pretty great wall hangings for your shared room).
2. The Hobbit by J.R.R. Tolkien
The lesson: Get out of your comfort zone!
Look, I love blanket burritos and Netflix and tea as much as the next gal, but every once in a while you need to get swept up in a college adventure. You don't have to go out and party hard if you don't want to, but part of college is being open to new experiences! So if a bunch of dwarves show up uninvited and trash your place, find out what their deal is. Go after the occasional dragon. College is a time to venture out of your Hobbit-hole.
3. Ella Enchanted by Gail Carson Levine
The lesson: Make your own decisions.
College is often the first time that you find yourself making important life decisions for yourself — should you major in English or chem? Should you stay home and study, or go see your friend's friend DJ at that thing? Ella Enchanted is one of those rare feminist fairy tales that makes you want to embrace your free will, instead of just going with the flow. Ella spends the whole book fighting for the right to make her own decisions, but you already have that power, so you might as well use it.
4. From the Mixed-Up Files of Mrs. Basil E. Frankweiler by E. L. Konigsburg
The lesson: Spend time figuring out what you want.
OK, we all know that the real lesson here was that living in the Metropolitan Museum of Art is awesome, and we should all try it. But beyond that, Konigsburg's book about two young runaways is quite possibly the perfect coming-of-age story: a young girl who doesn't just want to run from something, but to something. It's a good book to revisit if you're having the classic college freak-out and trying to figure out exactly where you want to run to.
5. A Series of Unfortunate Events by Lemony Snicket
The lesson: Make the most of a bad situation or It's always useful to be well-read.
I'm cheating a little by including a whole series of books, but there's so much to learn from Lemony Snicket. Like how nervous and anxious don't quite mean the same thing, or how adults cannot always be trusted to make the right choices, or how live crabs can be used to make homemade staples. But more than anything, these books taught us that there's a solution to even the most miserable of problems, and that being a well-read person will always up your chances of survival.
6. Julie of the Wolves by Jean Craighead George
The lesson: You can make anywhere feel like home.
Chances are, if you read this book as a kid, part of you wanted to just ditch civilization and go find a wolf pack of your own. If you chose to stay in human society and go to college, however, this book still has a lot to offer: Julie, or Miyax, is stranded on the arctic tundra with no one but wolves for company, and yet she learns to communicate with the wolves and survive. Going to college is not quite as drastic a situation, but it does help to be able to create a home no matter where you are.
7. The Lion, the Witch, and the Wardrobe by C. S. Lewis
The lesson: It's OK to make mistakes.
As a kid, the major takeaway from Narnia was that there's probably a magical land in the back of your closet; a conclusion that led to crushing disappointment. As a college student, it's not just a nice story because of its whimsy, but because of its themes of redemption. I mean, Edmund totally ruins everything and betrays all his friends and family, but he still comes around in the end. And everyone's cool with it! I mean, next to Edmund, that time you ate all your roommate's Pop-Tarts while pulling an all-nighter for that paper that you should have started much earlier is barely a transgression at all.
8. The Very Hungry Caterpillar by Eric Carle
The lesson: This book LIES, because if you eat everything in the dining hall, you will NOT turn into a butterfly.
Or maybe the message is that if you eat a balanced and varied diet, you will turn into a butterfly. Look, gaining the dreaded freshman 15 isn't the end of the world, and if you're hungry, then you should eat and not worry what anyone thinks.
9. A Wrinkle in Time by Madeleine L'Engle
The lesson: It's good to be different.
So what if you didn't make the team, or the sorority, or the play? A Wrinkle in Time is a brilliant book for so many reasons. It has sweeping fantasy, genuinely interesting scientific concepts, and a great case for fighting against conformity. Sometimes it can be hard to find your place in college — but hey, you can always start your own club. There's definitely someone out there on campus who wants to talk about tesseracts with you.
10. The Lorax by Dr. Seuss
The lesson: Do your laundry.
OK, I know that's not the actual message of The Lorax — the message is to take action, especially when it comes to protecting the environment. And that's very important. But it's also important when it comes to your personal environment. If you don't wash the dishes and do your laundry and take a shower and sleep, things are just going to keep spiraling. Until your roommates lift themselves up by the seat of their pants and fly away. So take care of yourself as well as the Earth.
Image: tudor-rose/flickr