See Johnny Depp On The 'Edward Scissorhands' Set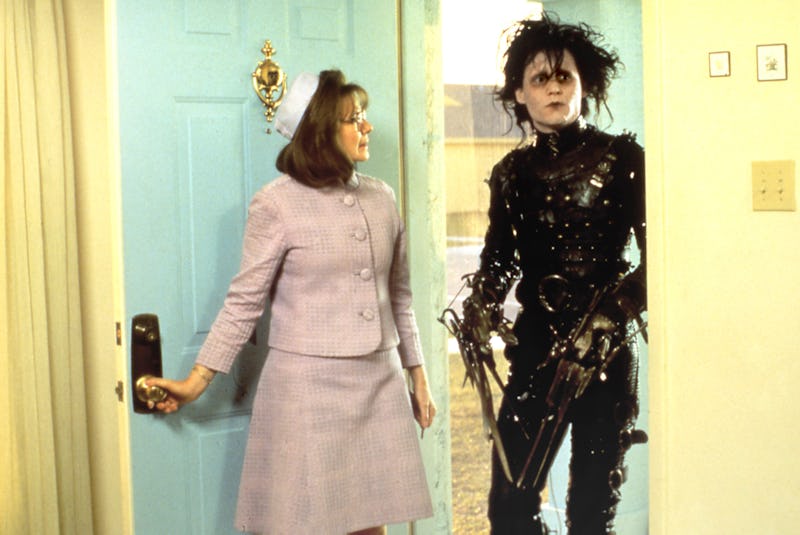 The first time I saw Edward Scissorhands, I remember thinking that it was the closest thing I'd ever seen to a fairy tale being brought to life. With its storybook structure, colorful sets, and Sleeping Beauty-like heroine, Edward Scissorhands presented audiences with a fantastical reality. It also helped launch Johnny Depp's movie career, taking him from 21 Jump Street to the big leagues. Now, years later, Tim Burton's classic love story is celebrating its 25th anniversary, with a limited-edition commemorative Blu-Ray of the film released last month. To honor Burton's one-of-a-kind masterpiece, which has its official anniversary on Dec. 14, Bustle is debuting exclusive behind-the-scenes photos of Edward Scissorhands , featuring Depp on set, a blonde Winona Ryder, and so much more.
As fans will recall, the movie — Depp's first ever collaboration with Burton — features the actor as Edward, a man with scissors for hands created by an inventor living alone in an isolated castle. After the inventor dies, Edward is taken in by Peg (Dianne Wiest), an Avon Lady, who brings Edward to her brightly colored suburban home. The role was a far cry from Depp's teen heartthrob past on screen, and that, according to Burton, is why Depp was the perfect man for the role.
"That first meeting, I knew he was the right person for it. Just because he seemed to be somebody who was, like, trapped in that, whatever 21 Jump Street thing — but that wasn't him. So he just felt like the character, you know? Somebody who was perceived as one thing and is actually something else," Burton told EW in October. Here's the duo on set, below:
Burton, who was already gaining a reputation for his love of wild visuals and makeup from Beetlejuice (1988) and Batman (1989), covered Depp in stark white makeup and added a nest of black hair on his head to transform the actor into Edward. Finally, sharp scissor blades were added to create the hands, designed by makeup and special effects artist Stan Winston, as you can see here.
Edward Scissorhands might have been Burton's first time working with Depp, but it was his second film alongside Winona Ryder. For the film, Ryder traded in her black-haired, goth look from Beetlejuice for a blonde wig and lighter wardrobe.
Looking back at Edward Scissorhands, it has all the makings of a classic fairy tale: a dark castle, a pretty girl, a man in need of redemption, and magic. And, no, I'm not talking about how the inventor appears to have created life out of a robot — I'm talking about the creation of snow, something Edward brings to the suburbs with his delicate ice sculptures, as seen in the photo below. The magic of Edward Scissorhands lies in the simple beauty of the snow he creates, proving that snow in movies was magical even before Frozen.
December may mark 25 years since Edward Scissorhands' release, but the movie has lost none of its odd, lovable charm.
Images: 20th Century Fox (5)