'Wicked City's Kent Thinks Of Himself As 'Phantom'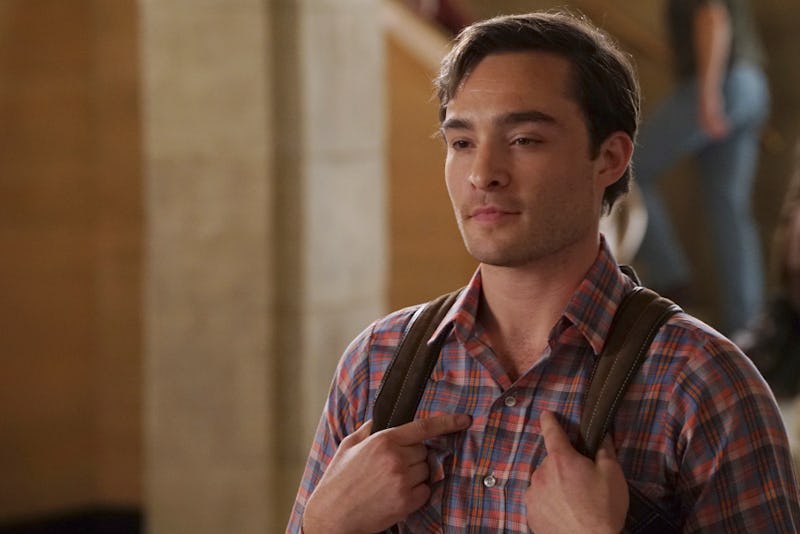 On Tuesday night's episode of Wicked City, Kent (Ed Westwick) revealed his latest secret to on-and-off again lover Betty: He loves The Phantom Of The Opera. I guess he fancies himself as the Phantom, because Betty certainly thinks of herself as Christine by the end of the episode. So what does Kent's love for The Phantom of the Opera mean for his Wicked City character? I think it's pretty cool because it gives the audience (and Betty) a bit more insight into Kent's inner world, even though I have a feeling there's so much more to know.
For those who need a refresher, The Phantom of the Opera by Gaston Leroux is the story of a "Phantom" (a.k.a. the disfigured guy who lives at the opera) who kidnaps opera singer Christine and tries to force her to marry him. And it's that classic story that runs as a thread throughout this episode of Wicked City. We found out the body Det. Roth (Jeremy Sisto) found last week is the late Vera Bennett, a librarian who just happened to give her copy of The Phantom of the Opera to Kent. The suave serial killer then lends the book to Betty in order to woo her back and assuage her doubts about their relationship (and his urges to kill). And because Betty is just as secretly weird and sick as Kent, she's totally into it. She sees herself as the beautiful Christine — so does that mean she sees herself as kidnapped? And does that mean that Kent sees himself as a disfigured and broken outsider?
In the story of Phantom, Christine and the Phantom eventually do bond, and he shows her the disfigured face under his mask. And that's exactly what Betty relates to after she reads Kent's copy of the book. Earlier in the episode, Betty freaked out that Kent, you know, is really into killing people and asks him to stay away, but by the end, she seems to be totally on board with him and his murderous habits. As for Kent, it's interesting to think he might see himself as the Phantom, considering he's so charming and handsome.
But perhaps all of that is just a mask.
Images: Eric McCandless (2)/ABC