7 Great 'Empire' Songs That Don't Need The Lyons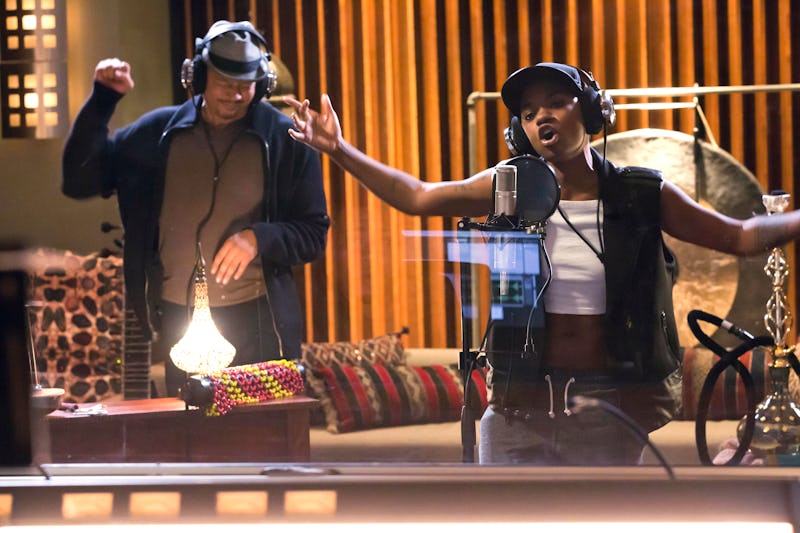 Empire may focus on the music and drama of the Lyon family, but Cookie, Lucious, Jamal, and Hakeem aren't the only people that sing in the series. There are plenty of songs from Empire that prove the Lyons aren't the only talented artists on the hit show. Season 2 has featured many songs from awesome real life artists such as Serayah, Bre-Z, Becky G, and many more. Last week, Lucious Lyon even warmed up to rapper Freda Gathers (played by Bre-Z), because he felt he could relate to her more so than any of his three sons — and that's saying something about her talent.
Throughout Season 2, viewers have been able to get a bit of a glimpse into the lives of the non-Lyon characters. Becky G stole the spotlight as Valentina, a short-lived member of Hakeem's girl group Mirage a Trois — because she jumped ship to Empire when Lucious offered to sign her. The angelic Laura (Jamila Velazquez) took Valentina's place and the newbie is so talented that Hakeem hasn't even looked back. Tiana (Serayah) was robbed right outside of Lyon Dynasty, causing Cookie to buff up security — with her buff new man. And then there's Gutter Life Records artist J Poppa, who is currently seeing Empire assistant Becky.
You definitely need to check out the following Empire songs — no Lyons were involved in the vocals and they're still awesome.
"Do It" By Becky G
Valentina showed off her sexy side to Hakeem in this sultry tune from the episode "Without a Country." Hakeem was looking for a star for his girl group and this song proves that Becky G's character was more than qualified — so much that she signed with Lucious as a solo artist.
"Get No Better (2.0)" By Serayah
Tiana hasn't received much attention this season, but she makes it count whenever she's on screen. This upbeat track shows off Serayah's fun pop side.
"Why Go" By Bre-Z
After last week's episode, we know that Bre-Z's Freda can rhyme like no other and throw a punch. Listen to the rapper's skills above.
"Boom Boom Boom Boom" By Bre-Z & Terrence Howard
I know, I know — this one has a Lyon. But this is the song that Lucious gives to Freda, because he loves her raw talent. Just listen to them together.
"Runnin'" By Jamila Velazquez, Raquel Castro, Yani Marin & Yazz The Greatest
Yup, this one has a Lyon also, but Mirage a Trios really does steal the show from Hakeem here.
"Whatever Makes You Happy" By Jennifer Hudson & Juicy J
How about a throwback to Season 1? Hudson and Juicy J get funky in this track from earlier this year.
"Walk Out On Me" By Courtney Love
Remember when Courtney Love was on the show as rocker Elle Dallas? What a ride that was. Relive it with the song above, and get ready for even more great music from the many characters of Empire as Season 2 continues.
Image: Chuck Hodes/FOX