'Arrow' Isn't Losing Ray Palmer Just Yet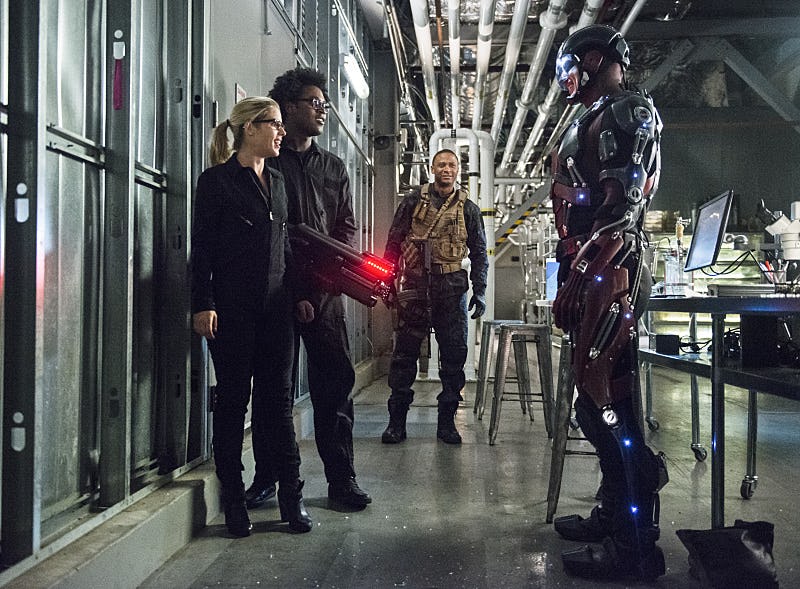 Legends Of Tomorrow doesn't officially premiere on The CW until mid-season, but I feel like I've been watching it already. The showrunners have been using Arrow and The Flash to set up relationships and close the loop on individual arcs in advance of the spinoff's actual debut. Some Legends characters, like Sara Lance and Ray Palmer, come from significant roles on a sister show. Others have just been glimpsed or referenced. Brandon Routh figures prominently in all the promotional material for Legends, from the poster art to the extended trailer to the live Comic-Con panels. Though Arrow will no longer be Ray Palmer's home base, he hasn't left the nest for good just yet. Ray Palmer will appear on Arrow again before Legends Of Tomorrow premieres.
In fact, Ray has been on Arrow already this season. Or at least he has in spirit. At the conclusion of last Wednesday's episode "Haunted," Felicity learned that the audio message Ray left behind didn't actually contain his last words and that the technical glitches that had been plaguing her phone were her ex-boyfriend's attempt to make contact with her. Ray is alive and awaiting assistance. Team Arrow never ignores a distress call from a friend, as the promo for this Wednesday's episode shows.
Not only are fans going to get to see Ray Palmer on Arrow again; they're going to get to see tiny Ray Palmer! The villainous Damien Darhk is literally holding the ATOM like a bug under glass. Seriously, in some cases, that size thing feels like a massive disadvantage. "It's like searching for a needle in a city full of haystacks," Laurel laments in the trailer. Ray's shown incredible ingenuity so far. His attempts to contact his friends are proof that the Palmer Tech genius can still problem solve under stress. But he needs the numbers and the tactical knowledge of Team Arrow to break him out of Darhk's minuscule prison.
Obviously, Ray will be all over this Wednesday's episode, "Lost Souls," when Oliver, Felicity, and company spring into action to rescue him. His name doesn't appear in the official synopsis for the Nov. 18 episode "Brotherhood," so perhaps fleeing Darhk and keeping ATOM technology out of the hands of HIVE involves leaving Star City entirely. But Ray will most certainly turn up on Arrow again when the monumental Arrow/Flash/Legends crossover event goes down. On Arrow, that episode is scheduled for December, and is titled "Legends Of Yesterday." Executive Producer Wendy Mericle shared this epic promo image on Twitter, featuring Thea, Oliver, Laurel, Barry, and Diggle all in their fightin' suits, plus the fans' first look at the in-costume pair of Hawkgirl and Hawkman.
Ray Palmer isn't in this photo, but I'm not worried. (Or maybe he is there, and he's just too small to see.) The Arrow piece of the triple series crossover is going to lay important ground for Legends Of Tomorrow, and there's no way the ATOM is missing that party. I'd like to see Ray and Felicity gain some closure over the course of those episodes, since she's bound to blame herself for not finding him sooner. Whatever his storyline in the crossover, Arrow isn't finished with Ray Palmer yet.
Image: Cate Cameron/The CW