Ray Could Return To 'Arrow' Sooner Than We Think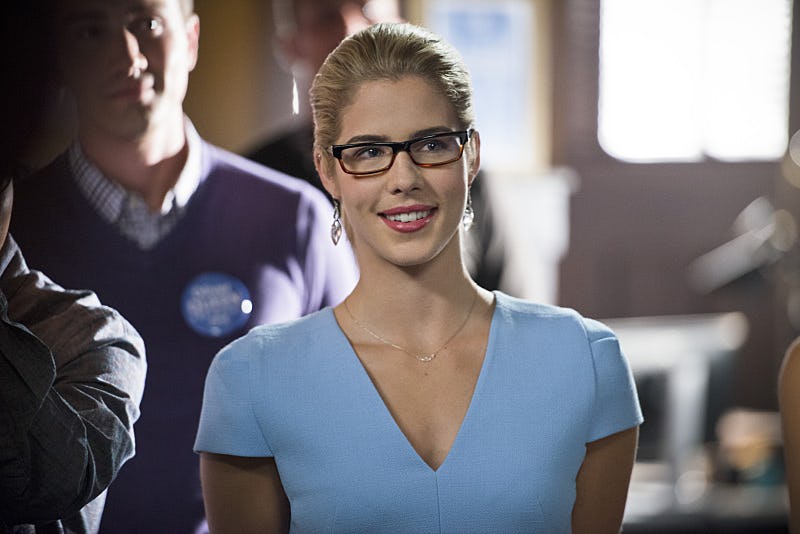 As of now we still know very little about Ray Palmer's disappearance on Arrow . Because while it's true we all saw the explosion firsthand, we also know (thanks to Brandon Routh's upcoming gig in Legends of Tomorrow) that our beloved A.T.O.M. is alive out there somewhere. But the circumstances surrounding his actual location are still as vague as ever. So what actually happened to Ray Palmer? Well, at first I thought that the cryptic code on Felicity's phone meant that Ray was somewhere in the confines of Palmer Technologies, but was so small (you know because of the whole "atom" thing) that this code was the only way he could think to communicate with her. Granted, I know very little about technology so this really was just a shot in the dark. Speaking of Darhk, I think that's exactly the answer to our question.
According to the Arrow episode synopsis for "Lost Souls" (which airs on Nov. 11), "Felicity is frantic when she learns that Ray is alive and being held by Damien Darhk." It also states that when she is unable to find Ray that the guilt eventually causes "tension between her and Oliver." So basically this is all just really bad news all around. There is not one single aspect of this description that I like. We've seen firsthand how powerful Damien Darhk is. He's not just a bad man — he's a bad man with what appears to be magical-like powers. That's a hard force to go up against even for Team Arrow. (Bows and arrows are great and everything, but the supernatural trumps spears every time, my friends.)
But knowing who has Ray only raises more questions. How did Damien even stumble upon Ray? Is Ray actually in his A.T.O.M.-sized form? What does he intend to use Ray for? And how is Ray able to send these messages to Felicity? Like I said, I've got some serious questions. But just know that another Ray Palmer sighting is in my near future is enough to calm my Arrow hysterics at least for a little bit. I just hope that in finding Ray, we don't somehow losing our beloved Olicity.
Image: Diyah Pera/ The CW