Stunning Winter-Themed Manicures You Have To See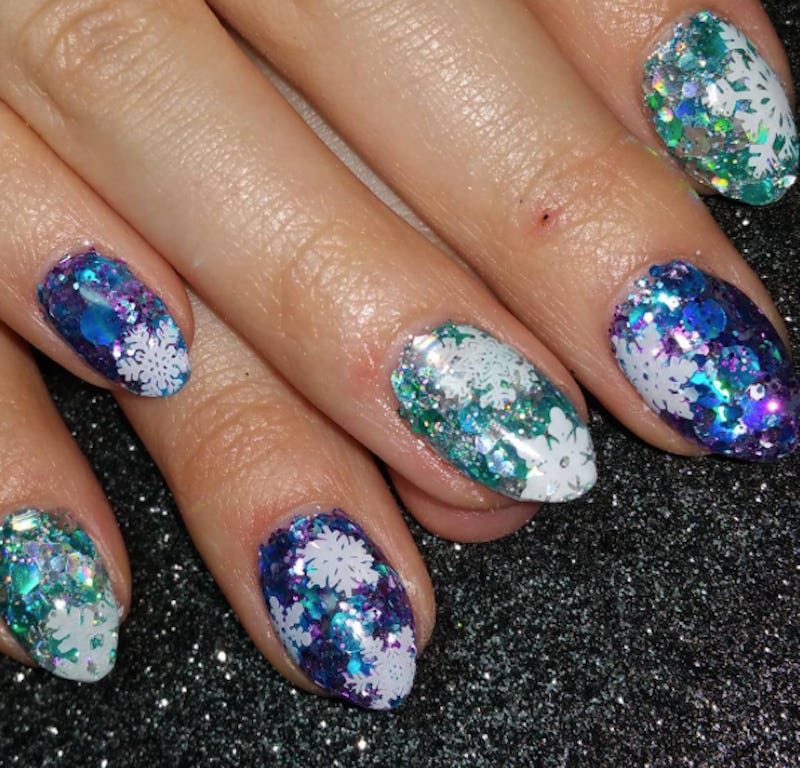 It's that time of year again. Time to bust out the snowflake stamping plates; frosty decals; and icy, glitter polish. Because the only thing better than snow in the air is snow on your nails. And even though winter and I don't really get along, I'm still a sucker for a winter-themed manicure. Whether you keep it simple with a white and blue motif, make it sparkly with glitter and rhinestones, or go all-out with snowflake decals or freehand art, there's something magical about this time of the year that makes it fun representing it on your nails.
If you need a little inspiration though, look no further than these 10 ladies from Instagram. Each has created some stunning winter-themed nail art that I, for one, totally want to copy. And by that, I mean I want my nail tech to copy for me, because there's no way I can free-hand a deer on my right hand. But regardless if you're a nail-art newbie, a total pro, or on standby at your local salon, at least one of these manis has your name all over it. So get ready to find your next cold-weather mani, that is, if you can choose just one.
1. Icicles & Shimmer
Holographic tape or decals over a shimmery polish looks like icicles on snow.
2. Sweater Weather
If a print is good enough for a sweater, it's good enough for your nails.
3. Snombre
A white and blue snow-ombre screams "winter!"
4. Bright & Bold
If you're not into traditional colors, snowflakes look just as BA in a black and pink color palette.
5. All That Glitters
I'm dying over these glitter polishes right now.
6. Icy
Glitter ombre is always a good idea.
7. Glitter Heaven
Snowflakes on glitter on glitter on glitter? YASSS.
8. Winterscape
The deer! The bunny! So cute.
9. Snowy Night
Silver foil over blue polish looks like the prettiest, nighttime snowfall I've ever seen.
10. Winter Wonderland
Seriously, who do I call to get nails like this?
Image: @peppermint_enhancements/Instagram