7 Ways To Afford Traveling When You're Broke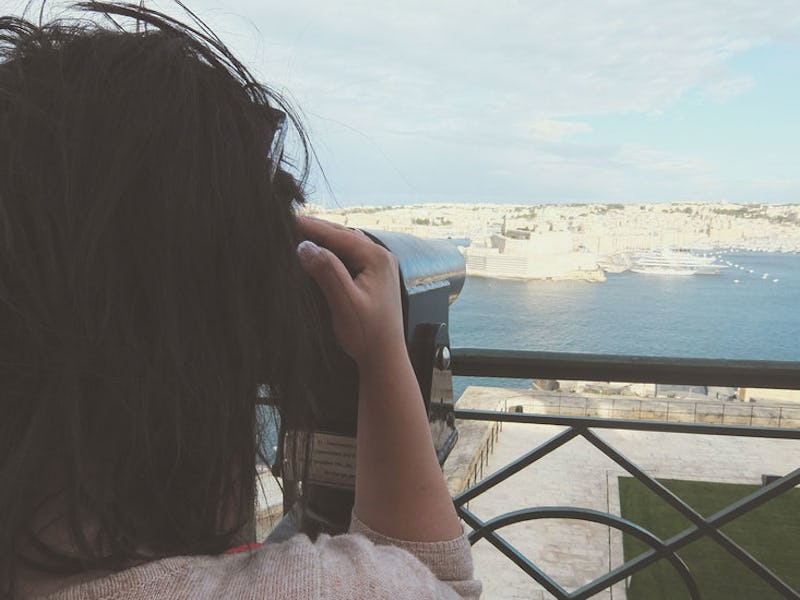 Just because you don't have any money doesn't mean you can't afford to travel when you're broke. You wanderlust doesn't have to be put off — if you're serious about wanting to see more of the world, you don't have to wait for "some day." If your bank account is looking a little low but you get the whim to fly to a new city for a week or hitch on a backpack and run away to Europe for a month, you can still do it. You just have to be savvy and frugal about it. Which in turn means you're going to have to cut out some frills, but what's a few frills when it comes to exploring somewhere beautiful, right?
Usually when you ask someone why they don't travel, their number one excuse is they don't have the funds for it. But if you have a few money-saving tips for when you're doing the booking or tracking down accommodations, you can literally save hundreds of dollars. And if you do some research before your plane lands in your new city, you can be ready with some money-saving tourist moves, too. Below are seven ways to travel when you're broke — because if you have the wanderlust, it's totally doable.
1. Do A "Month Search" When Booking Flights
When you're broke, every penny counts. If you buy tickets the smart way, those pennies saved could rack up to hundreds of dollar. When booking your plane tickets, instead of choosing the dates you want to go on, instead click on "month search" and see how much tickets cost on each individual day of the month. That way, you can choose the cheapest round trip.
Scott Keyes, author of the e-books "How To Fly For Free" and "How To Find Cheap Flights," shared with Business Insider, "Websites like Kayak and ITA Matrix allow travelers to search their itinerary and destination for an entire month's worth of travel so you can discover the cheapest possible airfare." Say you wanted to go to Seattle on the second weekend of November, but then switching over to "month search" you notice the third weekend is $50 cheaper. Boom. Savings.
2. Consider Doing A "Throwaway Ticket"
This is such an amazing travel hack and can save you a lot of money. Say you want to book a trip from New York to Chicago. Both are busy, in-demand destinations so that ticket will cost you a pretty penny. But what if, instead, you search for a ticket from New York to Milwaukee (a less in-demand destination) with a layover in Chicago?
Keyes explained the concept, "...instead of getting on the plane to go to Milwaukee, you would throw away that leg of the ticket and exit the Chicago airport." According to Keyes, a great site that finds these for you is Skiplagged. This might take a little more muscle when searching for flight dates and times, but if it can save you some money it's well worth it. If you're concerned whether or not this is breaking some sort of airline rules, don't worry — Mark Nerys, the New York Times' "ethicist," said that throwaway tickets are totally OK, and if you want to be extra nice, you can simply inform the airline that you won't be using the ticket after you land, so someone on standby can take your spot.
3. Don't Go Out To Eat
If you're broke but want to go on a trip, cut out the biggest money sucker of traveling: Dining out. According to Matt Kepnes, author of the New York Times best-selling book, How to Travel the World on $50 a Day and blogger at Nomadic Matt, "The best way to save money on the road is to cook all your own meals. I recently spent $60 USD for a week's worth of groceries in Stockholm instead of an average of $15 USD per meal eating out! That's a saving of $150 USD! If you are Couchsurfing, your host will probably have a kitchen and many hostels, campsites, and guesthouses also have kitchens. No kitchen? Pack your own container and silverware and make some sandwiches and salads on the go. Not every meal requires a stove right?"
Sure, this option won't be as fun as trying out amazing bars and sampling all the dishes of the city, but if you want to get out of your city and don't have a lot of dough, this is a great compromise.
4. Repeat After Me: Hostels Aren't Sketch
Hostels are exactly like hotels, just offering you the bare minimum. They're not rampant with thieves, overrun with bed bugs, or crawling with murderers. They're just stripped-down hotels, where they don't offer you fluffy towels or TVs in front of beds. But if you're traveling on a tiny budget, that should work for you.
Kepnes offers, "Large hostel dorm rooms are the cheapest paid accommodation out there. If Couchsurfing isn't your thing, this is your next best way to save money on a place to sleep." And keep in mind, if you don't want to share your room with eight other people, you don't have to. You can get a private room with your own bathroom, but it'll cost you a bit more...but still way less than a hotel room. All the major cities in the US have them, so this is a cheap alternative for when you want to pick up and travel for a week but aren't entirely sure you could spring for seven days of hotel rooms.
5. Try Breaking Up Your Flights
Choosing roundtrip is usually the cheapest option when booking flights, but sometimes it's worth to see how much your total would come out if you stitched two separate flights together. Lifestyle writer Claire Murdough at Lifehacker points out, "Different legs of a trip can actually end up being cheaper than bundling the flight on one carrier. For instance, a round trip to LA from San Francisco on Virgin could be $189 while a one way ticket from SF to LA could be $59, and a one way ticket back on another carrier could be $70 — added together that's a much lower overall cost." Don't be scared to jump around different airlines and patch together a round trip that way — it can save you some unexpected cash.
6. Get City Tourist Cards
You spent all that money getting to your destination, but now how do you afford being a tourist there? One great way is to see what attractions and perks city passes offer for tourists. Keppens pointed out, "If you plan on seeing a lot of sights in a city, you should get a city tourism card which offers you discounted and free access to the major attractions and museums, as well as free public transportation. I saved over $100 dollars with the London pass, $80 with Paris Museum card, $50 with a Helsinki card, and tons more with other city tourism card." Sometimes cities bundle train passes with attraction passes, helping you save major bucks. If you were going to go see the attractions anyway, why not get a discount for it?
7. Forget The Suitcase, Do Carry On Only
Resist the urge to bring a suitcase; instead pack everything you need on a carry on. Why? Because it's free. According to Deborah L. Jacobs, personal finance writer at Forbes, "Lately some airlines have given us one more incentive to lighten up, with strict limits for carry-on items, fees for checked baggage, and weight limits for both. Among the harshest: European discount carrier easyJet, which allows only one carry-on piece (a woman's handbag counts), and charges $20 for checked baggage of up to 20 kilograms (44 pounds) with a surcharge if you check at the gate."
I know it sucks cutting back on the dresses and shoes and meals out at restaurants, but when it comes down to it, would you rather sit at home in that dress or explore a new city without it? The new city should always win.
Images: Pexels