How To Downsize Your Skin Routine When Traveling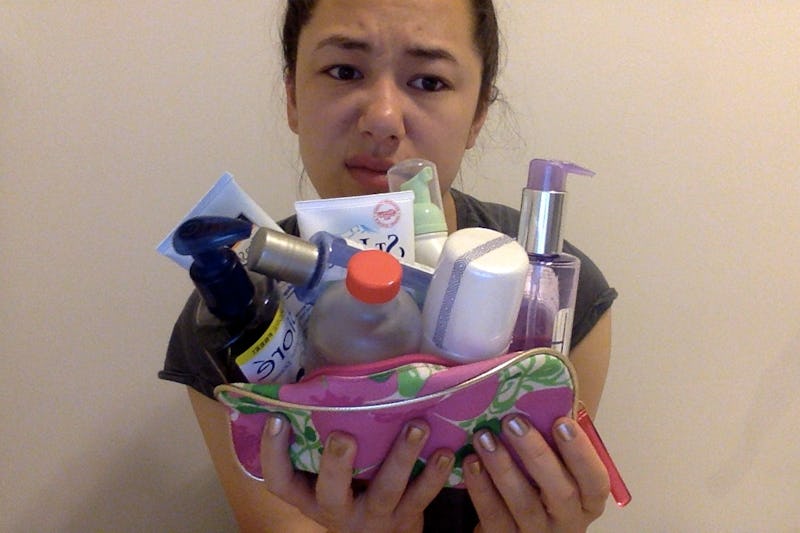 Regularity is part of what makes a good skincare routine, and once you find one that works for you, it's scary to let it go. This is why packing up your skincare products for a trip can be a challenge: When you're traveling, especially on an airplane, there are some logistical hurdles that prevent you from bringing along a whole skincare apothecary in a carry-on, or even your checked luggage. There's also the concern that leaving anything behind could be the difference between maintaining your radiant skin and breaking out on the beach.
Believe me when I say I feel this struggle. My own nightly skincare routine is a multi-step, multi-product process that I swear by, so packing for trips becomes pretty annoying because I know I can't just throw everything into my bags. If I did, there'd be no room in my suitcase for other essentials, like clothes or shoes. To cope, I've had to figure out an abbreviated, TSA-friendly skincare routine that's just as good as what I do at home, and also adds a little extra TLC for the wear and tear of travel.
My skin is different than yours, so there really is no one-size-fits all advice here. Instead, it's important to prioritize and think about what really works for you. The biggest piece of advice here is to be flexible, but if you still need help figuring out what to leave at home and what to take on a trip, here are nine tips and questions you should be thinking about when putting together your own travel skincare routine.
1. Know Your Active Ingredients
The first step in downsizing your skincare routine, at least temporarily, is understanding why you use each product in your regular line-up. What is it about your go-to cleanser that makes it your go-to? Are there any products with one active ingredient that you can swap out for a product with two or three? Use as many multi-purpose items as possible, based on what your skin needs and what you know works well for you.
2. Consider The Length Of Your Trip...
St. Ives Fresh Skin Apricot Scrub, $10, Amazon; Tatcha Moisture Rich Face Cream, $150, Sephora
There are a couple of skincare products that I consider to be desert island, "ride or die" products, like my Tatcha Moisture Rich Face Cream or my St. Ives Fresh Skin Apricot Scrub. But while I use the moisturizer every single night, I really only exfoliate my skin once a week, so even though I love my St. Ives, I won't need it if I'm only going away for a weekend. The length of your trip will totally dictate what you should or should not bring along. If it's less than a week, you'll probably be able to get rid of a lot of "essentials" if you're really bringing only what you actually using every single day. It's not a competition about which product is better but a question of priorities.
3. ...And Think About How Your Routine Will Change On Vacation
Another good way to trim your selection of skincare products is to think about how your routine will change based on where you're going. If you're going to the beach, you'll probably need lots of sunscreen and a good moisturizer, and forgoing your alcohol-based toner, which could dry out your skin, might not be a bad idea. If you're going hiking or camping, you probably have less access to water with which to wash your face, so bring wipes and creams instead of your regular face wash. Think about what you'll be doing, and what you'll have access to, you'll cut out a lot of unneeded products and maybe swap them out for multipurpose ones.
4. Look For Non-Liquid Versions Of Your Favorites
Bioré Deep Pore Charcoal Cleanser, $34, Amazon; Bioré Pore Penetrating Charcoal Bar, $6, Amazon
Once you figure out what you actually need and what's superfluous, you can start finding non-liquid versions of your favorite products, which will both save space and help to avoid explosions in your luggage. I'm a big fan of the Bioré Deep Pore Charcoal Cleanser, which comes in a pretty big bottle in a size that's totally not approved for carry-ons. But there are no limits on the numbers of bars of soap I can bring in my luggage, so when I'm on the road, I switch to the Bioré Pore Penetrating Charcoal Bar. It's way more space-efficient but still cleans my face well.
5. Always Be Ready
I don't even travel that often, but I always have a travel toiletry bag ready to go. If I find travel-friendly versions of my favorite liquid- or cream-based skincare products, I buy them and stick them in a clear quart-sized bag. On the flip side, check the size of your go-to original before trying to find a travel size because lots of products are already carry-on compliant (which means the bottle is less than 3.4 ounces), and knowing that can help minimize a lot of stress. If you spend all this time thinking about your skincare routine, having a kit ready to go before you actually need it filled with products you actually love, you will feel less anxious about heading out into the world.
6. Treat It Like An Experiment
Sephora and Ulta both have extensive selections of travel size skincare, as do many drugstores, so consider your vacation a chance to try out that cleanser you've had your eye on, and see if it's worth it. An added bonus is that the travel sizes of luxury brands are often way more affordable than the full-size ones. Taking a break from your regular routine might be just what you need to find your new favorite, or you can also use the opportunity to stop washing your face with soap for good.
7. Don't Buy New Things Because They're Cute
Travel-size toiletries are fun, and miniature objects are adorable, but if you're going to buy new skincare products, make sure they're things you actually want to try out or will really use. Otherwise, you're just back in the same problem you had at the start and will need to downsize all over again. Remember your active ingredients, and don't bring along two different cleansers or moisturizers when you only need one.
8. Make Your Own Travel Sizes
Flight 001 F1 To Go Bottles & Jars, $14, flight001
If you're really, really unwilling to let of your full routine, and can't find non-liquid versions or travel sizes, make your own small bottles of skincare products, which will be much less unwieldy than the full-size versions. There are already complete kits of travel-friendly bottles out there like this one from Flight 001, which includes (hypothetically, of course) a bottle for a cleanser, one for a toner, two for moisturizers, and even a little dropper for face oils. For foaming cleansers, there are TSA-approved clear plastic foaming bottles.
9. Remember It's Just Temporary
A trip, by definition, doesn't last forever so you're not going to be without your regular skin routine for too long. And if there is a product that you thought you didn't need but are sorely missing once you're traveling, chances are you're close to a drugstore or a beauty store that has at least an equivalent product, if not exactly what you're looking for. Don't stress if you have to forgo face masks for a week — a vacation is for relaxing, after all.
Images: Maxine Builder; Giphy (5); Courtesy Brands