Get Glitter Roots With These Easy Tutorials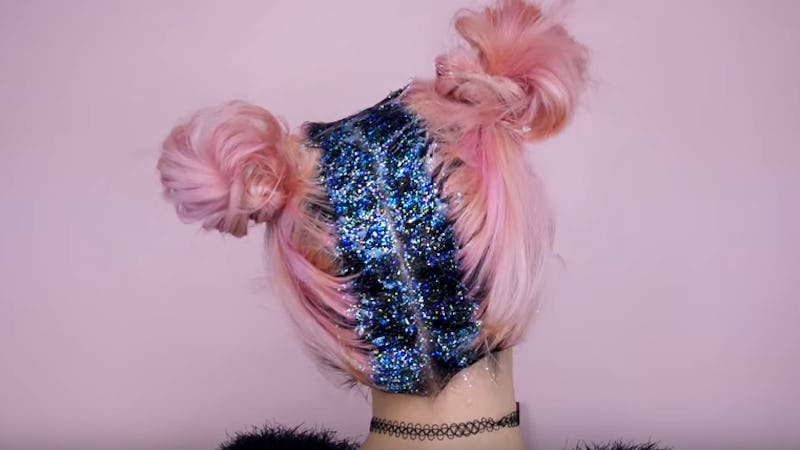 First came hair contouring, then it was all about opal hair, and now a new trend has emerged for beauty junkies to obsess over. Glitter roots are the next big thing in hair, and this look is already breaking the Internet. It looks like the wave of wacky hair looks is still going strong, and it doesn't appear to be slowing down anytime soon. I wonder which celebs will try this look first. Kylie Jenner, are you listening?
This sparkly trend is pretty much exactly what it sounds like — handfuls of colorful chunky glitter applied right to the scalp. But before you go and deem this look as strictly for Halloween, let me explain how it can easily solve a common beauty problem. If you color your hair, then you are no doubt familiar with the annoyance of outgrown roots, right? Instead of constantly running to the salon for color touch-ups, why not dust some luminous sparkle to cover up those roots? According to PopSugar, many women are now opting for this shiny alternative, and it's totally fab.
The sweetest part of this style is that it's super easy and inexpensive to create. All you need is some glitter in the color of your choice, some clear hair gel or pomade, and you're well on your way to radiant roots.
Check out some of the coolest pixie-dusted styles.
You can really see the coarse star-shaped glitter here, and it looks so adorable.
This style almost looks holographic, and I'm totally obsessed.
This one is a bit more subtle, if you're not ready to go full-on glitter.
Ready to give this whimsical trend a try? Here a 3 super easy tutorials to help you nail glitter roots and up your style game.
Intense Glitter
You will definitely stand out from the crowd with this hardcore glittered look.
All-Over Sparkle
She extends the glitter a bit past her roots in this video, creating a sort of dusty effect.
Glitter In The Front
The glitter fun doesn't have to stop at just your center or side part. Subtle sparkle looks way cool on the front roots, and it's totally party season appropriate.
Want more beauty tips? Check out the video below, and be sure to subscribe to Bustle's YouTube page for more hacks and tricks!
Image: Screenshot/Youtube