'Full House' Taught Us A Lot About Thanksgiving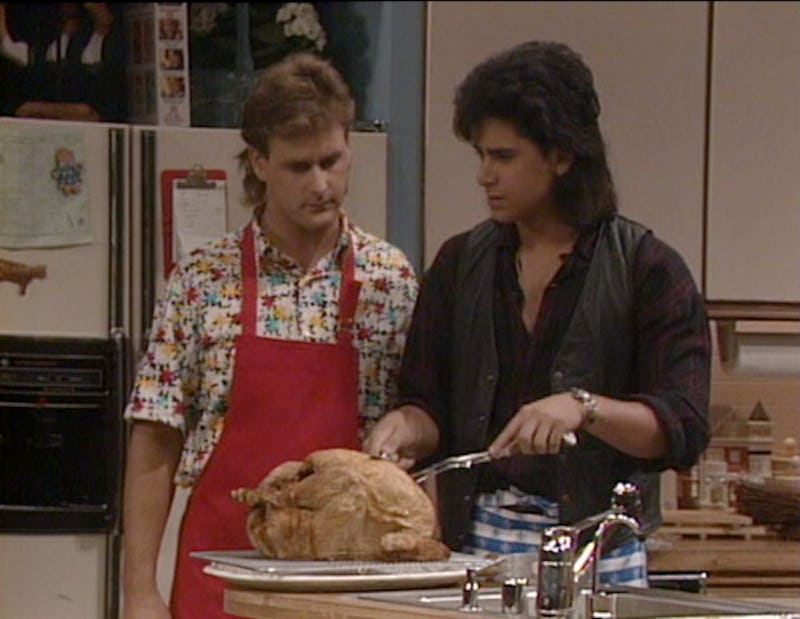 Many kids growing up in the '90s watched a lot of Full House and became instantly attached to the wacky, giant Tanner family. Who didn't grow up wishing they were apart of the large and fun brood? But, although the '90s sitcom often tackled the themes of family and being thankful for what you have, Full House only had one Thanksgiving episode throughout its eight season run. However, true to the show's roots, that one episode, "The Miracle of Thanksgiving," taught the Tanners, and those watching in the audience, plenty about the true spirit of the fall holiday.
After re-watching the classic Season 1 episode (yes, it aired all the way back during the show's first run in 1987) I picked out eight important lessons to be learned from the Tanner's first Thanksgiving experience after the passing of Danny's wife, Jesse's sister, and the girls' mother. It's a sad episode at first glance, but it also really tugs on the heartstrings of all those watching and reminds us what's truly important come the fourth Thursday in November: Love and family. (Although turkey is pretty great too.) Here's what the Tanners taught us all about the special day.
1. The Miracle Of Thanksgiving Definitely Does Exist
Despite Jesse's protests that there's no miracle of Thanksgiving, the Tanners prove it does exist. When it seems Thanksgiving is ruined (for the first, second, and third times), the Tanners pull together and make the best of the situation, proving that you can make your own miracle of Thanksgiving.
2. Tradition Can Be Important
Every family may have different traditions, and it can be fun to incorporate something new, but sometimes it's best to stick to what you know. For instance, the Tanners always have a home-cooked meal. That means no going out to dinner or buying turkeys from random strangers.
3. "If You Can Read English, You Can Cook"
The Tanners do their best to prove this lesson wrong by under-cooking, then over-correcting and burning the turkey. But, the lesson holds true that cooking is a fairly simply process that anyone can master, even for a complicated meal like Thanksgiving dinner.
4. Everyone Pitches In
Without Danny's wife, Pam, there to help cook the Thanksgiving meal and with his mother stuck in Washington, the whole Tanner family pulls together to help make dinner. Although the results are pretty disastrous, working together can lessen the burden — and spread out the blame.
5. Money Doesn't Fix All Problems
Danny tries to save Thanksgiving by buying a perfectly-cooked turkey off two women that accidentally drop in on the Tanners. However, the women leave before taking Danny's deal, and even DJ knows that offering money to cover up a mistake is a bad idea, even if it means potentially saving the day.
6. "Smiles Are Free, So Give Them Away"
This piece of advice comes from Pam Tanner and is retold by DJ to Danny. It may seem simple, but the lesson of smiling often is one that everyone could use on Thanksgiving.
7. "People Break Things All the Time"
This simple, but wise, lesson from Jesse is a reminder that everyone makes mistakes. If something doesn't seem fixable, chances are it actually is. Even if that something is a ruined pie, you can always bake another.
8. Thanksgiving Isn't About Turkeys
Of course, the biggest lesson from Full House's Thanksgiving episode is that the holiday should be more about family, and being thankful for them, than the actual meal. (That's not to say you can't be thankful for the food, too, though.)
Images: Warner Bros. Television; Giphy (8)