Ranking 'Master Of None's Best Musical Moments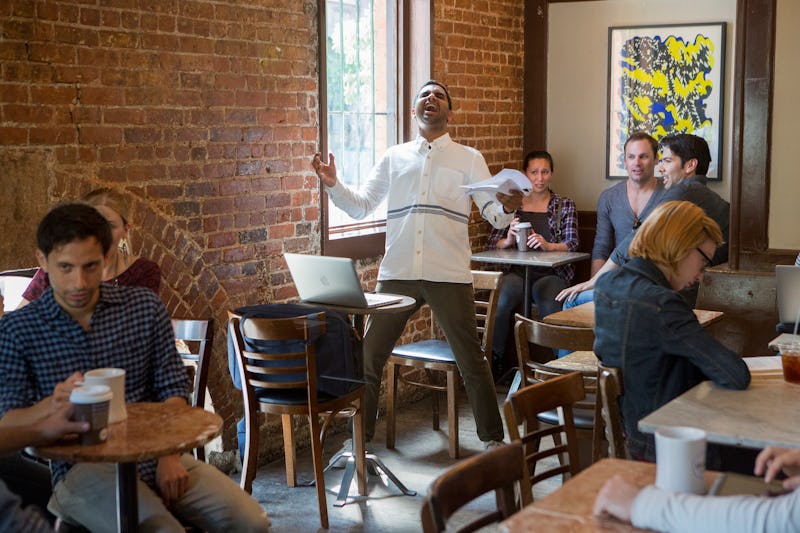 Usually, film soundtracks are the commercial heavy hitters. However, every once in a while, a TV series' soundtrack comes out swinging and leads to some major repeat listening (The O.C. mixes, I'm talking to you). Even though it hasn't been officially released and currently only exists as a Spotify playlist, the soundtrack to Master of None, Aziz Ansari's Netflix series, takes the aural cake and serves as the year's best mixtape.
Carefully curated by music supervisor Zach Cowie and Ansari himself, the soundtrack is not just background noise. The songs are not the regular mashup of polite instrumentals meant to be drowned out by dialogue, nor are they the prototypical blend of melodramatic indie hits queued up to make you cry on command in your car (now I'm looking at you, every Sia song ever featured in a network drama). Instead, it is a mixed blend of tracks are as vital to each scene as the actors themselves.
I'm not the first one to notice the amazing jams on the breakout hit — the Spotify playlist (found at the end of this article) featuring them has over 17,000 followers to date, and the show just began streaming on Nov. 6 — but I am the first one foolish enough to try and quantify these musical gems. Here is my best attempt at ranking Master of None's episodes by best musical moments.
10. "Finale"
Aside from Mendelssohn's "Wedding March" and 2014's answer to the Drive soundtrack in the form of The Durutti Column's solemn electronica, this wasn't the most outstanding of all musical episodes, because it really had other things to focus on. Like finding the best taco, or figuring out if you're going to be trapped in the wrong relationship for the rest of your life.
Honorable Mention: Ansari's voiceover of The Bell Jar. It's not a song, but it was hella poignant.
9. "The Other Man"
Any time that Lou Reed is played in the first 30 seconds, you know some serious ish is about to go down. "Walk On The Wild Side" is musical equivalent of the devilish smirk, or the tell-tale arm touch, or the winky face emoji. Once it starts, it's only a mere matter of when the mistake will be made.
Honorable Mention: The Animals song played during the closing credits that isn't "House of the Rising Sun."
8. "Parents"
An '80s flashback is not an '80s flashback without both Spandau Ballet and Rick Springfield. This episode spotlighted the struggle to adopt guitar over the generations, and provided some fresh exposure to T.M. Soundararajan, a man who recorded over 10,000 songs in his lifetime. That's quite the catalogue.
Honorable Mentions: The songs in the opening and closing credits, "They Reminisce Over You" and "Son of My Father," for their nudge-nudge titular references.
7. "Mornings"
Notably a quieter episode, the focus is pulled tight on the dialogue between Dev and his girlfriend Rachel (Noël Wells). However, points are awarded towards the Serge Gainsbourg and Jane Birkin track, arguably the best inclusion of a style icon on a foreign hit (another contender is the little known Babyshambles song, "La Belle et La Bete" featuring a nearly-whispering Kate Moss). The overlay of Dean Martin's "Volare" in a carbonara-making montage is gratuitous but not unappreciated. Induces Lady and the Tramp vibes and makes this girl real hungry.
Honorable Mention: The escalating medley of weird sex sounds made by Dev and Rachel.
6. "Indians on TV"
Another episode that had far more on its plate than the soundtrack, "Indians on TV" did still feature a bangin' sitar-infused cover of "Jumpin' Jack Flash" by Ananda Shankar (he also jams hard to "Light My Fire".
Honorable Mention: That fire Busta Rhymes cameo.
5. "Plan B"
The first episode came in hot, delivering unto us an exciting taste of the musical deliciousness to follow. All of the points here are awarded to the best use of Aphex Twin outside of grunge fashion shows. The 1997 track finds new life in Dev's nightmare sequence about what could happen when you procreate. I'm 98 percent sure I've had that same dream with the same song, and if I haven't, I will now. Totally nailed it.
Honorable Mention: The Uber driver's cranked up "Get Buck" by Young Buck before Dev and Rachel pick up Plan B and Martinelli's.
4. "Old People"
Move over, rapping Grandma from The Wedding Singer, best singing performance by an on-screen grandparent now goes to Lynn Cohen, aka Rachel's Grandma Carol. Not only does she confess to hitchhiking on an ice truck to see Frank Sinatra, she also blows everyone's minds by running away to a jazz club to perform a Dean Martin cover and an "aww" inspiring take of Billie Holliday's "You Go to My Head." Also, how badly do you want to listen to Rachel's ska band, Nostraskamus?
Honorable Mention: The piano background music you always hear at white-table-clothed Italian restaurants. Makes me want some of that rigatoni.
TIE: "Hot Ticket" & "Ladies and Gentlemen"
These two episodes standout as hallmark musical moments, and I simply couldn't rank one above the other. Both utilize music as a plot device — in "Hot Ticket," a Father John Misty secret show is the site of a relationship epiphany; in "Ladies and Gentlemen," the juxtaposition of the Halloween soundtrack with Bobby McFerrin's carefree whistle demonstrates the differences between men and women better than any op-ed ever could. In the end, I just couldn't decide whether Toto's "Africa" or Mark Morrison's "Return of the Mack" was the more epic late night bar song.
Honorable Mentions: The nominal Beach House track heard on the closing credits of "Hot Ticket;" the head-banging cover of "Heard It Through The Grapevine" by The Slits.
1. "Nashville"
This episode doesn't take the top spot for the obvious reason that it's set in the country music capital of the world. It's also not because of the outstanding showcase of of Johnny Cash, Brooks and Dunn, Tom T. Hall, and Townes Van Zandt. Nor is it for the discovery that "Honky Tonk" apparently translates to "white people hit it hard." It is for finally answering the question I've held in my heart for 13 years: what is the deal with the POV switch in "Lose Yourself"? By discussing the pivotal "This ain't no movie / there's no Mekhi Phifer" line, we finally gain closure as we realize that Eminem is indeed singing as both himself, the rapper and actor; and Jimmy Rabbit, the 8 Mile character.
Honorable Mention: "You're The Reason Our Kids Are Ugly," by Loretta Lynn & Conway Twitty, because I'll be damned if you find a better song title than that.
The full Master of None soundtrack is in the playlist below, so you can relive these musical moments over and over again.
Image: Netflix