Sawyer Fredericks' Album Is Finally Here!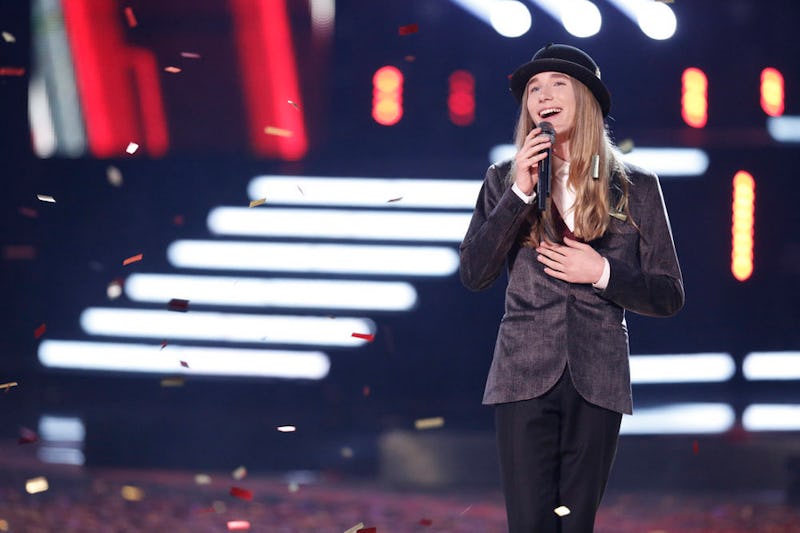 The Voice fans, it's the moment you've been waiting for since last season's finale — season 8 winner, Sawyer Fredericks, has released his new self-titled EP and, judging by the performance of his first single, it's pretty awesome. Fredericks performed his new single, "Take It All," on tonight's The Voice results show and it was exactly what we've been hoping for — it's raw, emotional and totally different than anything else on the radio. The fact that it already hit number 10 on iTunes and number one on the Singer/Songwriter charts just goes to show how good it really is.
The Team Pharrell alum has clearly been busy since he won The Voice . Fredericks' album contains four new songs, which is quite a lot considering he's only had six months to work on them. And all that work certainly paid off — the EP has a five-star rating on iTunes and hundreds of rave reviews. If the rest of the album is anything like "Take It All," then it's certainly worth raving about.
Now, let's talk about "Take It All." The vocals were great, of course, but it's the lyrics of that really hit me. "Take It All" is about overcoming heartbreak, which is pretty heavy subject matter for the 16-year-old to cover. The chorus sums up the entire tone of the song perfectly: "Take it all/ Take the hurt in my chest/Take the pain in my eyes/Take the fear in my soul/Take the tears that I cried." Fredericks was able to emote these lyrics in his performance to the point that I was going through the whole story with him. Thankfully, he overcomes the pain and is able to move on by the end of the song — making it the next "I'm moving on" anthem of the alternative rock world. It's strong, powerful, emotional and totally worth listening to on repeat to hours on end. If that's totally your jam, then I suggest you go to iTunes right now to download Sawyer Fredericks' EP, because it's about to become your new favorite album.
Image: Tyler Golden/NBC