How To Survive Thanksgiving As A Vegan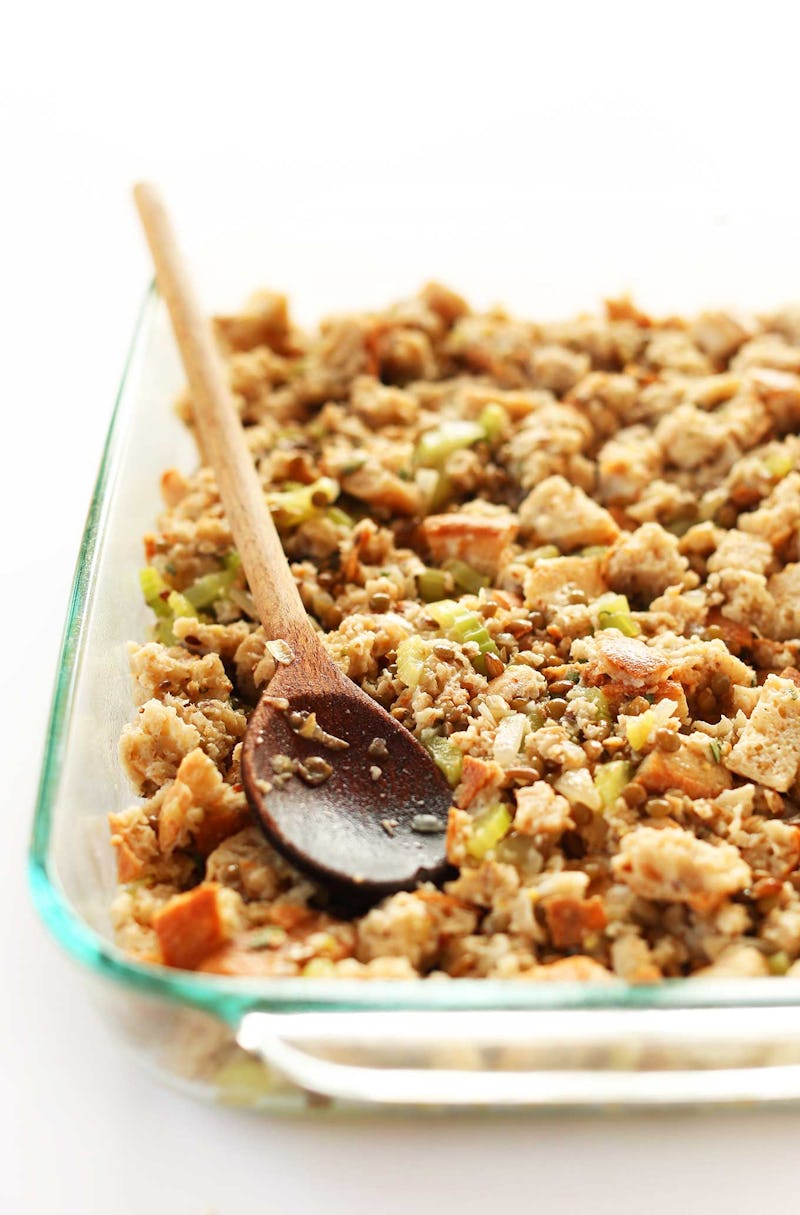 It's no surprise that a holiday known colloquially as "Turkey Day" isn't always the most vegan-friendly. But with some careful menu planning and strategic ingredient swaps, you can totally find vegan Thanksgiving recipes that will make the day a whole lot easier. After all, there are plenty of vegan side dishes that make wonderful additions to a feast, and having a meat-free Thanksgiving isn't too hard anyway. Cutting out eggs and dairy just requires a little more thought, but it's definitely not impossible by any means.
If you aren't the one cooking on Thanksgiving, there is still a chance that plenty of your favorite sides and appetizers will be vegan. Ask for olive oil to accompany the bread basket, and spring for any plain veggies that aren't slathered in butter. Baked sweet potatoes are a great go-to, without the marshmallow topping, and cranberry sauce will never let you down. Be careful with stuffing though — a lot of the time it might be made with chicken or beef stock and also contain eggs. When in doubt, check with your host to see if any dishes may secretly have animal products in them, and be sure to bring your own vegan contribution to the feast as well.
But if you're the one hosting Thanksgiving, it's not that difficult to make a spread of vegan food everyone will love. These 15 recipes will ensure that you end the day feeling as stuffed and satisfied as ever.
1. Rosemary Garlic Mashed Potatoes
You don't need butter to make creamy mashed potatoes. Big Girls Small Kitchen proves that olive oil works just as well.
2. Sweet Potato Casserole With A Crunchy Nut Crumble
No marshmallows, no problem. Oh She Glows uses pecans, oats, and almond meal to give this gluten-free and vegan casserole some extra crunch.
3. Warm Autumn Tart
If you're looking for a centerpiece dish, then Green Kitchen Stories' gorgeous veggie-filled tart is truly the way to go.
4. Simple Vegan Stuffing
Using just nine basic ingredients, Minimalist Baker makes a vegan stuffing that tastes just like the traditional version.
5. Simple Lemon Green Beans
You don't need to limit your offerings to steamed vegetables. Love and Lemons shows that a little lemon goes a long way.
6. Mustard-Maple Brussels Sprouts
Forget the butter. Mustard and maple syrup make Cara's Cravings' sautéed Brussels sprouts insanely good, while candied pepitas and pomegranate seeds add some extra sweetness.
7. Mushroom Hazelnut Loaf
This vegan loaf by Green Kitchen Stories easily takes the place of an overly processed Tofurky for a homemade twist.
8. Vegan Biscuits And Gravy
Vegan biscuits make a great bread basket filler, while A Beautiful Mess' gravy can easily douse everything on your plate.
9. Rosemary Roasted Veggies
A medley of roasted and herbed vegetables including butternut squash and cauliflower by Love and Lemons ensures your feast stays colorful.
10. Glazed Lentil Walnut Apple Loaf
If you like to mix savory and sweet, then Oh She Glows' lentil loaf makes a tasty main course.
11. Vegan Grain-Free Stuffed Mushrooms
Cara's Cravings' mushrooms stuffed with walnuts, peppers, and spinach make a satisfying hors d'oeuvre.
12. Roasted Endives With Thyme
Try something new this Thanksgiving. Naturally Ella's endives look and taste perfectly posh.
13. Fig Cranberry Sauce
Would it be Thanksgiving without cranberry sauce? Certainly not — and we can't get enough of The Kitchn's figgy version.
14. Vegan Apple Crisp
Who needs apple pie when you can top Minimalist Baker's gluten-free and vegan apple crisp with a huge scoop of Tofutti?
15. Chai-Spiced Pumpkin Bars
Think of The Kitchn's pumpkin bars like single-serve pumpkin pies, with a spicy twist.
For more fall food ideas, check out Bustle on YouTube.
Images: Minimalist Baker (3); Big Girls Small Kitchen; Oh She Glows (2); Green Kitchen Stories (2); Love and Lemons (2); Cara's Cravings; A Beautiful Mess; Naturally Ella; The Kitchn (2)