You Need To Start Watching 'Hart of Dixie'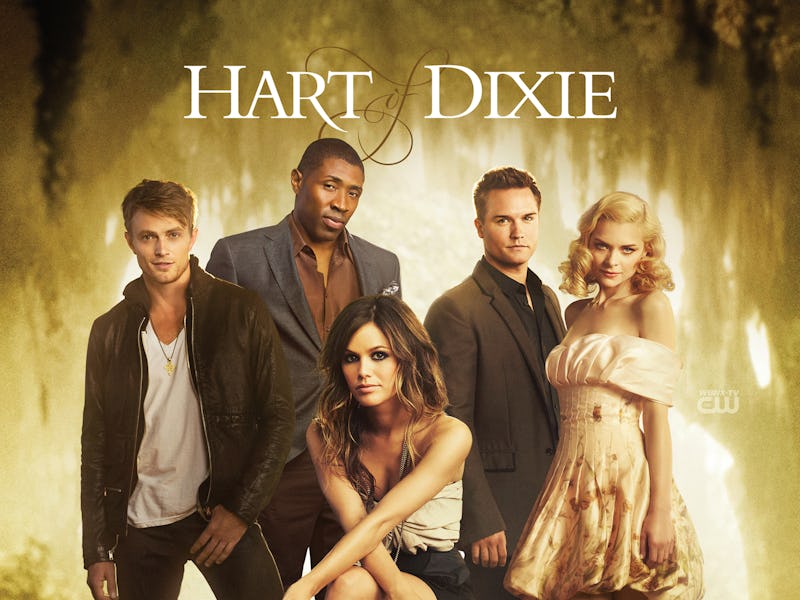 You might not be watching the CW's Hart of Dixie — but you should be. The show, which stars The O.C. alum Rachel Bilson, Friday Night Lights alumni Scott Porter and Cress Williams, and Jaime King, is everything that's been missing from your TV schedule since Gilmore Girls went off the air. Trust us on this one. And you have plenty of time to catch up (its first two seasons can be streamed on Netflix and it's seriously addicting) before the show's midseason premiere on Monday, Jan. 13.
A quick synopsis, in case you've been living under a rock and know nothing about the show, Dr. Zoe Hart (Bilson) is a brilliant surgeon who moves to Bluebell, AL to take up supposed stranger Harley Wilkes' offer to join his private practice after she's rejected from a prominent fellowship in New York City. When she finally arrives, Hart finds out that Wilkes was actually her biological father and that he's recently deceased — so she's inherited his half of the private practice. Hart decides to stay, even though Wilkes' partner doesn't want her there, and the show builds from there on her adapting to small town life in the south, making friends (and enemies), falling into an incredibly attractive love triangle, and occasionally solving some comical ailments.
See, I told you it was everything you were missing from your fully-packed-with-supernatural-action-shows weekly TV schedule. But let's get to the point — here's the top five reasons you should be watching the CW's Hart of Dixie:
IF YOU LOVED GILMORE GIRLS
There's a seriously Gilmore-style vibe to small town Bluebell and its inhabitants and if you look really closely, you'll notice that the town's gazebo is the exact same one from Star's Hollow. I swear, we're not kidding — Hart of Dixie is shot on the exact same Warner Bros. set that Gilmore Girls filmed on years before. But location isn't the only thing Dixie has in common with Gilmore it also has quirky inhabitants (the local grocery store owner doubles as a comically bad private investigator), fast-talking and snarky wit, a super-familiar local hangout, and a variety of unique, town-specific holidays (they celebrate Planksgiving instead of Thanksgiving and everyone dresses up like a pirate). If you've been feeling nostalgic for Star's Hollow and Gilmores, Hart of Dixie will fill that void.
RACHEL BILSON
You loved her on The O.C. but you'll love her even more now and not just because she's got the greatest wardrobe currently on television. Bilson is adorable, she's funny as hell, and she's got the fast-talking, self-depreciating, sarcastic wit that everyone attributes to New Yorkers. She's also the perfect degree of dramatic that makes you laugh but also think, "I've definitely been there."
THIS LOVE TRIANGLE
Well, it's not really a love triangle anymore — even though we wish it were. Sweet southern gentleman George Tucker (Porter) was Zoe Hart's first love when she came to Bluebell. (I mean, who could not be in love with Jason Street? Am I right?) But Zoe ended up falling for heartbreaker and Rammer Jammer bartender-turned-restaurant-owner Wade Kinsella (Wilson Bethel). In the current season, Zoe isn't dating either of these two incredibly good looking and charming guys but she still definitely has feelings for both.
MAYOR LAVON HAYES
If you ever move to a small town in the south, he's the mayor you'll hope to have. An ex-Alabama Crimson Tide and NFL football star who owns and alligator named Burt Reynolds and makes a killer pot of gumbo — Lavon Hayes (Williams) is amazing. He was also Zoe's first friend in Bluebell when the rest of the town had blacklisted her because she was moving in on Brick Breeland's patients. Just generally adorable while also being the best BFF a new girl in town could ask for — did we mention he has a pet alligator?
THE BELLES
But specifically Lemon Breeland (King) and Annabeth Nass (Kaitlyn Black). The Blue-Belles are basically the social chairs of Bluebell — they plan all of the town's events and head all of its beautification projects and they're basically Mean Girls in hoop skirts. It's basically a sorority for post-college sorority girls. They're hilarious and they're bitchy as hell. But Lemon and Annabeth (who quit the Belles this season because their friend Cricket was being too big of a bitch) are the shining stars of Bluebell's born-and-raised ladies — they're also 100 percent dysfunctional high society and it rocks. The Belles are the friends you'd wish you had if you'd actually been in a sorority.
Images: The CW, Wifflegif, Fanpop, Wifflegif, Whifflegif, Wifflegif