9 Heeled Rain Boots To Keep You Warm & Dry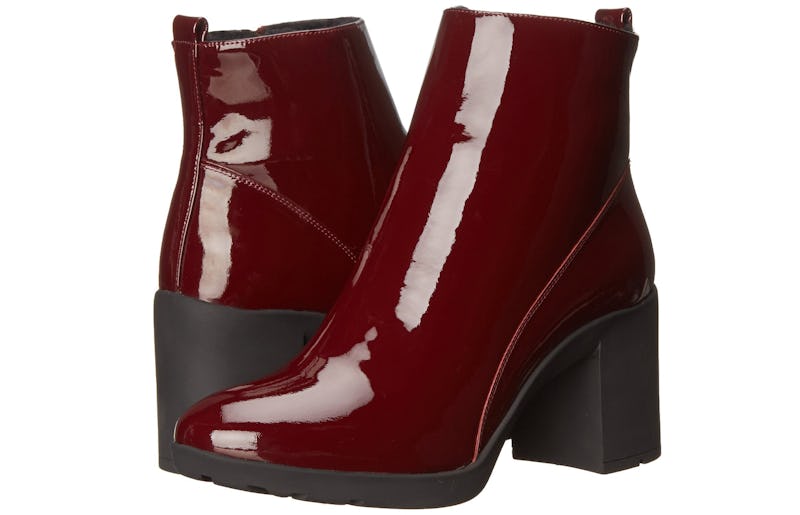 Oh New York, how I love you...except when November hits and you decide to throw me in an awful guessing game of, "Will it torrential downpour today or not?" No worries, though — there are some cute heeled rain boots that are just as practical inside and outside, when you're quietly cursing and questioning your life decisions. Why did I move here again? Oh right, dollar pizza.
No one knows the dread of a perfectly sunny day suddenly turning into stormy skies quite like New Englanders. Seriously, what is this sh!t? And who actually wants to wear their clunky wellies all day long in the office? Nothing kills an ensemble more than chunky, abrasive, and annoying pair of rain boots. You thought you'd look presentable today? That's cute, says the rain. I'm here to ruin everything.
For shorties like me, it is absolutely imperative that I wear heels to work. Plus, if I'm being honest, I wear them so that I can reach the subway pole (so many dirty looks when I don't move in and hold onto the tippy top bars). Life is hard, ok? So when it rains and I don't feel like wiping out in front of the 8.406 million people that inhabit this wonderful city, I need a good, solid shoe.
Behold, nine heeled rain boots that are chic and practical. Because these things don't have to be mutually exclusive!
1. The Heeled Hunter
Hunter Original High Heel Waterproof Boot, $195, Nordstrom
A chunky heel is so necessary to avoid any slips. Plus, check out the grip on this shoe!
2. Lara Croft, Is That You?
Sorel Women's Medina III Rain Heel Boot, $225, Sorel
Whoa. With that statement strap and block heel, these are the ultimate "don't mess with me" rain boots.
3. Timbs, Baby!
Timberland Women's Glancy 6-Inch Boots, $130, Timberland
Timberlands are without a doubt my favorite shoes for the winter. This heeled option just ups its style game a couple of notches.
4. The Wedge
Tretorn Plask Mid Boots, $98, Left Lane Sports
If you're not exactly confident in your heel-walking abilities in the rain, a wedge is a better option.
5. The Low Heel
Jeffrey Campbell Clima Chelsea Rain Boot, $55, Nordstrom
And if you really can't commit, you can go with this teeny heel. Hey, every inch counts. Trust me.
6. The Extra Protection
Hunter Original Galosh Waterproof Ankle Bootie, $280, Nordstrom
If you really, really hate getting your feet wet.
7. These Glossy Beauties
Melisa Soldier II Booties, $190, Shopbop
This barely even looks like a rain boot. Want, need, and deserve right now.
8. Mid-Calf Wedges
Giani Bernini Alley Wedge Rain Boots, $80, Macys
Because let's be real, an ankle wedge isn't enough. Have you seen the snowbanks in this city? Or better yet, in Boston?
9. Shine, Shine, Shine
Atelje 71 Women's Rain Boot, $265, Amazon
'Cause on a gloomy day, sometimes you need a little color.
Repeat after me: Style and utility can co-exist. Style and utility can coexist. Though, like a solar eclipse, it's rare. Take advantage of these picks now, before you're stuck with tennis shoes on and a flooded sidewalk coming your way!
Images: Courtesy of Brands