15 Cute Ugly Sweaters For All Those Parties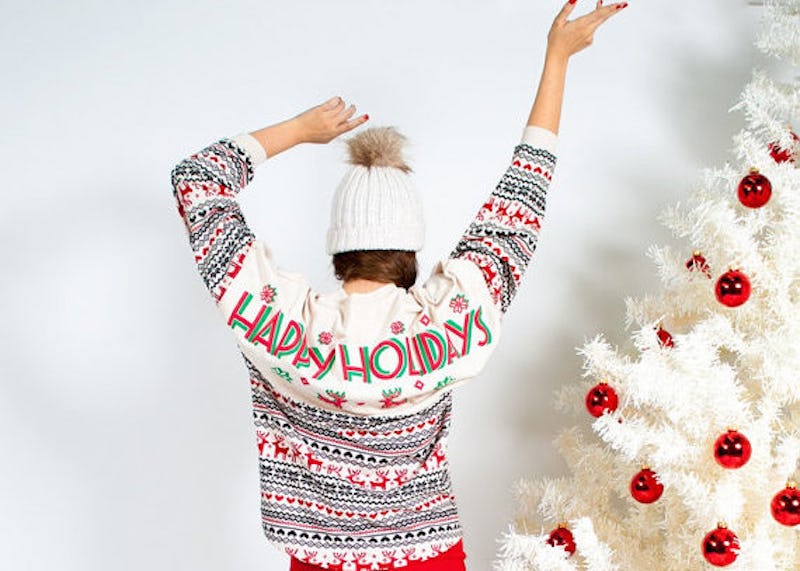 Starbucks is playing Christmas music, there are light-up snowflakes lining my street, and the smell of gingerbread lattes is filling the coffeeshop I'm sitting in. This can only mean one thing: It's time to whip out those cute ugly sweaters! Sorry, common fashion sense, this is the moment to embrace all things gaudy, jingly, and thickly knit.
According to UglyChristmasSweater.com (yes, such a site exists), the first ugly Christmas sweater party was in 2002 in Vancouver, Canada. However, the website later mentions "the mass-market ugly sweater reached its peak popularity sometime in the 1980s." Were people in the '80s not wearing their sweaters to parties? Such a mystery.
Regardless of the birthplace of the ugly sweater and festivities surrounding it, the trend is here to stay. In fact, Justin Bieber is so into the look that he dropped $1,650 on a red-and-white Christmas sweater to wear during a live performance, according to ABC News. Say what.
Luckily, you don't have to spend thousands to find an amazing (or amazingly ugly) sweater to wear to your next holiday party. I've rounded up ugly sweaters across the spectrum, from the cute jingly sorts to the straight up nightmare inducing tragedies of yarn and tinsel.
1. Vintage Ugly Holiday Sweater
Vintage Holiday Sweater, $34, Urban Outfitters
This bright red hunk of holiday is on the extra adorable side of ugly if you ask me.
2. Blue Christmas Tree
Blue Christmas Tree Sweater, $18, Target
Another ridiculously cute option.
3. Dreidel Sweater
Hanukkah Sweater, $34.95, Tipsy Elves
I mean, I'm mildly creeped by how much the dreidels look like teeth but this is amazing.
4. Long-Sleeve Christmas Sweater
Long-Sleeve Christmas Sweater, $25.99, Ransom
Become one with the Christmas tree.
5. Mean Girls Vibe
Crewneck, $17.99, Etsy
OK, I know this is technically not a sweater, but it's too good not to include!
6. Hipster Reindeer
Nerdy Reindeer Baby Sweater, $29, Derek Heart
Make sure to rock a top knot and your favorite oversized reading glasses with this one.
7. Fleece Navidad
Graphic Christmas Sweater, $38, BP
Don't lie to yourself, this is adorable and you know it.
8. Happy Holiday Sweater
Happy Holidays Sweater, $59, Etsy
Definitely on the cuter side, this is a sweater I could see myself wearing to the party and the coffee shop the next morning.
9. Ugly Sweater Pin Set
Ugly Sweater Pin Set, $12, Urban Outfitters
For all the minimalists out there.
10. Vintage Ugly Cardigan
Vintage Ugly Cardigan, $34, Urban Outfitters
This is so ugly it's beautiful.
11. Penguin Knit Sweater
Penguin Knit Sweater, $48, Fair Isle
EEEEP. All the heart melt puddles.
12. Darth Vadar
Darth Vadar Ugly Christmas Sweater, $18, Target
May the force be with you, fa la la la la la la la la.
13. Naughty List
Naughty List Sweater, $25, Derek Heart
Something tells me the person that rocks this sweater knows how to party.
14. Santa Santa Santa
Santa Sweater, $24, 33 Degrees
Ho, Ho, Ho X infinity
15. Pug Christmas Sweater
Pug Christmas Sweater, $48, Nordstrom
Rounding out this list with my very favorite. #DogPerson
Images: Courtesy of Brands