Everyone Should Try These Granny-Inspired 'Dos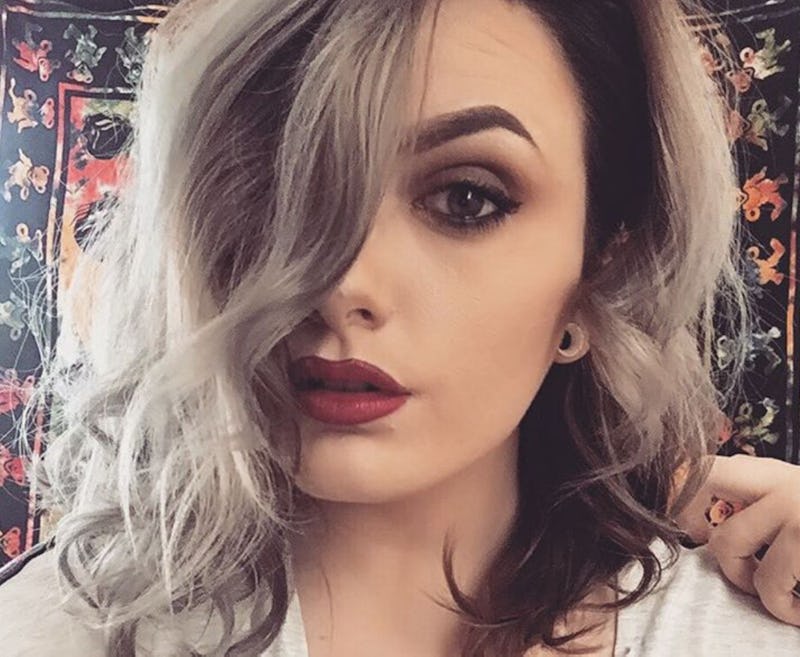 People spend lots of loot covering their gray hairs. A single, errant gray strand is enough to make us freak the heck out, given the fact that the shade has long been associated with the dreaded aging process. Then granny gray hairstyles became a thing, with lots of young people purposely rocking gray hair, be it through dye or a wig. Granny gray 'dos are actually super wearable and fashion forward, as long as you style those silver locks properly.
Statement lips, dramatic makeup, and youthful clothes and accessories are essential when rocking a granny 'do, since those elements will keep your look fresh and modern and will add an air of juxtaposition and unpredictability. If you wore silver strands with, say, a lot of lace or florals, the whole presentation would be a bit too dowdy and old fashioned.
Granny hair is super versatile and can be worn in a variety of lengths and styles and you don't need to worry about it resembling steel wool or looking brittle. Granny styles are actually super fun to play with. Think of it as bleach blonde to the extreme.
As I scoured the Internet and Instagram in search of the most chic granny styles, I found that ombre gray or gray hues mixed with black follicles and a little gloss made for the best, most coverable granny styles. Here are eight granny styles that anyone can wear and everyone should try at least once.
1. The Pinup Girl Bob With Bangs
How cute is @christianzajicek? Her granny gray color looks young, fresh, and modern because of her deep, blood red lips and her doe eyes, which are framed by those mega lashes. Also, her bob with bangs is a youthful, pinup girl cut that proves granny gray can be so sexy! The fringe is fresh as it gets.
2. Gray Waves
This granny look is gorgeous for three reasons other than the wonderfully coordinated smoky eye makeup of this beauty, who is actually a makeup artist. The slate color is rich and unusual. The waves are thick and defined. There is also some black woven into the hair, giving this style such depth and dimension.
3. Ombgrey
The gray trend can be so versatile, as this ombre, or, as I like to call it, "ombgrey" look proves. There are several light and dark tones and shades present in this shaggy and sexy style. It's anything but boring. Have you noticed that all these granny gray styles are accompanied by statement lips? Gray hair works best with power red, matte lips, and doe eyes!
4. Silver Foxy
These silver and white locks are so foxy! The bedhead style is bouncy and full, keeping the look lively, young, and fun.
5. White Hot
Rihanna went with white hot granny hair for her TUSH cover. No, it wasn't gray, but it was powdery and unusual. You can't help but stare at RiRi's hair.
6. The Pixie
This choppy pixie screams young and modern. The silver hair has a metallic vibe and the entire thing is so punk rock. She slays it!
7. A No-Commitment, Fabulous Wig
If you don't want to commit to a gray dye job, you can fake it fabulously with a wig like this beauty did! The glossy color and the simple shape are gorgeous and let you experiment with silver hair. You can test drive the shade with a wig. If you dig it, you can then take the next step.
8. Long and Lush
Lady Gaga slayed the granny gray look with flowing mermaid locks back in 2010 for this Vanity Fair cover. If you are looking to do silver on a totally temporary tip, you may as well growth an extreme look like this.
#GrayHairDontCare, indeed.
Images: Vanity Fair