Zelena's Baby Is On The Way On 'OUAT'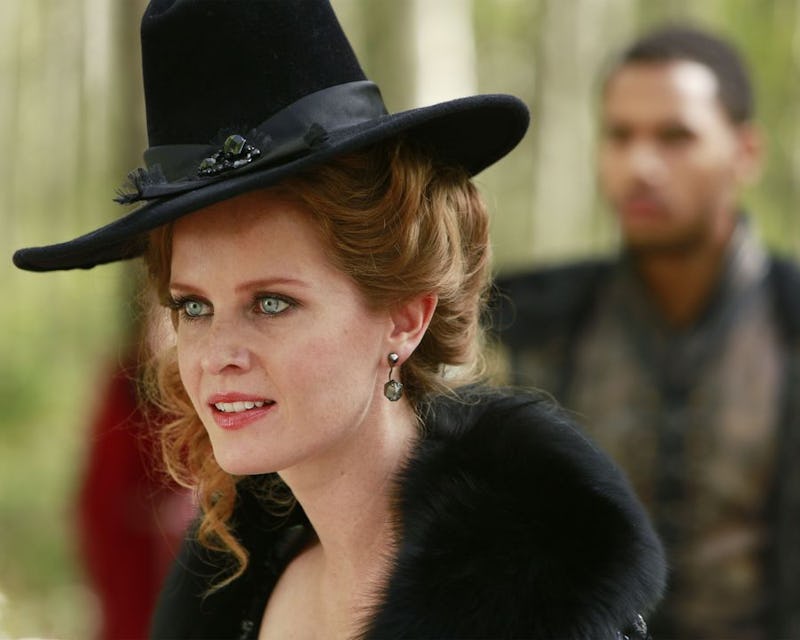 We've spent most of the first seven episodes of Once Upon A Time Season 5 dealing with trying (and failing) to save Emma from giving into evil and embracing her role as the Dark One. It's been an interesting journey — if not vaguely confusing, given all the time hopping back and forth between the six week sojourn to Camelot and present-day Storybrooke — and one that's far from over, but there are also some sub-plots that are soon to come into focus, and they'll turn the entire show on its head. In Sunday night's two-parter entitled "Birth"/"The Bear King," Zelena will give birth to a baby girl after her pregnancy suddenly accelerates for reasons unknown and she'll welcome her child. Something tells me that's not going to be good news for anyone, least of all Robin and Regina (and their relationship).
Regina has already threatened to take Zelena's baby from her after she's born and raise the girl as her own with Robin, but the rules once the child arrives will be slightly more humane, with Regina allowing Zelena to see her daughter under supervision, lest she try to make a swift getaway back to Oz with the baby in tow, which seems more than likely, given Zelena's villain status.
"There is still a huge level of distrust when it comes to Zelena and Regina," Lana Parrilla (Regina) explained to Entertainment Weekly. "I just don't think she feels that Zelena is going to make the right choices, and she doesn't. She wants that baby to be wicked and she's going to teach it how to be wicked. She's going to take it and run back to Oz. Regina and Robin Hood are going to do everything to stop that."
Fair enough, but as Zelena is quick to remind us, "wicked always wins," at least temporarily, so I doubt things will be smooth sailing for very long. In particular, Robin will likely struggle with sharing a child that he conceived unwittingly and through serious deception with a woman who's "dreadful" and "all but evil," according to Sean Maguire, who plays Robin.
"It's going to be a very difficult season for them to figure out what the best solution is. Also, the show's about hope. We're trying to believe there can be some redemption for Zelena, but we'll have to wait and see if there's anything in there worth saving," he teased. "The difficulty for Robin is she's the mother of the child. Under normal circumstances, he'd break his code and kill her, but then you're killing the mother of your baby and that's getting a bit biblical."
Of course, it remains to be seen what will come of Zelena and her child, and given that Rebecca Mader was made a series regular at least for Season 5, something tells me this isn't something that will be figured out anytime soon. Parrilla has said that she remains hopeful for a possible redemption arc for the character of Zelena, much like Regina went through, but I say forget that. Zelena is the Wicked Witch of the West, and whether or not Once is a show about hope, we'd have nothing to hope for if there weren't villains there to fight against — and let's be honest, Mader does play that role so well.
Image: Eric Schroter/ABC; Giphy