'Empire' Fans, Check Out These Bre-Z Performances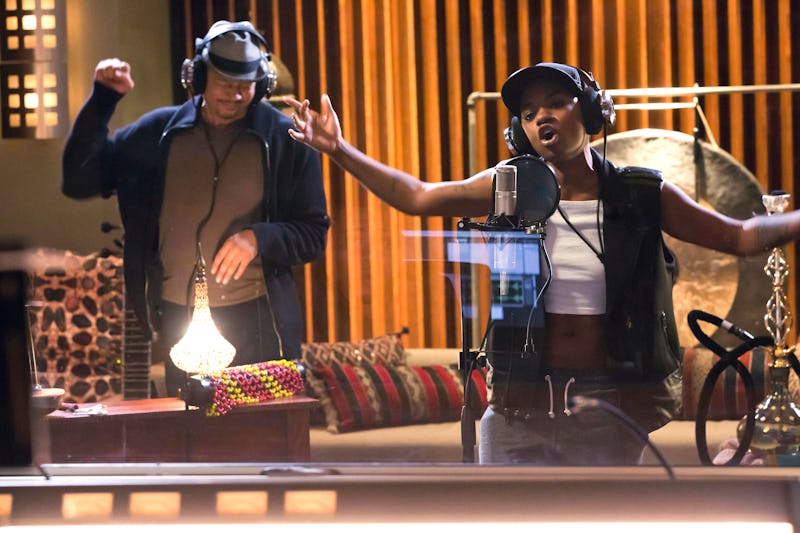 The new season of Empire has introduced a ton of new guest stars, most of them famous. But instead of Chris Rock or Marisa Tomei, a lot of fans have pegged Philly rapper Bre-Z Murray, who plays Freda Gatz on Empire , as the best new character of Season 2. I know I'm impressed by Freda, who is Lucious' new protege and surrogate daughter now that his sons have mostly refused to trust him for longer than an episode (wise choice by Jamal and Hakeem, by the way). But despite their on-screen rivalry, Bre-Z is a lot like Bryshere Gray, who came into Empire without any acting experience, as an upstart new rapper who was developing his voice as Yazz the Greatest.
Casting people who are really rappers, singers, and already well-versed in the hip hop industry has made for some pretty fantastic music on Empire. Casting a Philly rapper like Bre-Z even adds some authenticity to the Lyons' roots in that city, even though her character is from Brooklyn.
Since the rest of the season is still trickling out week by week, in order to get a concentrated dose of Bre-Z's awesomeness, you'll need to watch some of the performances that she's posted online. These are the top videos that Freda fans should absolutely not miss.
"TRiLLEST"
A very recent music video from Bre-Z may have some NSFW lyrics, but this cover of Post Malone's "White Iverson" has a relaxed vibe and shows that speed isn't the only thing Bre-Z has to offer.
"The Play"
Bre-Z is just featured on this track, which is by Prada. But since she doesn't have to hold down the whole song, she brings out an angrier and more confrontational side for this performance. She could totally sell a violent showdown on Empire.
"Monay M0nay Monay"
It's an older video, but still a great, unmissable demonstration of her talents. Bre-Z raps over a simple beat as she dances through a small bedroom.
"Seat Back" Free Instrumental
This isn't exactly a "performance," but rather a free beat that Bre-Z posted to a YouTube account as free background music for aspiring rappers to use. Even though she's not throwing down with new lyrics over the beat (she should, though) providing a free beat and and open call to help other talented rappers get ahead is classy and makes Bre even more awesome.
"Roman's Revenge" Cover
Bre-Z's freestyle over Nicki Minaj's "Roman's Revenge" is jawdropping. Playing on her androgyny and the rarity of female rappers, it's amazing that this video was posted back in 2011.
Her Empire Rap Battle
Not going to lie, already I think that Bre-Z's appearance on Empire ranks among her best. Sure, it's censored for broadcast TV, but the rawness and coolness comes through in every syllable of her short freestyle. If you're digging Bre-Z and the Freda storyline on Empire, why not rewind the DVR and listen to either "Same Song" or "Boom Boom Boom Boom" again?
Image: Chuck Hodes/FOX