Bre-Z Will Make Sweet Music On 'Empire'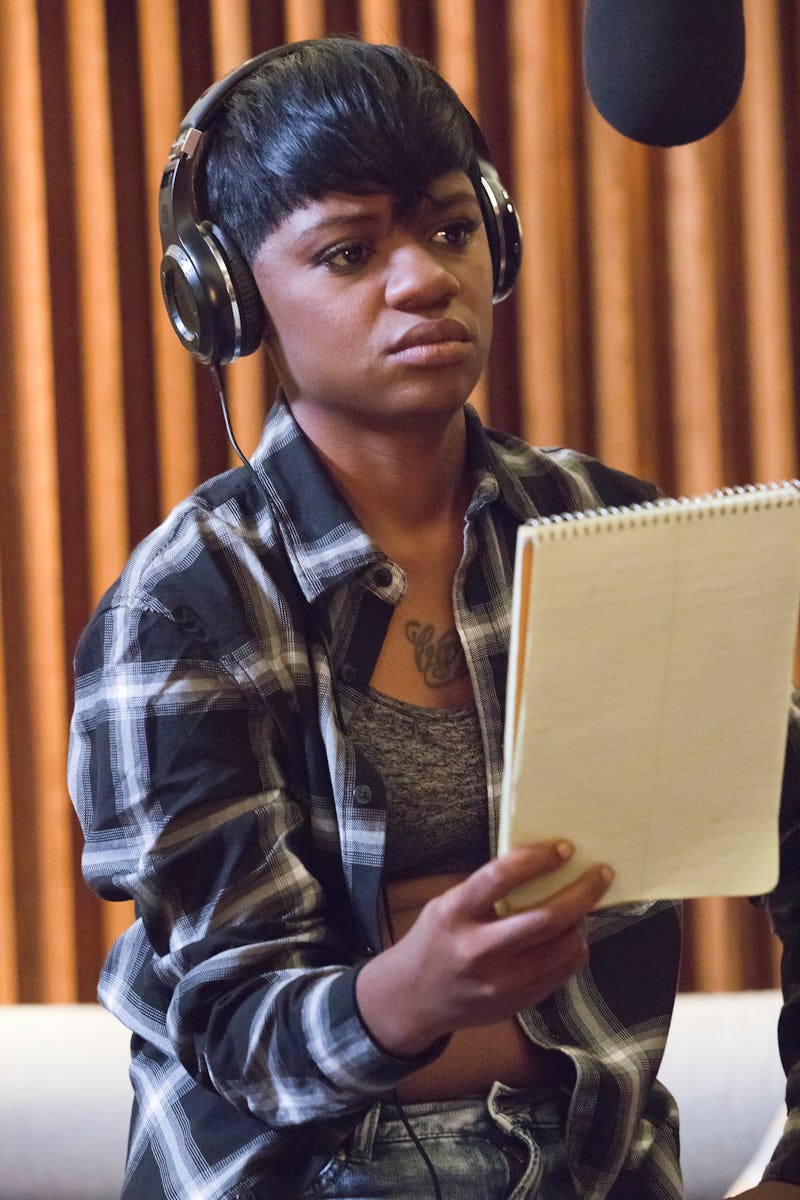 There's a ton of musical talent on Empire (duh, since the show is about a crazy-successful music label), but it's always great to watch more and more talented musicians get added to the call sheet of the show. So far on Season 2, singer Becky G has appeared as Valentina, a fiery little thing with major aspirations. Next to join Empire is rapper Bre-Z. Who is Bre-Z, you ask? She's a badass female rapper from Philadelphia who will play — you guessed it — an aspiring rapper named Freda Gatz and the daughter of Chris Rock's character, Frank.
Fox describes Freda as a "a baby-faced emcee (aka The Queen o' 16s) from Brownsville, Brooklyn." She's "unapologetically butch… and has won more rap battles than the best male vets on her block." Freda is also "moody", "outspoken," and "a hardhead who is silenced and humbled only in the presence of her gangster father." IRL, Bre-Z is from Philadelphia, and she developed her moniker because she absolutely, positively hates being cold. According to an interview she did with Refinery29, Bre-Z says, "I always got on a hoodie or a hat because I hate breezes. I love being warm and toasty."
So how will Bre-Z use her powers of rap to channel Freda? I'm not quite sure yet, but I do have some suggestions as to who this rap princess will best collaborate with.
Jamal
Jamal's silky-like-velvet vocal stylings are the perfect foil to Freda's harder-edged raps. Jamal has the perfect mix of gorgeous voice and hip-hop beats, so I can totally hear him singing the hooks on Freda's latest mix tape. Plus, he's the head of Empire now, so I reckon he could hook her up.
Hakeem
Freda and Hakeem teaming up for a rap-off would be one hell of a killer track. Normally, I would think that Hakeem's ego would be too big to share the spotlight with anyone that is not his brother, but game recognizes game, right? Hakeem respects talent, and Freda seems like she has it in spades.
Tiana
Um, hello? Biggest-selling girl-love rap-sung track ever created? A collaboration track between Tiana and Freda could be the new "Let Me Blow Ya Mind" (you remember that Eve and Gwen Stefani tune, right?), but with a more R&B edge given Tiana's overall sound. I love it.
Elle Dallas
Courtney Love's character is still in dire need of a comeback, and who better than a young, fresh face to help her do it? Using Freda in one of her songs will expand Elle's fan base significantly. "Let Me Blow Ya Mind," Part 3.
Herself
And who says that Freda needs to make music with anyone but herself? The show could let her shine a little before throwing her into tracks with everyone else.
No matter whom she raps or sings with, Bre-Z is ready and willing to throw some talent and a whole lot of drama (as if it needed it) into the world of Empire.
Forgot what happened last season on Empire? Check out the (drunk) recap below.
Images: Chuck Hodes/FOX; Giphy (5)