How Do Teeth Whitening LED Kits Work?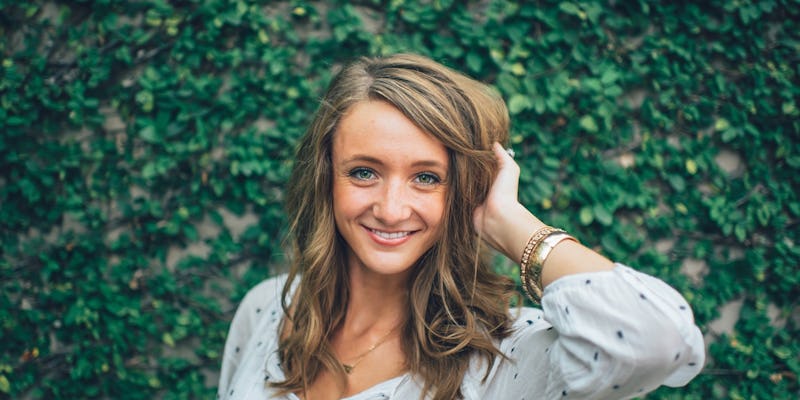 With big gingerbread lattes, mulled wine, and hot chocolate, the holidays are unfortunately filled with many serious teeth-staining moments. If you're looking to brighten up your smile this season, consider learning how teeth whitening LED kits work to determine if that's a good option for you. And yes, the crazy little glowing device Khloe Kardashian and Kylie Jenner use to brighten their teeth and snap IG pics with is an LED teeth whitening kit!
You might've already seen these types of teeth whitening gadgets on your favorite celebrities' social media accounts, but are curious what sort of science goes into it. I spoke with Marco Massaro, the founder of AuraGlow LED teeth whitening kits to get the details on how they work. First, I wanted to know what kinds of stains LED whitening could get rid of. He tells me, "This system removes surface stains from the teeth caused by coffee, wine, soda, tea, smoking and more." YAS. But how often would you have to use it? "We recommend using once per day for seven to ten days or until desired results are achieved (every person is different). Whitening results will last one to three months — but depends on the persons diet (someone who drinks staining beverages daily will have less lasting results than someone who doesn't)," Massaro says. One to three months sounds reasonable to me!
As far as side-effects, AuraGlow's website states, "In general, the most well-known dangers of teeth whitening include tooth sensitivity or gum irritation, which only lasts for a short period of time." That doesn't sound like a big deal, but I do want to note that a blogger over at Apartment Therapy has highly sensitive teeth and experienced a pretty painful reaction to LED whitening. If you know you have sensitive teeth or gums, I would advise chatting with your dentist first if you're unsure about how your teeth would react.
Interested? Here are two ways to get started below.
Aura Glow Deluxe Home Teeth Whitening System, $50, Amazon
"It includes an electronic blue light, mouth tray and whitening gel," explains Massaro. "You connect the mouth tray to the light, fill the tray with gel and then turn on the light and put it in your mouth. The light helps accelerate the whitening process, similar to a light used in a dentists office." Does it even get easier?
Also, shout out of awesomeness for AuraGlow's products being certified cruelty-free!
Aura Glow Professional On-The-Go Teeth Whitening Kit, $18, Amazon
And if you don't have time to sit and chill with an LED kit, consider an on-the-go teeth whitening pen to use while you're bouncing from party to party.
Images: Ian Schneider/Unsplash; Courtesy of Brand