7 Things To Know When Shopping For Vegan Makeup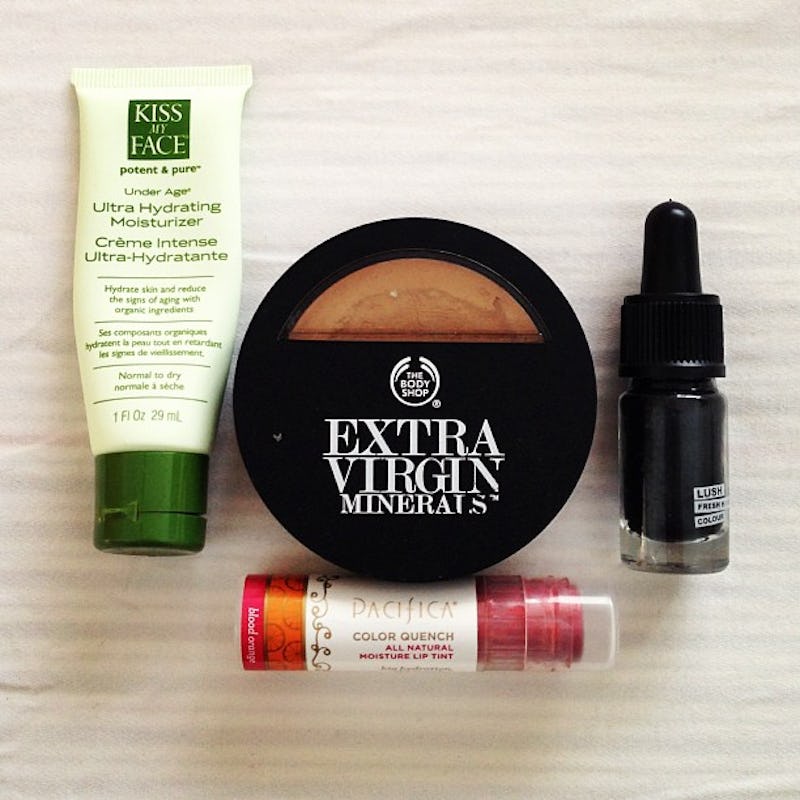 Whether you're a hardcore vegan or just someone looking to make more informed shopping choices regarding what you're putting on your face everyday, navigating the world of vegan makeup takes a bit of effort. I've rounded up the things you should know when shopping for vegan makeup that will hopefully make the experience much easier for you.
If you're determined to transition to vegan makeup, but accidentally purchase something that isn't vegan, don't stress. Slip-ups happen, and I think what matters most is that you're making a conscious effort to try and make more animal-friendly shopping choices that are often, in turn, safer for you to use in the first place.
I first started really caring about what was in my cosmetic products after having a major allergic reaction to this one liquid liner when I was fourteen. That's how I stumbled across EWG, which is an amazing resource for understanding what's in your makeup. This deep dive led me to the site, Beauty Lies Truth, which also tackles issues in the beauty industry, and helps readers know what the heck they're actually putting on their faces. For a speedy makeup production education, watch the short video from their site below:
We should all be making more informed makeup purchases at the very least, and I hope the steps below help to do so.
Here are seven things you need to know when shopping for vegan makeup!
1. Cruelty-Free Vs. Vegan
As explained in VeganBeautyReview, cruelty-free and vegan aren't the same. Cruelty-free means the products you're purchasing haven't been tested on animals, whereas vegan means your product contains no animal products. These two unfortunately don't always go hand-in-hand, but reading product labels will let you know if something is both cruelty-free and vegan!
2. Look For The Bunny
The above label is one of the most common identifiers for vegan cosmetics and beauty products. Of course, if you're still unsure, just look over the ingredient list and check out this handy dandy vegan and cruelty-free label guide.
3. Scan Blogs
By far the best resource, vegan beauty blogs are out there, ready to help you discover amazing new products and brands. My current favorites include Vegan Beauty Review, Cruelty Free Kitty, and My Beauty Bunny. (Note: my beauty bunny isn't exclusively vegan, but they frequently review vegan products).
4. Shop Large Co-Ops & Natural Food Stores
My hardcore vegan pal Ariane suggested this, and it's totally brilliant. Most large natural food store have a makeup counter, and you can always as the salesperson for help to find specifically vegan products.
5. Don't Forget Nail Polish
I hate to be the bearer of icky news, but most nail polishes have crushed beetle shells in them. If you'd prefer to avoid dead bug pieces on your nails, I am obsessed (like, the naked manicure kit is on my nails right now obsessed) with ZOYA's vegan nail polishes. Of course, there are tons of great brands out there and I've already rounded up my top vegan nail polish picks for fall!
6. When In Doubt, Google
Got a favorite brand or product but not sure it's vegan? My dear friend, Google has the answer. I promise.
7. Don't Panic
A word of warning: Don't get so overwhelmed you feel like you can't shop at all or could never afford to redo your makeup bag. You don't have to throw away all of your makeup at once and totally restock with only vegan products. I've found adding one new vegan product at a time after I run out of one that wasn't has been the most feasible strategy.
Image Credit: Voyage Vixen 2/Flickr; Start Up Stock Images/Pixabay