Adele's "When We Were Young" Shows Off A New Sound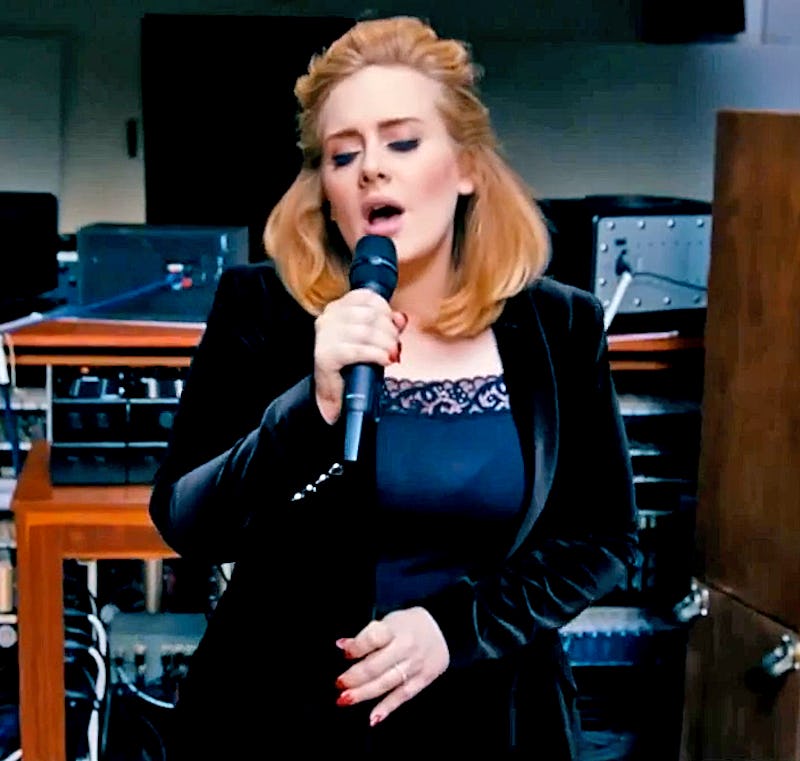 Believe it or not, we're only four days away from the premiere of Adele's new album, 25 (due out Nov. 20). The excitement is almost too much for some fans (read: me) to bear! On Monday, Adele previewed "When We Were Young," 25's rumored second single, in a promotional spot for her upcoming interview with 60 Minutes Australia. In the clip, the 27-year-old diva sings over a piano and thundering drums: "Let me photograph you in this light in case it is the last time / That we might be exactly like we were before we realized / We were scared of getting older, made us restless / Oh, I'm so mad I'm getting older, makes me reckless / It was just like a movie, it was just like a song, when we were young." After the performance concludes, Adele remarks with a chuckle, "It's a whole new me." And, in a way, it is.
"When We Were Young" shows off a whole new side to Adele's music; the song sounds so much grander than any of the material on her last LP, the record-breaking 21. If 25 's lead offering, "Hello," wasn't enough to convince you, "When We Were Young" should make it clear that Adele didn't try to recreate the past with her forthcoming project; instead, she challenged herself to break new musical ground. Skip to the 1:25 mark in the video below to watch a clip of Adele performing "When We Were Young."
i-D's Hattie Collins describes "When We Were Young" as "a '70s-styled shimmery disco ballad," and you can hear hints of that '70s influence in the above clip. Adele co-wrote the tune with Tobias Jesso Jr., a relatively unknown musician whom she reached out to after falling in love with his song "Hollywood." "We met up in LA and I absolutely loved him; his vibe, his humour, the way he plays piano — so felt. The music he makes is romantic, with a '70s vibe," Adele writes in a new piece for The Guardian.
She continues: "I always get nervous when I'm first in a room with someone. I get frightened to sing, frightened to suggest lyrics out loud. But we spent two or three days together, often just chatting. ... I'm definitely going to work with him again. He's my new secret weapon."
I can't wait to hear what other "secret weapons" Adele has waiting for us on 25! Nov. 20 can't get here soon enough.
Image: 60Mins/Twitter