Melissa McCarthy Is Going to Host This Funny Show
If you didn't already have enough excuses not to care about the Super Bowl (Puppy Bowl, anyone?) Melissa McCarthy is reportedly going to host Saturday Night Live the night before the big game. So if you're not into football you can just DVR SNL and watch the replay during the game for a lot more laughs. McCarthy has already hosted the show two times, once in 2011, and again last year. As someone who started out her career relatively quiet (she played the chef on Gilmore Girls) she's bloomed of late with her show Mike & Molly and her excellent comedic work in movies like Bridesmaids and Identity Thief. I've always thought McCarthy was funny, and I'm glad she's getting recognition in the industry now, too. In celebration of this news I've collected her top skits and sketches both on SNL and in general. Here's hoping we get to see more of this hilarity on February first.
1. Marbles - Youtube Star
Seven years ago, McCarthy and her husband started making Youtube vlogs together starring McCarthy as a character named Marbles. "Ben and I, when we have free time we shoot Marbles episodes," she's said of the internet alter-ego.
2. Old Navy Ad
Only McCarthy could make me like watching a commercial. Her Old Navy ad almost feels like an SNL sketch in itself as she plays an over-eager game show contestant.
3. Ranch Taste Test
Melissa McCarthy plays a very excited taste tester who gets "a big hit of Kiwi" in Hidden Valley's new bacon ranch dressing.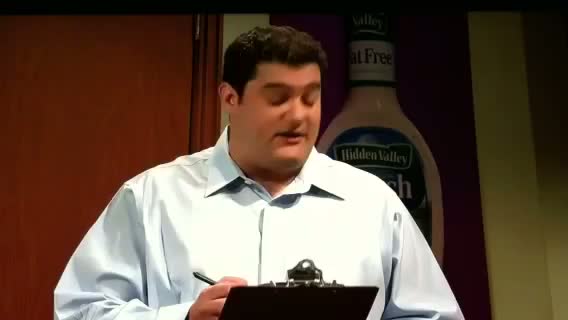 4. Pizza Eater on SNL
McCarthy scores everyone's dream job by being a professional pizza eater.
5. Senate Hearing on Ocean Warming
In an SNL sketch on global warming McCarthy plays a senator who considers the positive side of climate change. "I like a hot tub!" she declares in a Southern accent.
6. Female Fight Club
McCarthy's character in Bridesmaids was priceless. My favorite scene of hers is when she suggests a version of Fight Club for the wedding shower.
7. Singing in Identity Thief
One of the best things about McCarthy is that she's totally willing to have fun with a role. She isn't afraid of looking stupid or weird, so she takes everything to the highest level for the sake of the comedy.
8. Emmy Training
To prepare for announcing the Emmy nominations, McCarthy went through intensive training with Joel McHale where he helps her hone her skills through tough training exercises like punching her while yelling "This is the teleprompter! This is trying to say Mariska Hargitay!"
9. Million Dollar Wheel
The best SNL skit with Melissa McCarthy is this one where she plays a letter-flipper in a Wheel of Fortune-type show, but one who doesn't know where any of the actual letters are on the board and just wants everyone to win. Unfortunately the video has been taken down from nearly everywhere so I can't embed it here, but you can watch it on Yahoo by clicking this link. (It comes highly recommended.)
Also, as a bonus here's the best of Sookie from Gilmore Girls: