'The Bastard Executioner' Might Be Done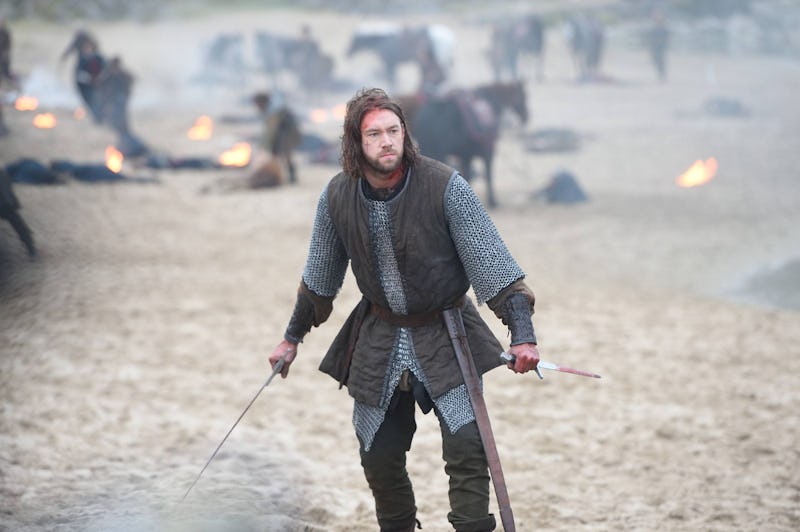 It's been a long, bloody ride on The Bastard Executioner, hasn't it? And yet, with the season finale of the show airing on FX on Nov. 17, it still feels like there's a lot of ground to cover. Sometimes, 10-episode seasons just feel so short, you know? It's not clear yet whether or not the show will tie up everything in a neat little package at the end of its season finale, or if it'll leave major threads hanging for a possible second season. But, has The Bastard Executioner been renewed for Season 2, or will the show leave us in the lurch if it's not picked up? [UPDATE: The Hollywood Reporter has announced that the show has been cancelled.]
Unfortunately, FX has kept mum about whether or not it's renewing the show. And, even more unfortunately, it looks like a second season is a long shot. Even Katy Sagal, who plays Annora, says she isn't sure of the show's chances, as she told Yahoo! when asked if showrunner Kurt Sutter is saving plot material for a second season. "Yeah. I don't know that answer yet [about a renewal]," she said. "I think Kurt comes from the writing school of not holding back. I think that the story will be really fulfilling for people that have been following along. Questions will be answered, and of course doors will be left open as well. We'll get closer to understanding what Annora's deal is, and why she's moving all her pieces around. Some of those pieces will be explained." Hmmm, sounds like that could go either way.
Ratings for the show paint a similarly murky picture. According to Entertainment Weekly, the show premiered to only modest ratings, with just 2.1 million people tuning in — or about half as many that checked out The Strain. However, once the DVR numbers were figured in, the ratings got much better. Deadline reports that the number jumped up to 3.9 million with people who watched on DVR. "Only the launch of Fargo on April 15 last year did better," it noted.
I also think that FX is pretty much in the business of keeping Sutter happy, since he gave them Sons of Anarchy, one of their buzziest shows, which kept people tuning into the network for seven seasons. Then again, if TBX is out of the way, Sutter might go back to the and deliver on that Sons of Anarchy prequel spin-off he's been promising.
In any case, even if the series were to be renewed, it's likely we'd have to wait a long time for the next batch of episodes — or even to hear about more episodes. The first season was picked up in May 2015, and it didn't premiere until September. We're likely looking at next fall at the earliest. Instead, Bastard Executioner fans should watch other shows that'll fill their need for old-timey costumes and gruesome violence, because there's a long wait ahead. It might even be a permanent wait, since it's likely the show will get the axe. But, even if it does get cancelled, there's always re-watching the first season!
Images: Ollie Upton/FX; Giphy (3)