7 Shows to Watch If You Miss 'Game of Thrones'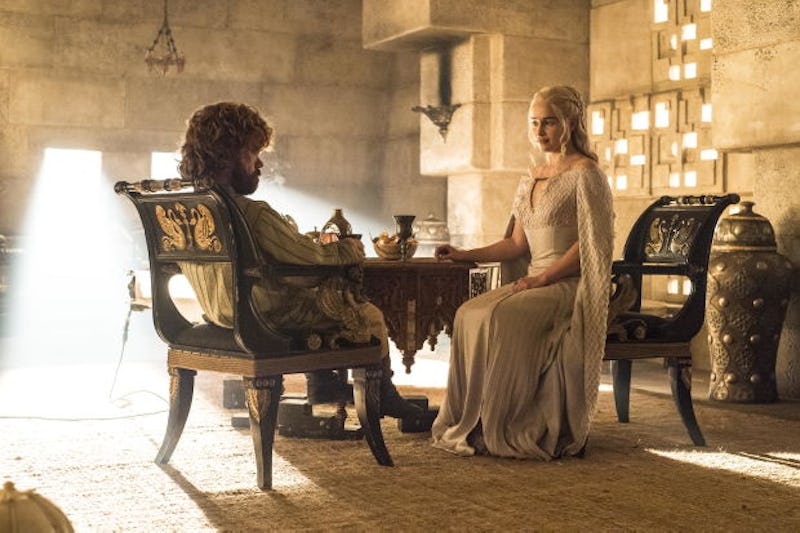 After watching Jon Snow get stabbed to death by the Night's Watch on the season finale of Game of Thrones , I swore to myself that I needed a break from the violence, death, and destruction that constantly consumes Westeros. I've been spoiled by network television, since I normally only have to wait a few months to be reintroduced to my favorite television characters. But HBO isn't network television, and it takes a ton of time, money, and preparation to make just one episode of Game of Thrones. In the meantime, I can't be the only one asking what TV shows to watch instead of Game of Thrones , at least until the HBO hit returns.
Patience is not my strong suit, but there are a ton of ways that I've been able to distract myself while I wait. First and foremost, I've been consumed with Jon Snow resurrection theories. (Watch one of them in the video below, and subscribe to Bustle's YouTube page for more.) I've had long drawn out conversations with random people about what's going to happen to him. I've also turned to one of my other favorite pastimes: becoming obsessed with other shows and marathoning the heck out of them.
Nothing is going to replace Game of Thrones while its on hiatus. However, there are some seriously amazing shows out there that are just as sexy, fun, and destructive as the epic fantasy. All you have to do is cuddle up with Netflix, or Amazon on Demand, and allow yourself to get sucked into another world. Until GoT is back, here are seven other shows to get you through your Throne-less nights.
What's It About: The Tudors is based on Henry VIII, and his reign over England. Plus, it has Jonathan Rhys Meyers in riding pants.
Why You'll Like It If You Love Game of Thrones: Just like GoT, The Tudors is all about political power. The show has a huge ensemble cast with faces you're sure to recognize. Henry Cavill, who plays Henry VIII's bestie, is currently Superman, and you'll also recognize Natalie Dormer (Margaery Tyrell), who plays the infamous Anne Boleyn. Also, did I mention Jonathan Rhys Meyers, and his techniques of seduction? Swoon. All four seasons of the The Tudors are available to stream on Netflix and Amazon on Demand.
What's It About: This pre-biblical series is about the gladiator Spartacus, who led a slave uprising in ancient Rome. Sadly, Andy Whitfield, the first actor to play the title role, passed away from cancer before the second season was shot.
Why You'll Like It If You Love Game of Thrones: Just like GoT, Spartacus has all the violence and sex that you can handle. Though it doesn't exactly have the fantastical creatures that Game of Thrones possesses, the show does have gladiators, and gladiators have swords. There are also plots of betrayals, and other delightful things. The entire series of Spartacus is available to stream on Netflix.
What's It About: If you ever wanted to know about Ancient Rome's transition from Republic to Empire, than this is the show for you. Rome follows the rise and fall of historical figures Julius Caesar and Mark Antony.
Why You'll Like It If You Love Game of Thrones: The show only lasted two season because it was crazy expensive to produce. However, within those 22 episodes, Rome pretty much covers all of the important information. Assassinations, war, and power struggles consume the series, and, unlike Game of Thrones, you'll get to find out who is standing in the end. Rome is available in its entirety on Amazon on Demand and HBO Go.
What's It About: Starz's prequel to Treasure Island is about the pirating adventures of Captain Flint, the most notorious pirate of the Golden Age. In the series, Flint is fighting to maintain control of his island, which is overrun with pirates, thieves, and prostitutes.
Why You'll Like It If You Love Game of Thrones: The Michael Bay-produced Black Sails is full of delightful spectacle. There are a ton of crazy storylines, and, of course, it wouldn't be a show about pirates without a ton of gore and sex. Black Sails is available to watch on Amazon Instant Video.
What's It About: First of all, Charlie Hunnam, which is all you should need to peak your interest. Sons of Anarch y is about Jax Teller and his outlaw motorcycle gang, as he begins questioning both himself and the gang. The story is influenced by Hamlet.
Why You'll Like It If You Love Game of Thrones: If you can deal with the violence of GoT then you should be able to handle Sons of Anarchy, even though the latter's modern day setting makes it even more realistic. The plot is a twisted web, so you're definitely going to have to pay attention. All seven seasons of Sons of Anarchy are available to stream on Netflix.
What's It About: The story follows Ragnar, a former farmer who rises to glory as the King of Denmark after leading successful raids on England. The series is a pretty kick ass depiction of medieval Scandinavia.
Why You'll Like It If You Love Game of Thrones: If you love GoT, but the violence and sex is just too much for you, then you'll love Vikings . It's a lot more tame than what I'm used to, but it's strength is its storyline. Season 1 and Season 2 of the series are available to stream on Amazon on Demand.
What's It About: The Borgias is basically The Tudors, but set in Italy instead of England. The Borgias is based on the real life Borgias family, and their rise to power. The series is all about corruption, power, and family.
Why You'll Like It If You Love Game of Thrones: If you think the Lannisters are bad, then you haven't met The Borgias. Seriously, there's even an incestuous storyline. The series is full of bribery, extortion, and torture. This is the family that inspired Mario Puzo to write The Godfather. All three seasons are available to stream on Netflix. Maybe by the time you finish watching all of these shows, Game of Thrones will be back.
Image: Helen Sloan/HBO