How 3D Coloring Could Help You Relax
by Lara Rutherford-Morrison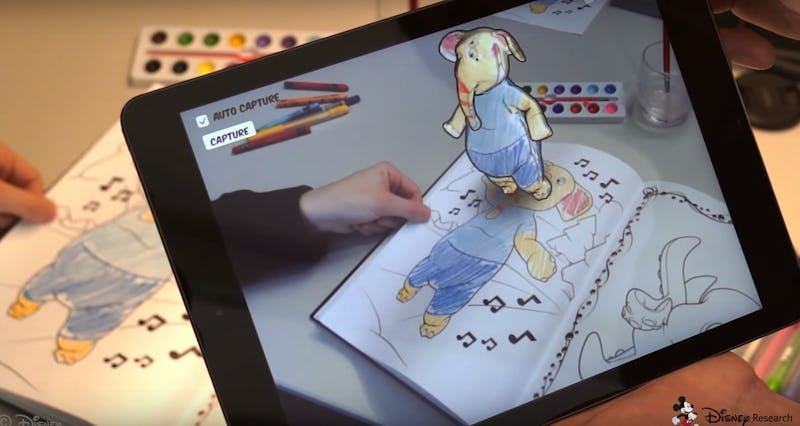 Beautiful coloring books for grown ups have taken at-home artists — and bestseller lists — by storm, quickly becoming hugely popular relaxation tools. A new app from Disney Research may literally add another dimension to the coloring experience: Called Disney Color and Play, the app turns 2D color pages into 3D images. Is 3D coloring the next step in the evolution of our new favorite old pastime?
The app works by instantly converting a two dimensional image of a character into a three dimensional figure. As the person coloring fills the line drawing with color and texture, the app automatically integrates those elements into the 3D figure in real time, so that the character comes to life as the artist creates it. (The app requires that one's tablet or phone be positioned above the drawing, so it seems that in the app's current iteration, you'd have to have someone handy to hold your device or be really good at multitasking with your hands). Video of the app in use is impressive, with a fully realized, three-dimensional elephant and octopus emerging from a basic two-dimensional image. A "lookup map" is able to map out the parts of the image that aren't visible on the page (like the backside of the figure), and those parts also fill in as you color.
The purpose of Disney Color and Play isn't to replace traditional coloring books, but rather to add "augmented reality" to the coloring process. The researchers explain that kids, surrounded by digital technology, often struggle to stay interested in non-digital activities like coloring; they suggest that "[a]ugmented reality holds unique potential to impact this situation by providing a bridge between real-world activities and digital enhancements." With adult coloring lovers, this would seem to be less of a problem, since for many of them, unplugging and doing something simple and predictable is precisely the appeal of coloring. However, augmented reality could enhance the coloring experience for color-loving grownups simply by adding something fun and engaging to the mix. The Disney researchers tested the app among adults and found that the majority of subjects felt motivated to use a coloring book because of the app and 80 percent of them reported feeling a deeper connection to the characters they were coloring when using the 3D app.
Right now, the app can only be used with special coloring books and pages, but it's fun to imagine a future when the app could use any coloring page. How awesome would it be to bring some of the intricate, gorgeous coloring books that have been made for adults to three-dimensional life?
Images: YouTube (2)