Catching Up With Beauty Vlogger Deepica Mutyala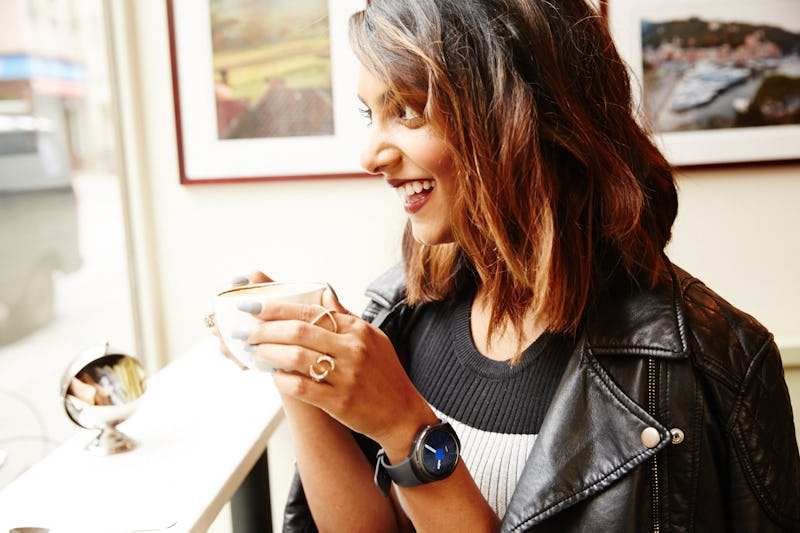 Arm Candy is a series in partnership with Samsung Gear S2. We're spending a day in the life with talented women on the rise, from self-made YouTube celebrities to budding athletes to visual artists to our fellow editors.
Deepica Mutyala is a pretty busy lady. After building a career in the beauty industry, she quit her 9-to-5 to pursue her vlogger career full-time. Recently, you might have caught her on the Today show as beauty correspondent, or you may be more aware of her social media presence, especially given her recent "Be Your Own Princess" campaign. If you don't know her name -- well -- you're missing out on a ton of beauty (and life) inspo. We happened to catch up with her in the West Village, where we peeked at her beauty stash and sipped lattes at her local coffee joint.
Just before Halloween, Deepica released a video called "Be Your Own Princess." While it does feature the beauty transformations and upbeat vibe that she's known for, it's a bit of a departure from her usual material. As she explains in the video, the idea came out of a text message conversation she had with a girlfriend. "We were planning costumes for a party, and when I said I wanted to be a Disney princess, she said, 'You would be a great Jasmine!'"
"In my head, it bothered me that she assumed I'd be Jasmine," she continues, "because of what I looked like on the outside." As a child, dressing up for Halloween meant she was consistently assigned the role as the token girl of color. "It took me back to my childhood," she said. "I always wanted to be Posh Spice but I was always told to be Scary...I was always Lisa Turtle, not Kelly Kapowski. Later on, I tried to dye my hair blond and get colored contacts because I always had to fit in. I want to tell girls that you should stand out."
The video has racked up over 35,000 views to date, and she's still buzzing from its success when we visited her at her West Village apartment. Here's Deepica, in her own words.
Where She Calls Home: Texas, but living that Carrie Bradshaw life in the West Village, NYC, at the moment.
Where You've Seen Her: On the Today show or as @deepicam on Instagram and YouTube.
In One Word: "Bold. It's my motto for both my makeup routine and my life."
"There was a checklist of things I wanted to do when I left Texas and moved to New York. The last one was definitely living that Sex and the City dream, and now I'm right around the corner from Carrie's apartment."
"I wake up at 8:30 a.m. every day and set an alarm, even though I'm not in the corporate world anymore. The first thing I do is check my email, then Instagram, then YouTube, then Snapchat… I know this is probably bad!"
"I started out filming videos at my apartment with a cell phone, and that's still where I feel most comfortable. I always want to feel real and authentic, even if doing it with fancy cameras is pretty nice."
"After breakfast, a lot of my day is building content at the YouTube studio and meetings, meetings, meetings. Lately, I've been trying to block off separate time for creating content and answering emails. All of these meetings are only as important as the content I create, so I always try to remember that it's my #1 focus."
"I go to Cafe Minerva at least twice a week to work (and drink skim lattes). I need to leave my apartment to get inspired. I feel focused here."
"I'm busy, but if it's your own brand, it doesn't feel like work. When I'm working at 3 a.m., it doesn't bother me. The emails and comments that say, 'you inspired me to go for my goals and dreams' make me feel like I can't fail. It's definitely motivation to succeed."
"One of the reasons I started my channel is that there's not a lot of Southeast Asian women out there. My followers are diverse, but girls like me don't feel like there's anyone out there to relate to. And most of all, they're just looking for the basics."
"There are so many other bloggers that I admire. The one that stands out to me is actually a vlogger that isn't in beauty: Lilly Singh. Being Southeast Asian myself, it's so exciting seeing all of her success. She has truly broken barriers for our community and it makes me so proud. I don't even know her, but I feel like I do because I've watched her go through this journey online."
"There's still so much I want to share. I want to simplify beauty for my followers. Beauty shouldn't feel complicated. It should feel fun and exciting and never overwhelming.
Despite her success, it's still a bit hard to explain her career to her parents. And yet, she says, "There is no one in the world that inspires me more than my mother. I look up to her for her strength, confidence, and ability to captivate any room. My mom is always on my side. Even if she doesn't always get what I am doing, she is going to be my number-one supporter and fan because she believes in me. That really means more to me than anything else."
This post is sponsored by Samsung Gear S2. Featured above: Alessandro Mendini watch face; Samsung's S Health app, featuring caffeine intake tracker.
Photos: Lauren Perlstein; Hair: Bennett Grey; Makeup: Joy Fennell; Locations: Courtesy of Deepica Mutyala & Cafe Minerva.