17 Holiday Travel Hacks Your Sanity Depends On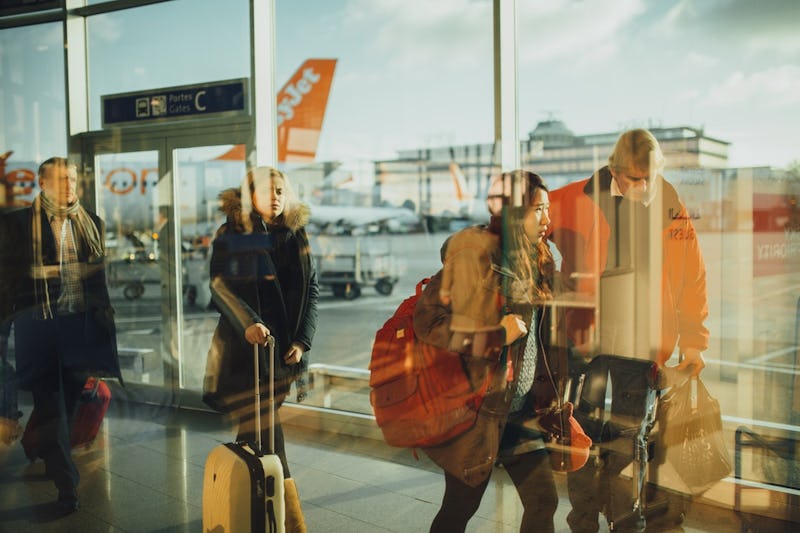 As you prepare for your upcoming treks back home this season, not even the best planning can promise a completely stress-free journey. Holiday travel is always brimming with inconveniences, cancelations, and general chaos. While you still might end up facing hour-long delays, this roundup of simple holiday travel hacks can help you combat any impending doom that is preventable. Set yourself up for a less exasperating endeavor with a handful of tricks that will get you a better deal on your airfare, keep you from overpacking, and make your inflight experience as easygoing and enjoyable as possible.
Even frequent flyers come face to face with travel-related nightmares during the holiday season, when everyone seems to be en route back home. Just imagining the high traffic standstill lines at airport security is enough to make even the strongest-minded individuals have a meltdown. Braving flight travel during the holidays is subjecting oneself to all sorts of trials outside of one's comfort zone. Your flight status, and nearsighted fate, are out of your hands, and until you've touched down on the tarmac of your destination's runway, you have no certain arrival time. There's only so much you can do to fight the effects air travel has on your body, but swollen ankles and blotchy dehydrated skin are the price we pay to fly. So before you pack up your belongings for your adult winter break, and before you even purchase your tickets, read on for tips and tricks to ameliorate your airfare, airport, and airplane troubles.
Best of luck and bon voyage!
Booking Hacks
1. Clear your browsing history before searching flights
Before searching for the best flight deal, clear your browser cookies and cache to avoid dynamic pricing. If a site sees that you've been searching for options back to your hometown, the more apt they are to increase prices because they can see the flight's in demand.
2. Remember, there's usually a 24-hour window to get a refund
Most airlines allow you to cancel or change your flight booking, without penalty, if you do so within 24 hours of booking. Once you book a flight, track fares for the next 24 hours and if the flight fare falls, call the airline and switch to the better deal.
3. Book a red-eye
Flying off-peak hours guarantees lower fares, because airlines have a tougher time filling seats. Book a red-eye and catch up on some Zs. You won't have wasted any daylight traveling, and you can sleep better knowing that you saved money on your ticket. When you rise and shine you'll be at your destination and won't have missed a thing.
Packing Hacks
4. Roll your clothes, don't fold them (or shove them)
Maximize space in your suitcase by rolling up your clothes. You can save even more space by filling shoes with socks, and wedging smaller items like underwear in nooks between objects.
5. Use tissue paper to keep clothes from getting wrinkled
Make sure your wrinkle-prone blouses stay wrinkle-free by wrapping your delicates in tissue paper.
6. Use dryer sheets to keep your clothes smelling fresh
Once you've packed your belongings, toss in a dryer sheet as the final touch to keep your garments smelling fresh.
7. Pack necklaces in straws, and earrings and rings in pill boxes
Store your jewelry in a way that will transport them safely to your destination. If bringing along dainty necklaces, pull one side of each necklace through a straw, then clasp. This will avoid finding a tangled mess once you take them out to wear. For small earrings and rings, store them in a pill box.
8. Don't wrap gifts until you're at your destination
If you're transporting gifts with you, save the wrapping for once you're at your destination. Wrapping before just means that the TSA might have to unwrap them when you go through security, ruining your present presentation efforts and slowing you down.
9. Send your gifts ahead of time
Better yet, free up space in your carry-on (and avoid taking a check-in altogether) by sending gifts to your destination. You won't have to worry about getting stopped in security for the odd looking fishing gadget you bought for your dad. Your family will know not to open ahead of time, and if they do (shame on them) many online retailers provide complementary gift-wrapping so they won't be able to sneak a peek until it's time to unwrap.
Airport Hacks
10. Arrive earlier than you usually would
Airports are pure chaos during the holidays, and your usual estimate for how long it takes you to check in, get through security, and make it to your gate could be skewed by the extra traffic. Traveling back home for Christmas while I was living abroad, I faced two consecutive bomb scares (unattended luggage is no joke) before I had even checked my bags. Every time the line regrouped, I was at the end of it. I ended up sprinting to my gate and making it there just as the agent was beginning to close it. It's better to leave an hour earlier than you usually would than miss your flight back home.
11. Sign up for TSA Pre-Check
Bypass the security line mess by applying for TSA Pre-Check prior to your holiday travels. Program membership costs $85, but relieves you of five years of airport headaches and security line-related delays.
12. Download your airline's app
Get instant updates on your flight's status and skip printing tickets with your airline's app right on your phone.
13. Bring an empty water bottle to the airport, and fill it after security
Quench your thirst on your journey without paying criminal airport prices ($5 for a bottle of water?) by bringing an empty bottle with you, and filling it once you make it past security. The plastic cup of soda you'll be offered once, maybe twice, during your flight is hardly enough to keep you hydrated.
Flight Hacks
14. Keep your essentials on you
If you're checking your bag, make sure your carry-on has all your essentials — like chargers for your electronics, your toothbrush and toothpaste, medications, and a few extra pairs of underwear. That way if your check-in doesn't make it to your destination, you'll still survive. Even if you have a carry-on, be sure that anything you'd want at the airport or for the flight is in a smaller bag you tuck under the seat in front of you.
15. Pack snacks
Avoid long lines and getting overcharged at the airport, or on the plane, by bringing your own snacks.
16. Turn your scarf into a pillow
Stay comfortable without being that person with a neck pillow by converting your oversized scarf or hoodie into a comfy pillow for the flight.
17. Bring your own booze
Even if you don't score a real upgrade, you can still upgrade your flight experience with a little something to take the edge off. Take advantage of the TSA's policy of allowing as many 3.4 oz. bottles of liquid that fit in a quart-sized bag, and bring your own mini selections of your favorite booze. Just make sure you're adhering to policy, and please don't be this woman.
Looking for more holiday cheer? Check out Bustle on YouTube.
Images: Unsplash; Giphy (8)