Glam Velour Looks Inspired By Adele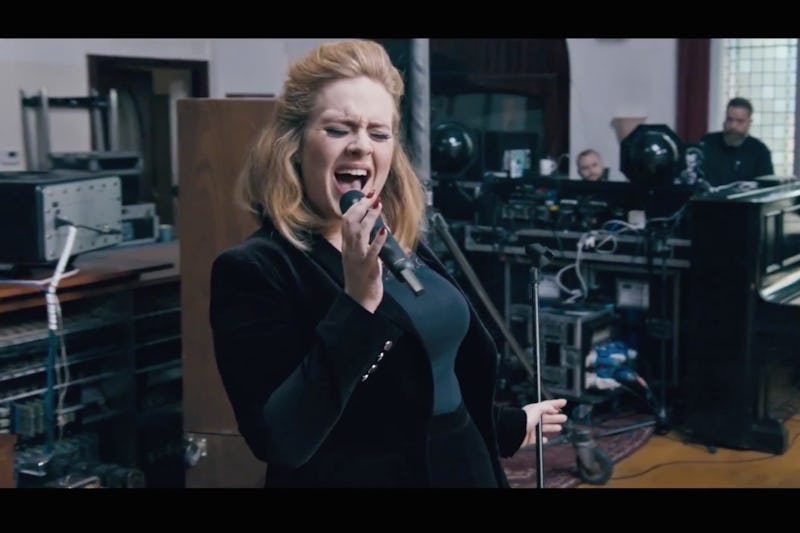 How many times have you walked into an American Apparel and thought, "Wow, there's too much velour in here"? WRONG. You were wrong. I was you once. Adele's performance video for "When We Were Young" is here to teach us all the glamorous beauty of an all velour look.
We already know Adele for being a beauty and style icon. In "Hello" she taught us about the importance of layering. In "Someone Like You" she walked along the banks of the Seine in the perfect edgy black winter coat. In "Rolling in the Deep" she reminded us that jeweled headbands are not solely for the minions of Blair Waldorf. She is maybe best known for killing the sparkly black Hollywood dress. Her fashion is like her personality: a combination of charming and edgy. Who wouldn't want Adele as their #stylegoals?
However, as most of us know, there is a right way and a wrong way to do velour. Adele is very adventurous with different textures/fabrics, and velour is always a way to add glam as long as you're going for the right silhouette. Additionally, there are few staple velour pieces that really pair well, and just because you're getting a little adventurous doesn't mean that you won't look good. Who knows? Maybe velour is the key to hitting those high notes (it's really not).
Here are a few go-to pieces to mix and match for the holiday season:
1. Tops
Velvet Crop Tee, $36, American Apparel
Stretch Velvet Long-Sleeved Tunic, $40, Foxcroft
Pair velvet tops with full skirts and chunky heels, or go casual and wear over your favorite jeans. Either way, you just feel fancy!
2. Blazers
One Button Velvet Blazer , $139, Calvin Klein
Double-breasted Velvet Blazer, $1820, Balmain
Velvet blazers give you a very transitional look. You can wear them both to work and to dinner with your in-laws. Win win! OK, OK, I know that second one is just Pinterest goals. You might have to save up for that for a while. But isn't it pretty?!
3. Pants
Free People Velvet Pull-on Flared Pants, $51.99, Macy's
Eileen Fisher Velvet Wide-leg Pants, $238, Bloomingdales
The wide and flared leg are going to be all the rage for a while, so you may want to invest in a pair before we jump back to skinny! These are nice and warm options for pretty much any occasion.
4. Dresses
Dark Green V Neck Long Sleeve Maxi Dress, $36.99, Rotita
Crushed Velvet Maxi Dress, $27.90, Forever 21
Premium Velvet Skater Dress, $160, Topshop
There is something about a velvet dress that just adds intrigue and an air of mystery. Pair velvet dresses with leather or jean jackets for a day and night look. Or, add a choker and some combat boots for a '90s tribute!
Mix and match any of these velvet staple pieces to create a look all your own and remember to thank the goddess Adele Dazeem — wait, no, wrong Adele — for your winter and fall fashion-spiration!
Want more style tips? Check out the video below, and be sure to subscribe to Bustle's YouTube page for more hacks and tricks!
Images Above: AdeleVEVO/Vanity Fair (2), Courtesy Brands