Get Your Winter Layering Inspiration From Adele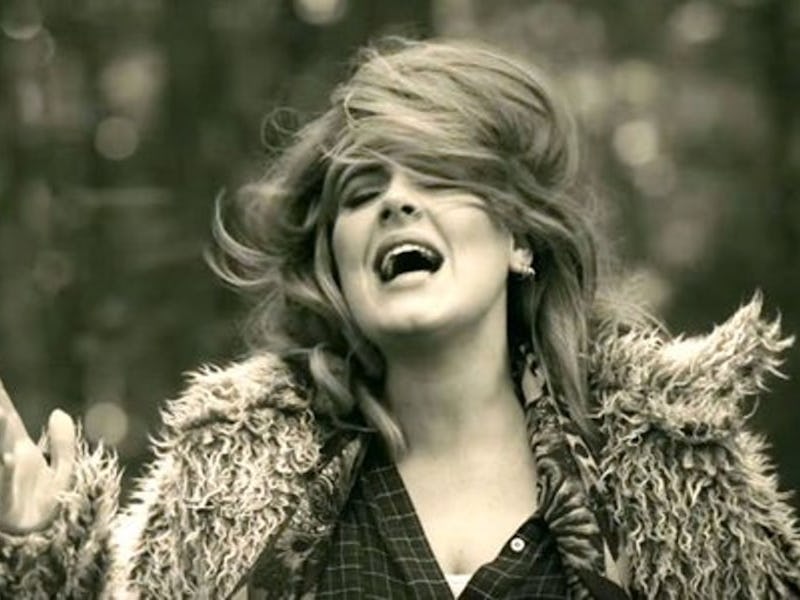 If asked to describe Adele's signature style, most people might start with her makeup: A perfectly flicked cat eye, paired with matte nude or rose-colored lipstick. Though that glam look has become iconic, it belies the fact that Adele has a reliably glamorous wardrobe, especially when it comes to outwear. From stylish faux fur coats to trenches with a twist, Adele knows a nice jacket when she sees it, and her music videos are proof that you should be getting your winter wardrobe inspiration from the "Hello" singer.
What's so wonderful about this is that by taking style cues from Adele, you'll be gathering inspo from a body positive advocate who proves that elegance is a thing at every size. In a 2011 with Vogue, she even said, "I enjoy being me; I always have done. I've seen people where it rules their lives, you know, who want to be thinner or have bigger boobs, and how it wears them down. And I don't want that in my life."
Adele's sense of fashion, which is straight out of the 1960s yet still somehow remains totally modern and fresh, is perhaps best exemplified by her strong outwear choices, a recurring theme through every stage of her career. She's been rocking perfect outwear long before she started wearing winged eyeliner.
So if you're finally ready to channel Adele this winter, here's some layering inspiration, straight from her music videos.
1. "Hello"
The first time I watched Adele's music video for "Hello," I sobbed. The second time I watched it, I started to wonder where she got that amazing shaggy coat. According to the video's director Xavier Dolan, it turns out that the now-iconic jacket is one-of-a-kind. "I saw that piece of fabric in a couture shop so there's only one," he explained to EW.
Fortunately for all of us who saw the music video for "Hello" and started swooning for that perfectly unkempt coat, along with Adele's flawlessly positioned cat eye, stylish faux fur coats are this season's go-to for warmth. There are plenty of shaggy, oversized options to help you channel you inner British diva. (The jacket is actually gray, according to a color image from the shoot that Adele posted on her Instagram, but since the video is in black and white, we can pretend the coat is any pastel color, right?)
Super Trash Orson Faux Fur Coat, $238, nastygal.com
Steve Madden Gallery Glamour Coat in Blush, $89.99, modcloth.com
Pair the coat with a bright, extra-long scarf like Adele does, and you'll be ready to sing your heart out in the forest with an abandoned phone booth, staying totally warm despite the wind machine.
Metallic Diamond-Patterned Scarf, $12.90, forever21.com
2. "Chasing Pavements"
Let's go way, way back to when Adele's music videos weren't ready to break every record for most views in 24 hours on Vevo. You know, when she was just starting out. Her breakout hit on 19, the first album to be titled after her age, was "Chasing Pavements," a super bittersweet song about a girl trying to figure out whether she should stay with her partner or not. The video doesn't quite have the production value of "Hello," IMO, but Adele is surely rocking another great coat. This one is a simple wool one in an eye-catching yet subtle plaid print.
ASOS CURVE Oversized Coat in Heritage Check, $153, asos.com
Check Wool Coat, $149, zara.com
This video came out before Adele made a strong cat eye her signature style, but it's an early look at the elegance to come. So line your eyes with black eyeliner like it's 2008 and put your hair in a low chignon. How perfect for the holidays.
3. "Someone Like You"
"Someone Like You" was a single off of Adele's best-selling and totally critically acclaimed 21, and the video for this heart-wrenching song is simple, made up of a single shot of Adele wandering the streets of Paris. The minimalism of the video allows Adele's voice to take the forefront, but it's hard not to also notice the black trench coat she's wrapped up in.
The original jacket is from Moschino and is long sold out. But you can still recreate the look with a belted black trench coat of your own, ideally with gold hardware like the original and a flared skirt, rather than something with a straight cut.
Warehouse Double Breasted Trench Coat, $171, asos.com
Guess Double-Breasted Fit-and-Flare Wool Coat, $169, dillards.com
Button it up to the top, wrap that belt around yourself, and imagine a foggy day in Paris — heartbreak hopefully not included.
Follow Adele, and you'll be sure to stay warm and stylish this winter.
Images: AdeleVEVO/YouTube; Courtesy Brands