The 13 Best Books Of December 2015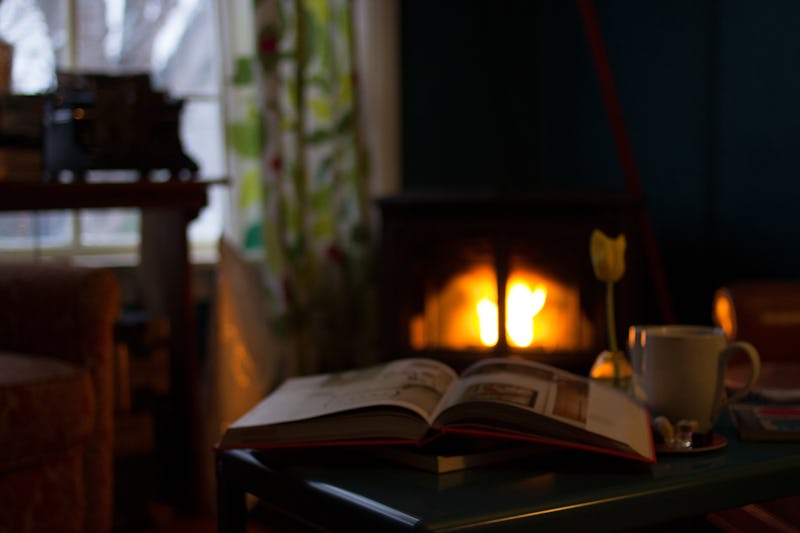 The constant tinkle of holiday music, the smell of gingerbread, the swirl of snow in the air. With the holidays in full-swing, December is very much about home, whether you're going back to your family home or celebrating the home you've made for yourself. The cold weather and the promise of homemade cookies is more than enough encouragement to curl up in front of the fire with your loved ones (or perhaps, as a way to get a break from them), and crack open a book.
This month, a slue of acclaimed international and translated voices have come stateside, ready to spin you imaginative tales of their distant homes. Finland, Russia, France, Sweden, Italy — you can do the whole European tour without even taking off your pajamas. But you should know, these are not happy-go-lucky tourist guides; you'll encounter dark magic, bizarre underworlds, modern fairy tales, and heaping helpings of both excitement and heartbreak.
Family is appropriately a common thread this month too, or, more accurately, the idea of what makes a family. From discovering relatives thought lost to forging new family ties, these characters will take you along as they explore the connections in their lives and how they came to be.
And this December, you'll have plenty of adventures to stomp around on. You'll sleuth through tangled mysteries, follow Molly Crabapple's wild footsteps, and sky-dive into the depths of history. Baby, it may be cold outside, but these reads are sizzling with worlds ready to explore.
So, ready your peppermint hot cocoa, your fuzzy socks, and your favorite armchair. 'Tis the season to hunker down with a great read.
1. Drawing Blood by Molly Crabapple (Dec. 1; Harper)
This highly anticipated memoir from a renowned artist and journalist, Drawing Blood stretches from 9/11 to the Occupy Movement, detailing the roaring flavors of Crabapple's life. After going to Europe and the Near East post-high school graduation, Crabapple returns to New York to take on a series of odd jobs as she explores her art. When she eventually lands a job at the famous nightclub The Box, she experiences first-hand the class divide between the Wall Street demographic and entertainers, so when the 2008 crash arrives, she is able to transform her experiences into her signature blend of art and storytelling.
Amaterasu Takahashi opens her door to a badly scarred man claiming to be her grandson. Yet, Ama's grandson and her daughter both died in the bombing of Nagasaki 40 years earlier. The man, however, carries a box of secrets that Ama had sworn to leave behind when she fled Japan. As Ama discerns if she believes this seeming miracle, she dives into her winding past and confront the ghosts that still lurk within her memory. Originally published in the U.K. in July, this book was met with soaring praise.
3. On Cats by Charles Bukowski (Dec. 1; Ecco)
Acclaimed writer Charles Bukowski turns his signature eye on the world of felines. A series of essays and poems all about cats, Bukowski's classic funny and frank tone becomes, at times, even endearing as he explores and honors the majestic creatures and our relationship with them.
4. The Blizzard by Vladimir Sorokin (Dec. 1; Farrar, Straus, and Giroux)
Freshly translated from one of Russia's most popular authors, The Blizzard takes place in a 19th century Russia that is under the threat of a zombie epidemic called the Chernukha. District doctor Garin is traveling to the infected village, vaccine in hand, when he is waylaid by a blizzard, turning his rescue mission into a dangerous and darkly fantastical expedition. At 192 pages, you'll tear through this one in a thunderous heartbeat.
We've been on our edge of our seat for this one. First published in France in 2013 where it was given a standing ovation (it was even a finalist for France's prestigious Prix Goncourt prize), this book is sure to wow U.S. readers. The Age of Reinvention tells the darkly riveting tale of successful Manhattan attorney Samir Tahar. From humble beginnings as a poor Tunisian immigrant in Paris, Samir decides to do anything it takes to "cut through the bars of his social jail cell." At law school, he befriends Samuel Baron, but when they're torn apart by mutual love for Nina, Samir steals Sam's identity and flees to New York, while Sam is left seething in France. Decades later, the love triangle is reunited and absorbed by the war on terror.
6. Like Family by Paolo Giordano (Dec. 1; Paula Dorman Books)
From the author of the beautiful novel The Solitude of Prime Numbers, this freshly translated work is the touching story of Signora A, a middle-aged widow hired as a maid/nanny by a young married couple during the wife's difficult pregnancy. Signora A soon becomes the glue to the family's life, but it all threatens to fall apart when she is diagnosed with lung cancer. The book leaps into Signora A's life, meditating on the different types of love that fill our world.
Acclaimed science-fiction author Anne Charnock combines history, art, and sci-fi in this spinning novel that encompasses 15th century Italy, the present-day, and the 22nd century. In 15th century Italy, Paolo Uccello teaches his daughter, Antonia, to paint and she creates a masterful portrait of her mother. In present-day, a man is hired to duplicate a Paolo Uccello painting, leading him and his daughter to go to China and escape a tragic past. In the 22nd century, a painting is discovered, rumored to be the work of Antonia Uccello, shut out from history for centuries because of her gender. As the novel churns, the three storylines converge into a dark mystery.
8. M é dicis Daughter by Sophie Perinot (Dec. 1; Thomas Dunne Books)
Set in Winter of 1564, this page-turner of a historical fiction follows Princess Marguerite de Valois (known as Princess Margot) upon her arrival to the French court, where secrets, suitors, and scheming are all on the menu. Trapped in the shadow of her powerful mother, Queen Catherine de Médicis, Margot is resigned to her position as a marriage-pawn. But when her wedding disintegrates into the one of the most violent events in French history, the St. Bartholomew's Day Massacre, Margot must take her life into her own hands.
9. His Right Hand by Mette Ivie Harrison (December 1; Soho Crime)
The sequel to the controversial and acclaimed mystery The Bishop's Wife, this book is a murder mystery set in the tight-knit Mormon community of Draper, Utah. When Carl Ashby, a prominent member of the community, is murdered on church property and the autopsy reveals that he was biologically female, bishop's wife Linda Wallheim finds herself wrapped up in a murder investigation that simultaneously exposes transphobic issues within the LDS community.
10. The Merman by Carl-Johan Vallgren (Dec. 7; Pegasus)
A fairy tale plucked from the mind of Swedish author Carl-Johan Vallgren and newly translated into English. In a small town on the west coast of Sweden, Nella and her brother Robert live a hard life, from their alcoholic mother to Robert's problems with school bullies. When Nella reaches out to her friend Tommy for help, she stumbles upon a strange secret that upturns her reality.
11. The Relic Master by Christopher Buckley (Dec. 8; Simon and Schuster)
A humorous and enchanting adventure set in the 16th century, this is the story of Dismas, a relic hunter, and his best friend Albrecht Dürer. When a conspiracy to falsify a shroud fails them, Dismas and Dürer, are sent out accompanied by a team of mercenaries, to recover the Shroud of Chambéry, Christ's burial cloth and Europe's most celebrated relic.
12. Paradise City by Elizabeth Day (December 8; Bloomsbury USA)
Originally published in the U.K. in May, Paradise City has already amazed readers abroad. The book tells the stories of four characters, linked together in Paradise City. Howard Pink is a successful businessman whose teenage daughter went missing 15 years ago. Working in a hotel that Howard frequents is Beatrice Kizza, who fled from Uganda for its anti-homosexuality laws. Esme Reade is an ambitious tabloid reporter, set on getting an exclusive interview with Howard. Carol Hetherington is a widow who spies on her neighbors and makes a surprising discovery. An emotional story fueled by its characters and the potency of a city.
Legendary Finnish author Leen Krohn arrives stateside with this collection of fiction, from short stories to novels. A must-read for fans of Ursula K. Le Guin and Milan Kundera, Krohn's work is genius at toying with the bizarre and bringing readers into new worlds.
Images: Pavan Trikutam/Unsplash