'Late Late Show' Channels Shia LaBeouf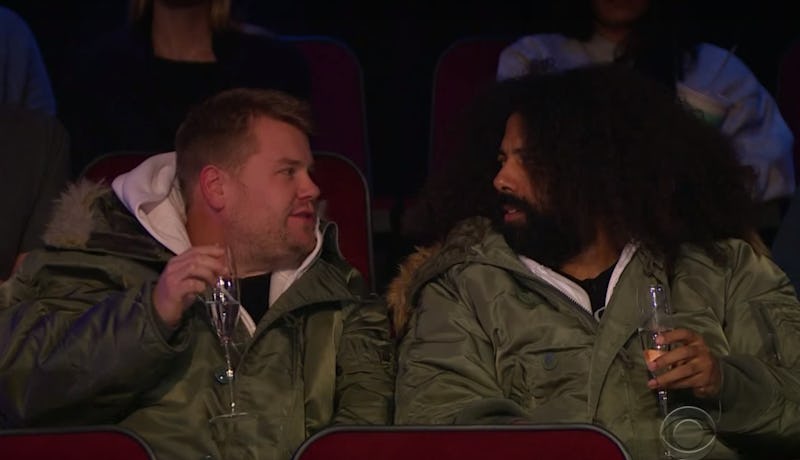 Last Tuesday through Thursday, actor Shia LaBeouf set up camp in an NYC movie theater and watched his entire filmography in reverse-sequential order. And thanks to technology, anyone could watch LaBeouf watch LaBeouf. Well, the watching-celebrities-watching-theselves-on-the-big-screen fun has only just begun: James Corden and Reggie Watts put their own spin on LaBeouf's art installation. In a new The Late Late Show sketch, the talk show host and the bandleader parody/pay homage to #ALLMYMOVIES. Taking a page out of the Transformer star's book, Dr. James Forrester and Dr. Reggie Erhardt hole up in a movie theater and watch every episode of The Late Late Show (via The Wrap).
In the clip, we see Corden and Watts (wearing matching Shia LaBeouf army green parkas because what else are you supposed to wear for such an occasion?) in different stages of the three-day, 106-episode marathon. There are laughs. There are tears. There is plenty of commentary. There are snores. There is shirtless David Beckham. There are popcorn kernels stuck in beards. There is champagne.
Ah, you know what? I believe I've said too much. I sincerely do not want to spoil another moment. Just like #ALLMYMOVIES, the #ALLMYEPISODES marathon is something you should experience for yourself. So here you go:
Image: CBS