10 Literary "Ugly" Christmas Sweaters For A Party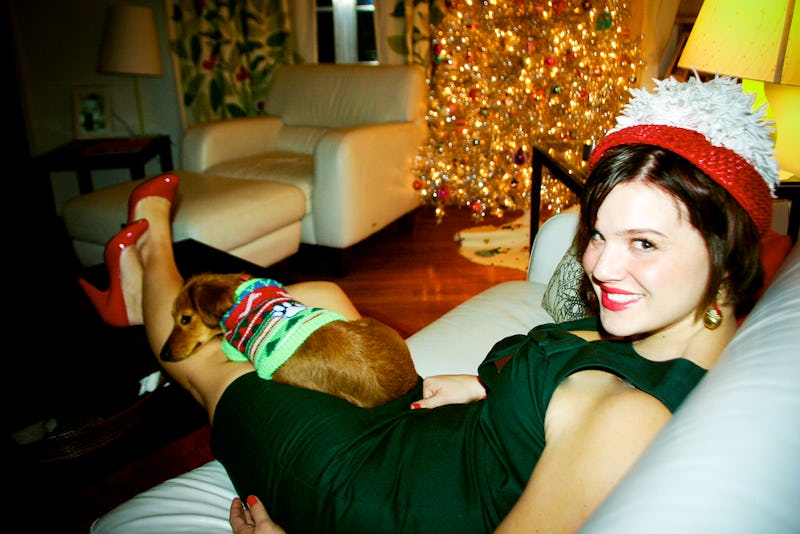 One of the best parts of Christmas is getting to see friends and family you haven't seen in a while — maybe not since last Christmas. The holidays give us all kinds of ways to reconnect with our favorite people: Christmas day, parties, and of course, the ugly Christmas sweater party. Truthfully, even if I'm not going to an ugly Christmas sweater party specifically, I can almost always find an excuse to wear one. I mean, something so delightfully tacky that can only be worn one time a year? Count me in, as many times as I can get away with it!
If you're like me and can't say no to an ugly sweat (or vest, I'm not picky!), you probably already know that the Internet is filled with amazing Christmas sweaters, and there's no doubt you can find one for nearly every interest out there. But, did you know there are also tons of amazing literary-themed Christmas sweaters? There's Harry Potter apparel as far as the eye can see, though, so that one didn't come as much of a surprise to anyone. But it doesn't stop there! For all the muggles out there, there are A Song of Ice and Fire-themed sweaters, Dr. Seuss, and even one for all the horror-loving Stephen King fans out there!
For all of your Christmas needs, here are 10 bookish Christmas sweaters guaranteed to make your holiday bookish and bright!
For the Harry Potter Obsessed
Muggle Sweater, $22, Etsy
Show your muggle pride this holiday in this "ugly" Christmas sweater covered in the essential Harry Potter symbols: the glasses, the Patronus, and of course, the Deathly Hallows.
Hogwarts Ugly Sweater, $20, Look Human
If you're a Gryffindor at heart, you know that this is the only sweater you'll need this holiday season!
Harry Potter Sweater, $22, Etsy
If you want a more general Harry Potter sweater, this is the one for you!
For Those Who Know "Winter is Coming"
Winter is Coming Sweater, $22, Etsy
Winter is coming, and what better way to keep warm than in a A Song of Ice and Fire-themed ugly sweater? No way!
For the Middle Earth Folks
Hobbity Holiday, $35, Tee Public
You'll feel like you're about to embark on an amazing adventure wearing this festive, Lord of the Rings sweater!
Precious Sweater, $36, Etsy
This sweater will be precious to you this holiday season.
For the Grinch
Grinch Sweater, $57, TV Store Online
Is this tacky or adorable? I can't tell, but I know it's perfect for all of your Christmas party needs this season!
For the Sherlockians
Sherlock Christmas Sweater, $36, Etsy
The name's Sherlock Holmes and the address is 221B, Baker Street. But you already know that, thanks to this handy Christmas sweater.
For Your Inner Child
Wizard of Oz Sweater (Limited Edition), $34, Fun Sports Gear
Follow the yellow brick road to some holiday festive fun.
For the Stephen King Fan
Redrum Sweater, $45, RedBubble
A little REDRUM for Christmas, anyone?
Image: erkillian5/Flickr