"Deep In The Meadow" Returns For 'Mockingjay'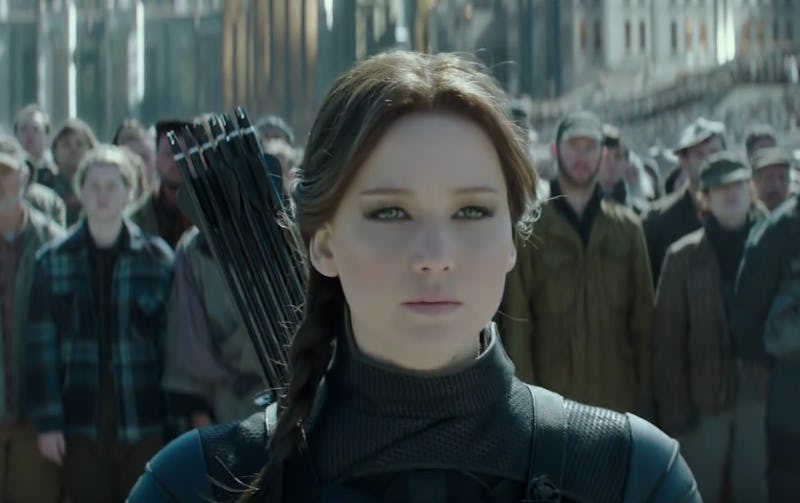 Hunger Games fans waiting for a soundtrack full of moody indie rock and Lorde anthems to accompany Mockingjay, Part 2 might be disappointed to find that there's likely no Mockingjay, Part 2 soundtrack in the works. Despite the fact that the previous three Hunger Games soundtracks have sold millions of copies and that the Jennifer Lawrence-sung ballad "The Hanging Tree" from Mockingjay, Part 1 was an international hit, Mockingjay, Part 2 is mysteriously tracklist-free. It's somewhat surprising, then, that the song that plays during the end credits of Mockingjay, Part 2 is an original song created for the film. What's the Mockingjay, Part 2 end credits song, you ask? It's actually a throwback to the first Hunger Games film, "Deep in the Meadow (Lullaby)."
Fans will remember that in the first Hunger Games, Rue died in the Arena. The scene remains one of the most heartbreaking in the series, which might help explain why some audiences won't recall Katniss singing "Deep in the Meadow (Lullaby)" to Rue as the young girl dies. In the book, the song lyrics appear written clearly on the page, but in the film, only a line or two can be heard, and Katniss' singing voice is obscured by her sobs. The song's lyrics were written by The Hunger Games author Suzanne Collins with a melody from music supervisor T-Bone Burnett, and performed by Sting in a version released as a single in 2012.
In Mockingjay, Part 2, that same song closes out the film, playing over the end credits. Only this time, Jennifer Lawrence sings "Deep in the Meadow (Lullaby)." Yes, Lawrence, who swore she would never sing onscreen again after last year's "The Hanging Tree," sings the end credits song in Mockingjay, Part 2. "I do not like singing in front of other people. It's like my biggest fear. I cried on set that day," Lawrence told David Letterman while on The Late Show, reminiscing about the day she had to record the song.
Perhaps Lawrence agreed to sing "Deep in the Meadow (Lullaby)" for Mockingjay, Part 2 as long as she wouldn't have to do it on camera. It's also possible that filmmakers simply used the original recording from the first film. No official announcement has been made about whether or not the track, as performed by Lawrence, will be released as a single or as a bonus track on the official score. So, fans might just be forced to go to the movie theater to see Mockingjay, Part 2 every time they want to listen to "Deep in the Meadow (Lullaby)."
Want more Hunger Games? Watch Bustle's drunk recap of Mockingjay, Part 1 below:
Images: Lionsgate