J.Law Sings Over The 'Mockingjay' Credits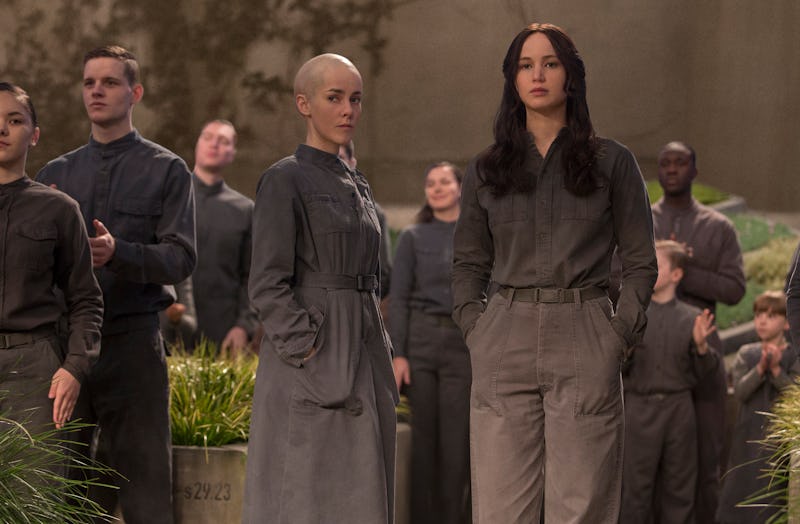 Jennifer Lawrence may feel about as comfortable singing in public as the most shy wallflower at the karaoke party, but even she can't deny that her two musical contributions to The Hunger Games universe were among the most touching moments of the series. Her version of the Panem protest song "The Hanging Tree" from Mockingjay, Part 1 actually charted in several countries, much to the actress's apparent humiliation. (Unfounded, though. I don't see how Lawrence's voice is anything to be embarrassed about!) But that wasn't the first time Katniss used music to express herself in The Hunger Games. In the first movie, she laid Rue to rest by singing "Deep In The Meadow," a lullaby Katniss used to sing to her sister Prim. Everything comes full circle in Mockingjay, Part 2 when "Deep In The Meadow" plays over the closing credits, also sung by Lawrence. Will you have to trek to the theater to hear it, or where can you get the Mockingjay end-credits song otherwise?
Right now, listening to the full version of Jennifer Lawrence singing "Deep In The Meadow" is an experience that you can only have when you buy a ticket to see Mockingjay, Part 2. In fact, none of the music from the final Hunger Games film is available online yet. Amazon has created a pre-order page for a Mockingjay, Part 2 soundtrack, but right now, it's still relatively blank. There's no album art to gawk at or track listing to review. But you can still reserve a physical CD copy for $13.98. The release date is listed as Dec. 4, roughly two weeks after the film's release. So, if you're feeling lucky, you can go ahead and commit to the mystery album.
According to the official production notes for Mockingjay, Part 2, there will be no pop companion album released for the film, only James Newton Howard's score. That's probably what Amazon is featuring for preorder, though there's no artist listed as of yet. I admit to being disappointed with the choice, thought it does make some sense considering the somber nature of the film. The Mockingjay, Part 1 soundtrack, with tracks from Tove Lo, Grace Jones, and of course, Lorde's atmospheric lead single "Yellow Flicker Beat," was the ideal background music for studying, going into the woods and pretending to be the best shot in District 12, and of course, planning a revolution.
The James Newton Howard score album could pull a fast one and include Lawrence's version of "Deep In The Meadow," though. With no track listing to speak of, it's absolutely a possibility. Check back to streaming services like Spotify in early December, and it might even be there for free listening. Until then, you can choose to either to cue up the original Hunger Games and watch Katniss croon those few lines over and over again, or listen to the full-length version by Sting, which was included as an unlisted bonus track on the first official soundtrack. Both choices involve heavy crying, because Rue.
Want more Hunger Games? Watch Bustle's drunk recap of Mockingjay, Part 1 below:
Image: Lionsgate