None Of These Authors Know How To Write About Sex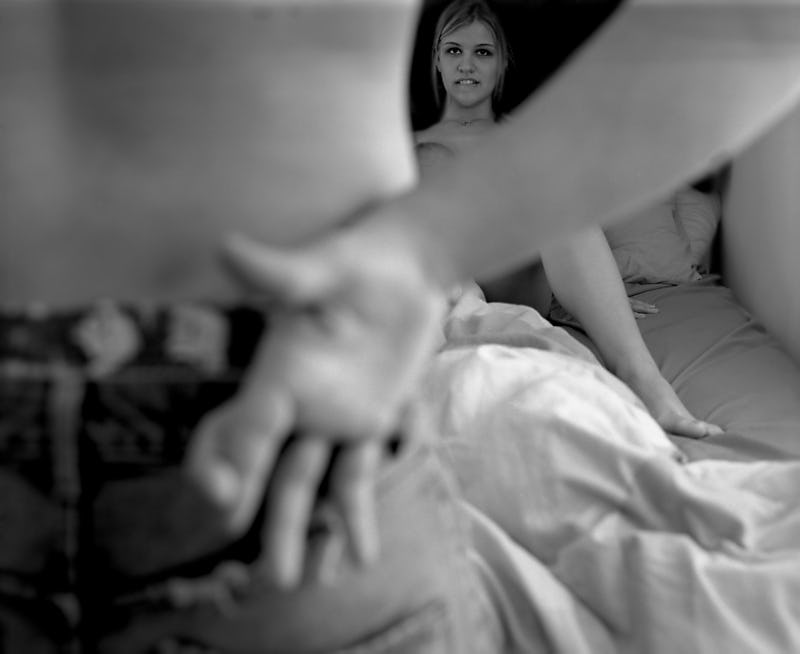 When done well, sex in books can capture all the passion, longing, heartbreak, loneliness and love in human relationships — so it's a real shame there's so much bad sex in fiction. That's what the Literary Review thought 23 years ago as well, which is why they set up their annual Bad Sex in Fiction Awards to discourage authors from writing terrible "sex scenes." Obviously, it hasn't quite worked — because once again, the Literary Review have found eight novels have been nominated for their sub-par descriptions of this natural human act.
It will surprise exactly no-one to hear that Morrissey made the list of Bad Sex in Fiction nominees with List of the Lost, his ill-received debut novel whose infamous sex scenes have been circulating Twitter ever since its release. Erica Jong is also nominated, 42 years after she first coined the term "zipless f***" in her novel Fear of Flying (to describe sex which is "free of ulterior motives, [in which] the man is not "taking" and the woman is not "giving", [and which] is rarer than the unicorn." In the similarly-named Fear of Dying, she's back to stir things up with some more slightly bizarre ideas about sex.
The year's most controversial literary sex scene, however, is missing from the list — but only just. Michael Ashcroft's Call Me Dave was considered by the judges as a contender — as Ashcroft's claim that U.K. Prime Minister David Cameron once became intimate with a pig was so unlikely and so unsupported that it could almost be considered pure fiction. In the end, however, they decided the unauthorized biography didn't quite meet their criteria, and settled on the following eight passages as the worst of the year.
1. Fates and Furies by Lauren Groff
"Glorious, he was made to do this. There was cracking all around and a blistering sunlike heat, and Gwennie was shuddering beneath him, and one-two-three, he burst within her."
If I didn't know, I would have guessed a man wrote this. The quote begins with the man's sexual arrogance, goes on to describe the woman "shuddering" (which, in this context, just sounds rather uncomfortable — especially when paired with the painful-sounding "cracking" and "blistering"), and finishes with him rather violently "bursting" into her, on very much his own timeline. He even counts himself in. Yuk.
2. Fear of Dying by Erica Jong
"I am swept away with waves of anticipation that blank out my mind and let me focus only on pleasure, releasing the painful past, releasing the desire to return there and be young and beautiful again. F*** young and beautiful — this is worth everything — and I come with fierce contractions that seem to go on and on endlessly."
You know what if you can have an orgasm that erases all your regrets, self-doubts and fears of aging, then all power to you.
3. List of the Lost by Morrissey
"Eliza and Ezra rolled together into the one giggling snowball of full-figured copulation, screaming and shouting as they playfully bit and pulled at each other in a dangerous and clamorous rollercoaster coil of sexually violent rotation with Eliza's breasts barrel-rolled across Ezra's howling mouth and the pained frenzy of his bulbous salutation extenuating his excitement as it smacked its way into every muscle of Eliza's body except for the otherwise central zone."
Sounds...painful?
4. Against Nature by Tomas Espedal
"She presses him to the ground, pins his hands to the floor. She kisses his face and licks it… She rides above him the way she'd imagined that one day she'd ride a boy, a man, a beast; she grasps his long hair with both her hands and rides him as if he were a horse."
If that's the way you ride a horse, I don't think you're doing it quite right.
5. The Martini Shot by George Pelecanos
"She stroked my pole and took off my briefs, and I got between her and spread her muscular thighs with my knees and rubbed myself against her until she was wet as a waterslide, then I split her."
Yikes. The slightly strange combination of a "pole" meeting a "waterslide" is bad enough — but that violent ending is seriously unnecessary.
6. The Making of Zombie Wars by Aleksander Hemon
"Far in the back of whatever was left in his mind, the light of reason was struggling against finally being extinguished and he was aware that wearing a condom would have been a good idea, but there was no way that he was getting out of her… She let him in so deep he didn't have to think about her, and therefore he didn't have to think about himself, but of course he was thinking about not thinking about himself…"
Anyone else way too confused to be turned on by that? Also, wear a condom.
7. Before, During, After by Richard Bausch
"She reached up and brought him to her, then rolled over on top of him and began softly to move down. When she took him, still a little flaccid, into her mouth, he moaned, 'Oh lover'."
I mean, this is the least sexy thing I've ever read.
8. Book of Numbers by Joshua Cohen
"Her mouth was intensely ovoid, an almond mouth, of citrus crescents. And under that sling, her breasts were like young fawns, sheep frolicking in hyssop — Psalms were about to pour out of me."
Not only does this fall into the cultural cliche of treating sexual women as animals or food as opposed to actual human beings, it's also a completely ridiculous way to speak.
The winner of the Bad Sex in Fiction Award 2015 will be announced on December 1. How the judges are supposed to pick the worst out of all those, I have no idea.
Image: Katie Tegtmeyer/Flickr