When Will 'Scandal' Be Back After The Holidays?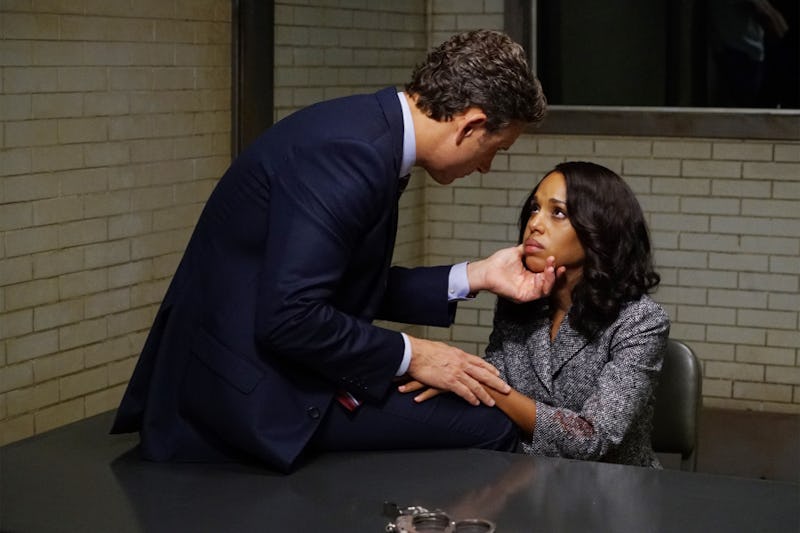 As the holidays get closer and closer, it's becoming the greatest time of year again... and the worst. Sure, all that yummy food and hanging out with your family (most of the time) are awesome, but one very important thing will be missing from the life of anyone who loves TV as much as I do — new episodes of my favorite shows. And if you're anything like me, you're dreading it, especially where Scandal is concerned. Thursday night, the midseason finale airs, which means there won't be any new episodes for awhile. So when does Scandal come back? More bad news: We have a really long wait ahead of us. Like, a really long wait.
Prepare yourself, because this is awful. Scandal returns on February 11 with new episodes. Yep, that means almost three full months without Olivia Pope in our lives, and it's going to be brutal, kind of like the hiatus that happened last winter that was also painfully long. Remember when it was summer, and the weather was great but the fictional Washington D.C. was worlds away? It's going to be like that, but colder and with more presents and stuff. And if you need to pop open a fresh bottle of red wine to get through it, I'm right there with you.
It's not all bad, though. Since Season 5 has been one of the craziest so far, this is a good time to re-watch the episodes that have aired and try to catch all the details you might have missed the first time around. Who knows? Maybe you'll end up solving the mystery of Lazarus, and Shonda Rhimes will be so impressed with your sleuthing work that she will invite you to join the cast as a gladiator. Stranger things have happened. And since the first nine episodes have been jam-packed with action, drama, and a lot of Rowan's dirty tricks, it seems obvious that the midseason finale is going to leave us with a cliffhanger that will take three months to figure out, anyway. So it's fine.
And there's an upside, too. With such a long hiatus, that means there won't be many weeks between February and the season finale without new episodes — if any. It's going to be tough for me and my fellow #TGIT devotees, but we can do this. Besides, the holidays will offer a bit of a distraction.
Scandal, I miss you already. Is it February yet?
Images: Giphy, Eric McCandless/ABC