Could Robot Cats Be Good For This Group Of People?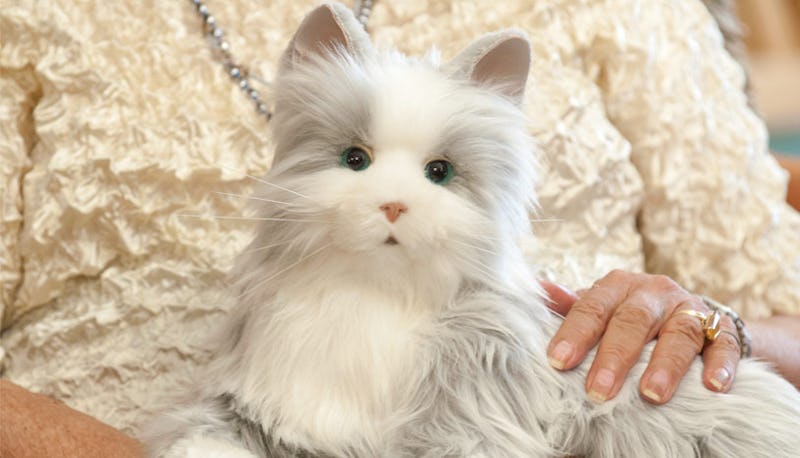 At some point in life you realize that children get all the good stuff — Disney movies, Lunchables, nap time, and especially toys. Why don't grown ups ever get stuff to play with? Well, as it happens, Hasbro is introducing a toy line for senior citizens. So now you can be jealous both of your nieces and nephews and your grandparents — although the big question, of course, is whether they'll catch on.
The new toy line is called Joy For All, and so far it consists of a selection of robotic cats, though other animals are planned to follow. According to the website, "Companion Pet cats look, feel and sound like real cats. But they're so much more than soft fur, soothing purrs and pleasant meows. Companion Pets respond to petting, hugging and motion much like the cats you know and love. This two-way give-and-take helps create a personally rich experience that can bring fun, joy and friendship to you and your loved ones ages 5 to 105." The cats come with sensors, realistic fur, and vibrate when they purr. They run on batteries and are priced at $99.
I don't know about you, but I'm certainly wondering whether or not the robots will give you the full cat experience and sit on your head while you're trying to sleep or knock things off your shelves for no reason. I mean, the whole point seems to be to strive for realism, right?
So why create a line of robot pets to begin with? Even though it isn't explicitly stated on the website, some, including Sophie Kleemn over at Mic, suspect Joy For All robotic cats are aimed at elderly people who are lonely and need something to love, but who might not want the responsibility of a living pet. Indeed, Ted Fischer, Hasbro's VP of business development, recently told Toy News, "We heard from seniors across the country that companionship was important to their happiness. Many live alone, miss having a pet, or are no longer able to care for a pet. While it's not a replacement for a pet, the Joy For All Companion Pet Cat is a life-like alternative that can provide the joy and companionship of owning a real pet, without the often cumbersome responsibilities." Is the idea of a robot pet a little depressing when you think about it? Maybe; but it's also good business sense — and Joy For All Companion Pets might be filling an important void for older people, too.
The official word, though, is that they're just hoping to bring people together. "We believe that the power of play can bring joy to people at all stages of life, and we've heard from our friends, fans, and consumers that some of our toys and games are especially appealing to seniors and enhance meaningful interactions with their loved ones," the Joy For All website explains. "These foundational insights inspired us to create HASBRO'S JOY FOR ALL products, beginning with JOY FOR ALL Companion Pets, which have been carefully adapted to inspire delight, companionship, and engagement for all generations."
Will robot pets for senior citizens catch on? Who knows. They might seem too futuristic for their intended audience. Or they might be a big hit — after all, robot pets are one of the staples of futuristic shows from the 1950s and '60s, such as The Jetsons. Maybe senior citizens will actually think that it's about time something like this showed up. The future finally looks like it's supposed to.
Images: Joy For All (3)