24 Literary Quotes Fix Your Broken Heart ASAP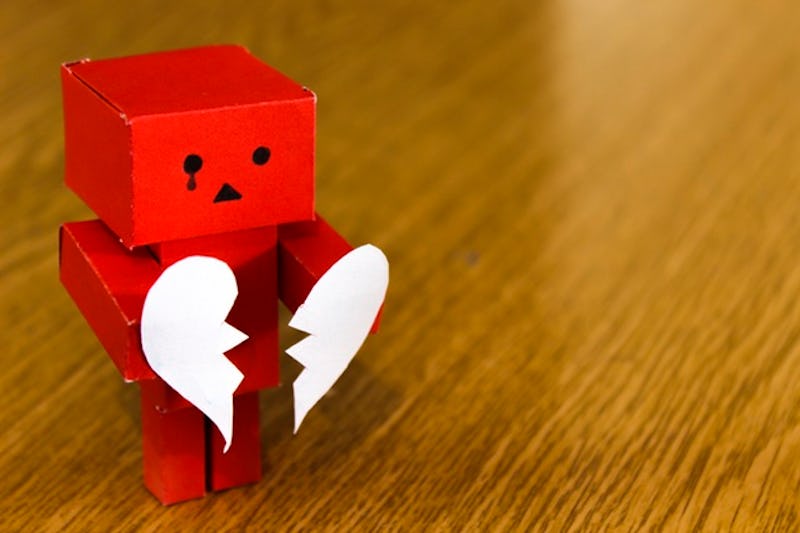 There's something about the holiday season that acts as a cue to end a relationship. Maybe you've realized you don't want that particular person as your cuddle buddy for the upcoming blizzards that we'll most likely be trapped indoors by; maybe you've had a revelation and this person isn't someone you want to add to your gratitude list; or maybe you're on the opposite end of the equation and now you're just wishing away the days until you can spend some time alone with Netflix and your bed in an attempt to override all the memories and the heartache.
Break-ups are difficult, especially during this time of year. But I've been there. We've all been there — or most likely will be—at some point. It's easy to end up with tunnel vision, unable to look beyond your heartache, but I promise you aren't alone. But you don't have to take my word for it, to borrow a phrase from Reading Rainbow; literature is filled with examples of break-ups, good and bad. Look to Anne Karenina: while our main heroine ultimately meets a tragic fate, on the other side of the story, Kitty finds herself heartbroken early on by a deeply hurtful snub from Vronsky. She confides in her new friend Varenka, who tells her: "Ah, if everyone was as sensitive as you! There's no girl who hasn't gone through that. And it's all so unimportant!"
Varenka's words may sound glib — and, arguably, they are — but she makes a good point. In the larger picture, this break-up or heartache won't matter much. There will be someone else, and better things lie ahead. Sometimes, the best pick-me-ups come in the form of snappy and pointed literary quotes; take comfort in that. Your broken heart will be fixed in no time, I promise
1. "Love blurs your vision; but after it recedes, you can see more clearly than ever. It's like the tide going out, revealing whatever's been thrown away and sunk: broken bottles, old gloves, rusting pop cans, nibbled fishbodies, bones. This is the kind of thing you see if you sit in the darkness with open eyes, not knowing the future. The ruin you've made."
— Margaret Atwood, Cat's Eye
2. "What are men to rocks and mountains?"
— Jane Austen, Pride and Prejudice
3. "It was really true, there was no longer anything about him that could interest me. He wasn't even a fragment of the past, he was only a stain, like the print of a hand left years ago on a wall."
— Elena Ferrante, The Days of Abandonment
4. "Life will break you. Nobody can protect you from that, and living alone won't either, for solitude will also break you with its yearning. You have to love. You have to feel. It is the reason you are here on earth. You are here to risk your heart. You are here to be swallowed up. And when it happens that you are broken, or betrayed, or left, or hurt, or death brushes near, let yourself sit by an apple tree and listen to the apples falling all around you in heaps, wasting their sweetness. Tell yourself you tasted as many as you could."
— Louise Erdrich, The Painted Drum LP
5. "Like some wines our love could neither mature nor travel."
— Graham Greene, The Comedians
6. "Afterward, the compromise.Bodies resume their boundaries.These legs, for instance, mine.Your arms take you back in.Spoons of our fingers, lipsadmit their ownership."
— Maxine W. Kumin, "After Love"
7. "You put me through hell. On purpose. Made me suffer. And there's no end in sight. I don't know what the fuck you're doing, ace, but this Dr. Jekyll and Mr. Hyde shit ain't cutting it with me."
— Sylvia Day, Reflected in You
8. "Those days are gone, and good fucking riddance to them; unhappiness really meant something back then. Now it's just a drag, like a cold or having no money. If you really wanted to mess me up, you should have got to me earlier."
— Nick Hornby, High Fidelity
9. "In some deep place in her heart, Caroline had kept alive the silly romantic notion that somehow David Henry had once known her as no one else ever could. But it was not true. He had never even glimpsed her."
— Kim Edwards, The Memory Keeper's Daughter
10. "He needs 'space' and 'time,' as if this were physics and not a human relationship."
— Kathryn Stockett, The Help
11. "Gentle reader, may you never feel what I then felt! May your eyes never shed such stormy, scalding, heart-wrung tears as poured from mine. May you never appeal to Heaven in prayers so hopeless and so agonised as in that hour left my lips: for never may you, like me, dread to be the instrument of evil to what you wholly love."
— Charlotte Brontë, Jane Eyre
12. "Someday you will wake up feeling 51 percent happy and slowly, molecule by molecule, you will feel like yourself again."
— Amy Poehler, Yes Please
13. "You think that you are an iconoclast, but you're not. You just move, or replace what you cannot have. If you fail at something, you retreat into something else. Nothing changes you.... I left you because I knew I could never change you. You would stand in the room so still sometimes, as if the greatest betrayal of yourself would be to reveal one more inch of your character."
— Michael Ondaatje, The English Patient
14. "I want that red dress bad.I want it to confirmyour worst fears about me,to show you how little I care about you or anything except whatI want."
— Kim Addonizio, "What Do Women Want?"
15. "I gasped and pointed the way. I gave you an adventure, Ed, right in front of you but you never saw it until I showed you, and that's why we broke up."
— Daniel Handler, Why We Broke Up
16. "Deep grief sometimes is almost like a specific location, a coordinate on a map of time. When you are standing in that forest of sorrow, you cannot imagine that you could ever find your way to a better place. But if someone can assure you that they themselves have stood in that same place, and now have moved on, sometimes this will bring hope"
— Elizabeth Gilbert, Eat, Pray, Love
17. "Cut back the stems an inch to keep in bloom.So instructs the florist's noteenclosed inside the flowers.Who knew what was cutcould heal again, the green wounds close,stitching themselves together?"
— Paisley Rekdal, "Flowers from a New Love after the Divorce"
18. "It is sheer good fortune to miss somebody long before they leave you."
— Toni Morrison, Sula
19. "And yes, being lovesick is like being in mourning. Because you die, because your future dies and you with it ...There is a hurting time. It lasts for so long. But it gets better. I know that now."
— Nina George, The Little Paris Bookshop
20. "When she came to her senses again she cut off all contact with him. It had not been easy, but she had steeled herself. The last time she saw him she was standing on a platform in the tunnelbana at Gamla Stan and he was sitting in the train on his way downtown. She had stared at him for a whole minute and decided that she did not have a grain of feeling left, because it would have been the same as bleeding to death. Fuck you."
— Stieg Larsson, The Girl Who Played With Fire
21. "My heart is too thoroughly dried to be broken in a hurry, and I mean to live as long as I can."
— Anne Brontë, The Tenant of Wildfell Hall
22. "It's just a matter of willpower. The day you decide it's over, it's over. You never get over it."
— Junot Díaz, This Is How You Lose Her
23. "And then the dreams break into a million tiny pieces. The dream dies. Which leaves you with a choice: you can settle for reality, or you can go off, like a fool, and dream another dream."
— Nora Ephron, Heartburn
24. "The art of losing isn't hard to master;so many things seem filled with the intentto be lost that their loss is no disaster."
— Elizabeth Bishop, "One Art"
Image Credits: Pexel; Georgie Pauwels/Flickr; Pexel; Tri Nguyen, Roberto Milloch, Chiara Cremaschi, Holly Lay, Lee Haywood, d26b73, Meg Wills, Mackenzie Greer, sunlight cardigan, Mitya Ku, Brian Tomlinson, Javi Sánchez de la viña,Gianna Dominici, Byron Lippincott, mrhayata, Guiseppe Milo, Anders Lejczak, Transformer18, Sadie Hernandez, Ian D. Keating, EladeManu, Stephen Brace/Flickr