This 'Shark Tank' Product Will Keep Tabs On Socks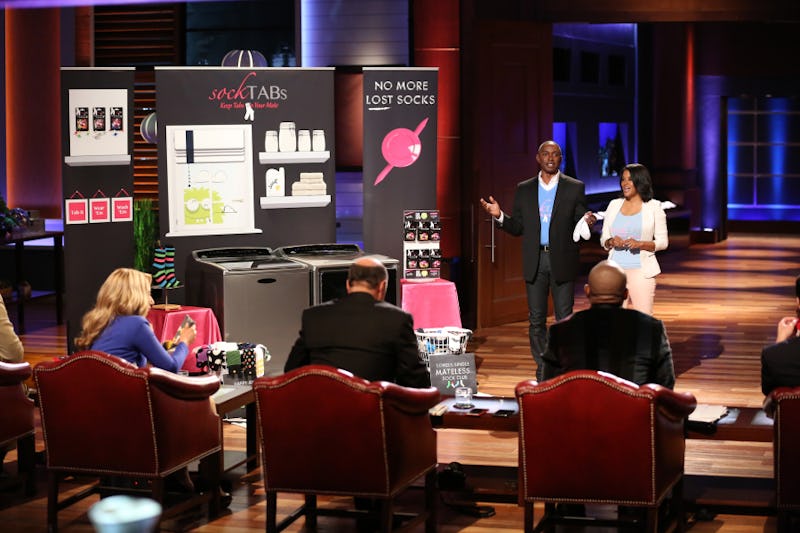 We've all been there. You're getting some delight by matching up and rolling up socks while putting away your laundry, but then somehow there's one sock left that doesn't seem to have a mate. You search everywhere, retrace your steps, but it's to no avail. The Sock Monster strikes again. But this scenario will become the thing of myths if sockTABs has anything to do with it when the company enters the Shark Tank during Friday night's episode.
SockTABs aims to keep your socks together, and though this product looks small, it has had some mighty success so far. It's definitely possible for that to continue on Friday night's episode of Shark Tank. SockTABs certainly seems like the perfect product for Lori Greiner to promote on QVC. Anything that screams fashion should make Daymond John's ears perk up. And don't forget about Mark Cuban. He may be one of the more no-nonsense Sharks, but he loves to flaunt his colorful socks and may just be interested in a product that keeps them together forever and ever, too.
So are sockTABs really as life-changing as they seem right now? I don't know about that, but they seem to solve a frustrating problem, and that, along with these six essential facts about the company, may just be enough to score sockTABs a deal come Friday night.
They Keep Your Sock Pair Together
As I described in excruciating detail above, losing socks can be annoying, but this doesn't have to be something you encounter if you have sockTABs. SockTABs are like paperclips for your socks that you pinch into one sock and then insert the tab through its sock mate before you throw them in the hamper and do laundry. That way, your socks go into the washer and dryer as a pair and come out as a pair, too.
They're Not All About Function
SockTABs not only keep your socks together, but they also make them more stylish, too. Well, if you like the look of them, of course. You're actually supposed to keep one sockTAB on a sock as you wear a pair throughout the day so that they're never a part when they get tossed in with the rest of the laundry. The entrepreneurs behind sockTABs have described them as "cuff links for socks," according to one local news report. A model even makes sockTABs a part of her outfit on another local news show. I can't say I support that decision, but who am I to stand in the way of someone else's self-expression?
Amber Rose Is A Fan
But then again, Amber Rose gave a shoutout to sockTABs during last month's SlutWalk in Los Angeles. Not only is Rose known for having a unique sense of style, but she also has a reputation for being outspoken toward those that have done her wrong. So the fact that sockTABs got a thumbs up from Rose is actually quite the accomplishment.
You Can Keep Tabs On sockTABs Now
If you think you need sockTABs in your life ASAP, you're in luck. SockTABs are available through the company's online store and range in price from $9.99 to $14.99 a pack, depending on the style. The product is also available for purchase through Amazon, in case that's your online retailer of choice.
The Founders Are A Perfect Match
It's easy for the entrepreneurs behind sockTABs to keep tabs on their mates since they happen to be working with them. SockTABs is the brainchild of Rockford, Illinois-based married couple Tracie and Glen Burress. As a mother of two teenagers, Tracie Burress always went through the missing sock struggle with the laundry, but it wasn't until she suffered a brain aneurysm a few years ago that she decided to pursue her dreams of launching her invention and creating a sustainable business out of it. I guess I was wrong about sockTABs not being life changing.
They're Already Taking The Business World By Storm
Not only did Tracie Burress and Glen Burress make successful careers for themselves as a pharmaceutical sales rep and a pediatric gastroenterologist, respectively, but they're also finding tons of success in their new venture. The couple won the $5,000 grand prize at a local business competition last year, and Tracie Burress was named the local winner of the 2015 InnovateHER Challenge. Here's hoping they find as much — or even more — success on Shark Tank.
Image: Beth Dubber/ABC (2); Giphy (2)