Jennifer Lawrence's Golden Globes Gown Launches Our New Favorite Meme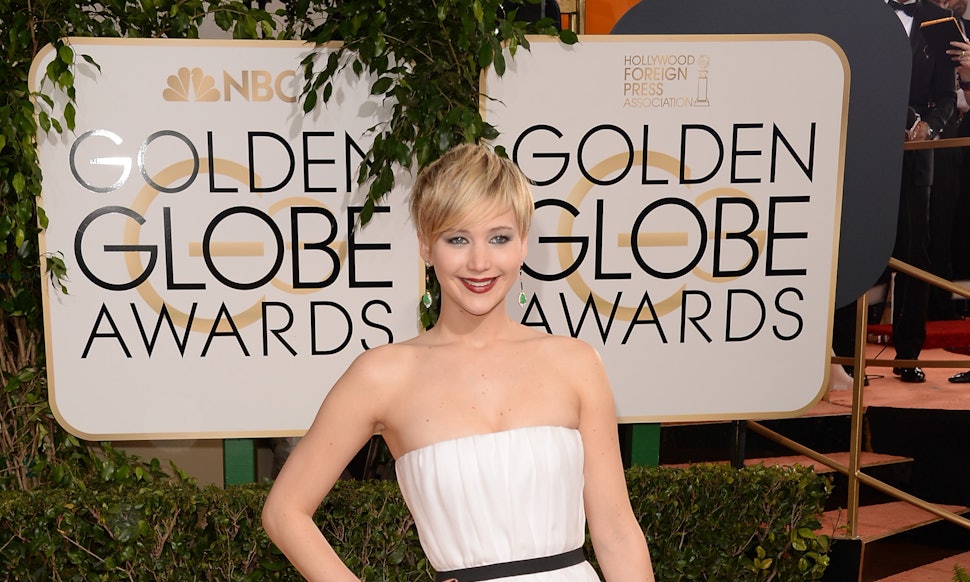 Jason Merritt/Getty Images Entertainment/Getty Images
Whether you loved it or hated it, you know what Jennifer Lawrence wore to the 2014 Golden Globes last night. That's because she is the Internet's favorite person — and as the Internet's favorite person, anything she does or in this case, wears, will be watched closely. But because JLaw's fans are on an entirely different level of awesomeness, what she wore wasn't just watched, it was recreated and thus, launched into our new favorite meme.
Quickly after Lawrence stepped on the red carpet at last night's Golden Globes, the web was a-twitter with their thoughts on the white Dior gown. But many of those opinions exceeded the 'ol 140 character tweets and were instead demonstrated in picture form, with the help of some bedding (and cats and dogs).
Check out our favorite #JenniferLawrenceDress memes ahead.
PUG LIFE
This JLaw fan not only recreated Lawrence's dress for his pug, he also Photoshopped it on to the red carpet. Words can't describe our love for this.
Image: Instagram/tragavenao
THE REAL CATNISS
This little kitten wasn't amused with her new get-up. Perhaps she was expecting the diamond jewels, too.
WHO WORE IT BETTER
This Puggle was basically doing what Jennifer Lawrence wished she was: watching the Golden Globes from the comfort of her couch.
DRESSED IN DUVET
This chick can't fool us in to thinking she's the real Lana Del Rey, but we'll give her credit for doing a pretty spot-on impersonation of JLaw's dress.
JLAW BFFS
After "Lana" shared her photo, her pals were quick to share their interpretations.
COLTON HAYNES
Ahh, celebs joining in on celeb memes. Is there anything better?
Image: Instagram/ColtonLHaynes
THE LITTLE MERMAID
MTV pretty much nailed it with this side-by-side comparison. Dior, we see where you drew your inspiration from.
ALL DOLLED UP
We're not completely sure why this doll has a nose piercing, but we like what's going on.
Image: Instagram/jojomurmur
THE MORNING AFTER
This photo was uploaded earlier today, so we like to call this the "morning after meme."
Image: Instagram/numlock