Is An Adele '25' Tour On The Horizon?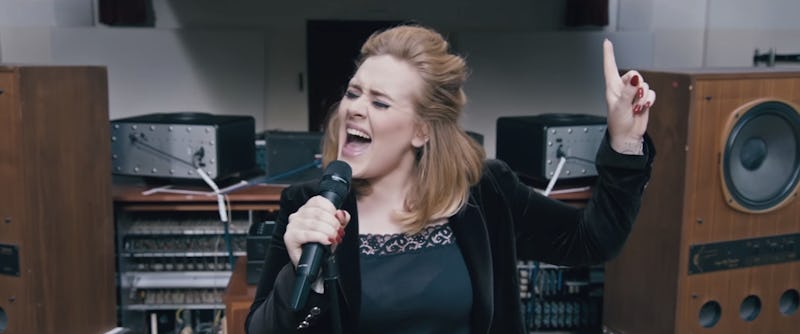 It's been four long years since the world received a new Adele album. After patiently waiting all that time, the madness ends on Friday, when 25, the Grammy winner's third album,will be released. Though the album hasn't even dropped yet, fans the world over are already clamoring for Adele's tour schedule. Will Adele go on tour for 25? Despite the overwhelming demand for the singer to take 25 on the road, she's hinted that a tour might not happen. In an interview for Apple Music released earlier this week, Adele said "I always wish I had the nerve to do a few more things. I would love to tour, I really would."
But the singer proceeded to give a laundry list of reasons she might not, including vocal stress, stage fright, and motherhood. She also cited having to cancel shows on her last tour due to a vocal cord hemorrhage, calling the experience "heartbreaking." However, Billboard reports that the singer is planning an arena tour, though the same article also pointed out Adele has a particularly spotty touring record. (She only performed 31 times between 2008 and 2011.)
So, with a history of doing a negligible amount of live performances, and mixed reports on the subject, the odds for a wide-reaching tour of 25 don't look great. While NBC will be airing Adele's recent performance at Radio City Music Hall on Dec. 14, it seems like that could be the only chance we'll get to see the star sing live for a while. Despite the unlikelihood, let's hope that Adele is able to do a handful of concerts, because people, need — no, deserve —to hear her live. Share your gift, Adele! There are tons of reasons that Adele absolutely should go on tour, but let's name a few.
1. To Show Off More Killer Dance Moves
She is the queen, and there need to be more opportunities for her to show off her dancing skills.
2. To Display More Of Her Sass
Pop stars these days are so afraid of offending people, but Adele is just Adele. She's not afraid to be her true self, and it's amazing. More please.
3. To Give Us More Eyeliner Envy
It's always flawless. Mine looks like I handed a Sharpie to a 4-year-old. How does she do it?
4. And Hair Envy, Too
Wind-blown and looking gorgeous, proof that her hair is impeccable no matter what the situation.
5. To Give Us More Feels
Nothing can make me spontaneously burst into tears quite like an Adele song. She's working through stuff in her music, and her fans are right there with her. I have more emotional evolving to do! Please tour.
6. To Give Fans A Chance To Show More Love
Adele is beloved by many, all over the world. Fans have been so patient in between albums, and they want to show their support. A tour would undoubtedly be a great opportunity for Adele to see just how many fans she really has.
But, more than any other reason, Adele should tour because she is one of the most talented vocalists of our time and getting to see her would be the epitome of amazing.