Chelsea Houska & Cole DeBoer Are Engaged!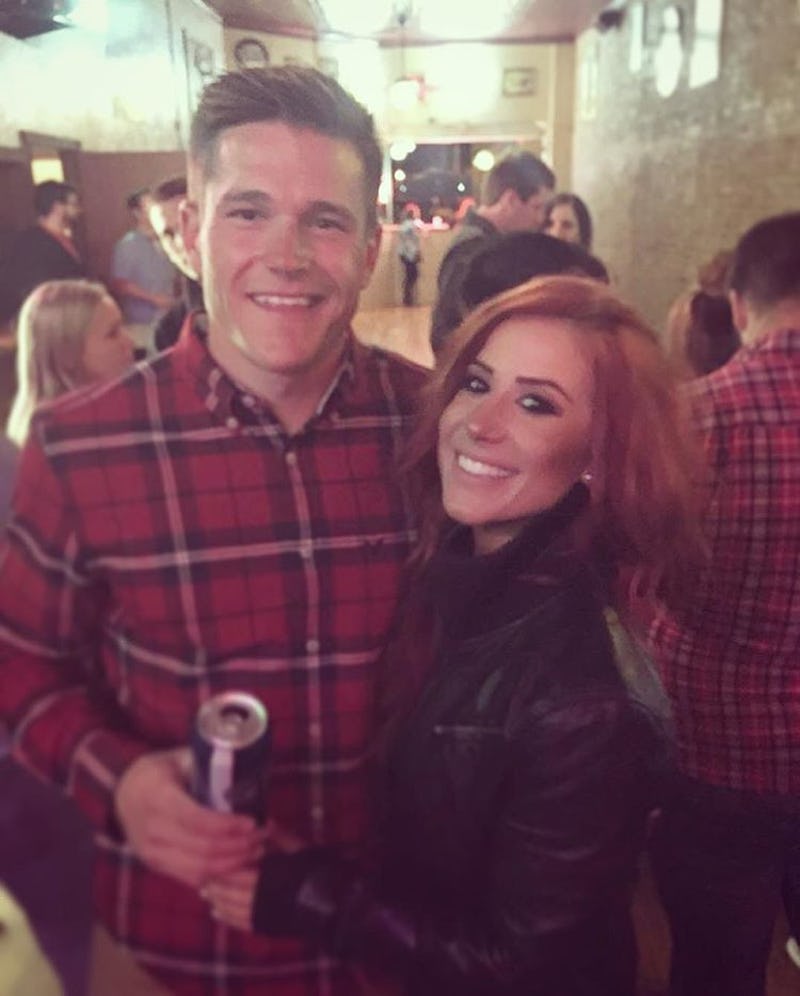 After dating for just over a year — and being ridiculously adorable on Instagram the entire time — it's official: Chelsea Houska and Cole DeBoer are engaged! And according to what the Teen Mom 2 star tells MTV, the proposal was adorable. DeBoer put photos of the two of them together (and with Houska's daughter, Aubree) on a tree in an area that's special to him and asked her to marry him, and then he asked Aubree if it was OK to marry her mom. So cute, right? And in case you're wondering what that noise you're hearing right now is, it's the sound of a collective sigh of relief that this means Houska and her ex, Adam Lind, are never, ever getting back together. Cue the hallelujah chorus!
And even though I've suspected this was coming for a while, it's really exciting that these two are finally planning their walk down the aisle. Thursday, Houska took to Instagram to show off her new engagement ring, and it's pretty impressive. It's an oval shaped sparkler on a thin band, and it's absolutely gorgeous. And the 24-year-old's big announcement was pretty low-key, although that's not too surprising since Houska is pretty chill herself. Have I mentioned that I'm completely in love with this ring? Houska is a lucky girl.
Now, for the next order of business: Is this guy good enough for Houska? Even if you watch Teen Mom 2 as religiously as I do, you might not have too much info about what he does for a living. So what does Cole DeBoer do? According to Wetpaint, he's a college grad and a traffic control specialist. And in case you have no idea what that is, don't worry — neither did I until I Googled it. It's a pretty broad term, so it could mean anything, but most likely, he works with the road and highway system in their home state of South Dakota. And obvs, he has some sort of money rolling in from appearing on Teen Mom 2, as does Houska.
It's good to know that this dude is gainfully employed, because it means he'll take good care of Houska and her daughter, and that's all that matters. Plus, he definitely seems to love both of them a lot, if his Instagram account is any indication.
And have you noticed they're insanely cute together? I'll just leave this here.
Congratulations, you two! I can't wait to see wedding pictures.
Image via Chelsea Houska/Instagram